Mess
Caroline Horton and devised by the company
China Plate
ARC Stockton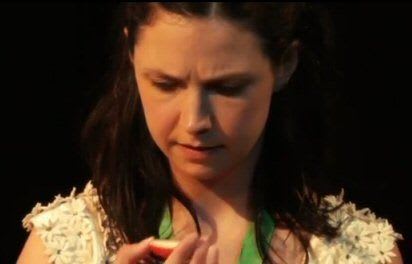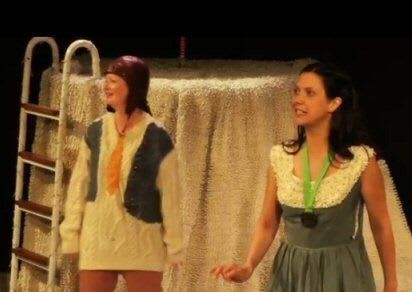 Caroline Horton's first play You're Not Like The Other Girls Chrissy was recently nominated for the 2013 Olivier Award and, although she didn't win, she was proud to be present at the awards ceremony.
Mess is her second play; it's about anorexia, that very thin elephant that lives in the same room as obsession, addiction and control. Written from her own personal experience, this production brings the illness out into the open in a way that is both tender and funny.
Josephine is at university in rented accommodation and she is putting on a play, her friends Boris and Sistahl helping. She is in her room quietly obsessing about her weight; she's even made a chart awarding herself medals and spends time composing excuses not to eat. She pushes her friends away, especially when they want her to eat pizza or ice cream.
Hannah Boyde's Boris is the effervescent voice of reason, her friend and the emotional mainstay of the production who seems to spend a lot of time encouraging Josephine to eat tiny morsels of food. Sistahl is in charge of subtext and sound effects and it is he who provides the laughter but without ever belittling the problem. Seiriol Davies is amazing as he sits stiffly at his music centre making odd sounds and playing ancillary characters with all the accoutrements of a mad professor.
Josephine is self-conscious, often silent but always brutally honest. When asked the question by a doctor "Do you want to get well?", she doesn't answer and we know that she is so immersed in her illness that she is experiencing a dangerous enjoyment of her affliction.
One of the more unusual aspects of the production is that there is no discernible beginning, middle or end to the play and we get the impression that everything is just a rehearsal for the 'real' play that Josephine will eventually present to a 'real' audience. Poor Boris gets delightfully confused about this fact but Josephine puts her straight, pointing out how difficult it is to decide when anorexia begins for real and when, if ever, it ends.
The documentary style of this production is refreshing, the characters become endearing, each with their own private flaws. The eating disorder almost becomes a character in its own right, feeding on secrecy and shame. Every calorie is counted and re-counted. Every movement is calculated against weight loss and that includes smiling, not something that Horton's character does very often.
Flammetta Hovat's set invokes comfort and looks like a giant wedding cake with an illuminated swimming pool ladder and a giant cocktail umbrella. The cream filling is a slowly emerging duvet which suggests that the thing which gives Josephine the most pleasure is a dark, confused tangle of food and sleep.
The play is written from the heart; there are easy silences that reflect life and, yes, it's about anorexia but it's also about the nervousness of every day life and the struggle to conform. Horton's eye for what makes a good play is exceptional. Horton is exceptional.
Reviewer: Helen Brown