Messiah
Jesse Briton & Paula B Stanic; devised by the Company
Bear Trap Theatre and Paula B Stanic
Stratford Circus Arts Centre
–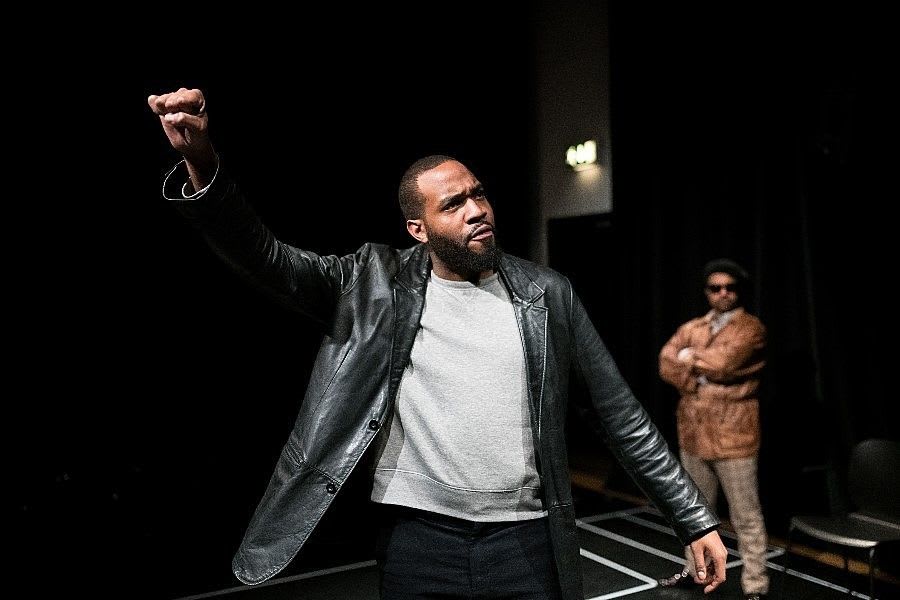 Entering the Stratford Circus Arts Centre for a performance of Messiah feels like a step into a community meeting of the late sixties, as we are greeted by several serious looking members of the Black Panthers.
When we are all seated, Shaq B Grant as Fred Hampton gets us to stand with raised, clenched fist as we repeat after him the words "I am a revolutionary."
There will occasionally be other direct engagements with the audience in a play for which the floor of the performance area is marked out with tape to indicate the rooms in the house where Fred Hampton is killed by police at 4:45 on the morning of 4 December 1969.
The white police sergeant (Lewis Hart) who led the police raid that night steps forward as if at a public enquiry to lead us through his version of what took place. He will be contradicted by the Panthers.
Fred Hampton is one of those feared by FBI director J Edgar Hoover who, in a memo read to the audience, ordered his agents to "prevent the rise of a 'messiah' who could unify, and electrify, the militant black nationalist movement."
Already at the age of 21, Fred Hampton was chair of the Illinois chapter of the Black Panther Party (BPP) and deputy chair of the national BPP.
To make matters worse, he had negotiated a non-violence agreement between Chicago's different ethnic street gangs, helped to create a free breakfast programme for children and established a free health clinic.
All that counted against him, so the police and FBI paid infiltrators such as William O'Neal (Gerel Falconer) to keep an eye on him and planned ways of disrupting and destroying his activities, until, in December 1969, fourteen police shot one hundred bullets into his home to kill him.
The police sergeant takes us through that night, but is continuously interrupted by Panthers giving us flashbacks to the earlier domesticity of an evening meal at the house, the memory of his girlfriend Deborah Johnson (Angelina Chudi) first seeing him across a crowded room persuasively arguing, "we're going to fight racism not with racism but with solidarity. We're not going to fight capitalism with black capitalism... we're going to fight it with socialism."
The Panthers also briefly perform a funny spoof soap, mocking the cultural stereotypes, the prejudices of the white middle class. That one really irritates the sergeant, who prefers his own lethal racism.
To cap it all, Martin Luther King makes a magical appearance to recall marching with Fred Hampton.
This is an imaginative, stylish performance by actors who seem to breathe the characters they play.
The show humanises this important historical figure and the brutal injustice of his death, but I yearned to know more about how he was able, by the age of twenty-one, to achieve so much, inspire so many.
Touring until 11 January 2020.
Reviewer: Keith Mckenna