Metamorphosis
Franz Kafka, choreography and direction by Arthur Pita
Linbury Studio Theatre, Royal Opera House
–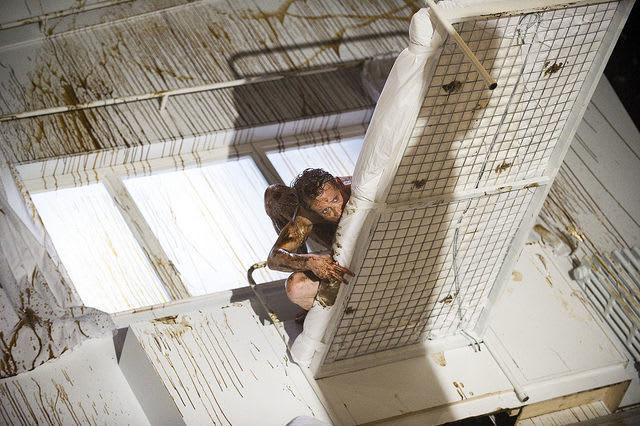 Salesman Gregor Samsa awakes one morning to find himself transformed into a gigantic insect. Franz Kafka's novella, first published in 1915, is a traumatic, compulsive psychological drama. The parable has had many interpretations: Freudian, Absurdist and political.
I first saw Metamorphosis on stage in a Steven Berkoff production at the Mermaid Theatre in which there was a remarkably repulsive performance by Terry J McGinity, who scuttled across the stage, his hands scratching the floor. The most recent adaptation has been by David Farr and Gisli Orn Gardarsson at the Lyric, Hammersmith, which updated the story to the 1930s and the Holocaust. Gardarsson, an Icelandic acrobat, aerialist and actor, did prodigious acrobatic feats, climbing walls and hanging upside down; yet he always looked human.
The latest interpretation is a dance theatre piece by choreographer / director Arthur Pita to live music and to a pre-recorded loud and distorted soundscape by Frank Moon. Royal Ballet Principal Edward Watson won the 2012 Olivier Award for Outstanding Achievement in Dance for his performance as Gregor. Pita won the Critics' Circle National Dance Award.
Metamorphosis is performed on a traverse stage which is divided into the family kitchen and Gregor's bedroom. There is a repeated expressionistic opening sequence which establishes his normal humdrum daily routine before his horrific transformation. Once transformed, he always looks like an insect. His family have hysterics. Only his teenage sister (Laura Day), who adores him, makes any real effort to reach out to him.
Edward Watson has an amazingly flexible physique and he gets his body into the most extraordinary mangled, knotted contortions. Legs and arms are interchangeable, fingers and toes are splayed. He rocks helplessly on his back. The clean white body and pants and the clean white floor get dirtier and dirtier. The most disgusting scene comes when his bedroom is invaded by oozy-black dung-beetles who rape him and cover him with their thick black slime. (How long, after the performance is finished, I wondered, does it take to clean up the mess?)
The 80-minute piece could do with some editing, especially when the focus is not on Watson. Pita seems to run out of ideas and introduces an over-extended intrusion by three comic bearded and bespectacled Jewish lodgers in long coats who would almost certainly have a better deal in Fiddler on the Roof.
Reviewer: Robert Tanitch