The Metamorphosis
Franz Kafka, choreography and direction by Arthur Pita, music by Frank Moon
The Royal Ballet
Royal Opera House, Covent Garden
–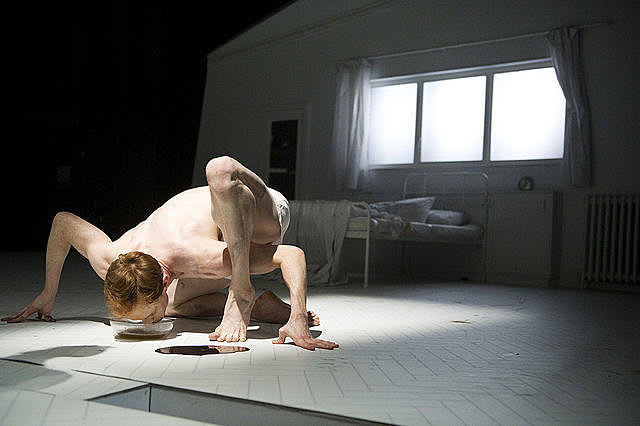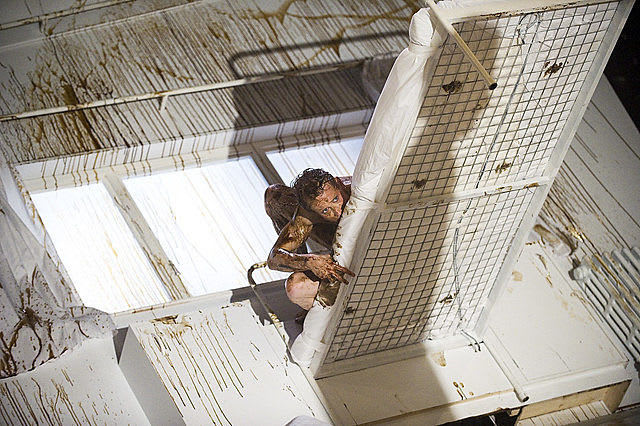 This dance adaptation of Franz Kafka's novella was first performed in the Linbury Studio Theatre in 2011 and won the South Bank Sky Arts Award. Lead dancer Edward Watson won the Olivier Award for Outstanding Achievement in Dance for his performance as Gregor Samsa and he dances the role in this recording made in 2013.
It is quite a challenge, turning yourself into a monstrous insect, which is what the performer must do as the protagonist in adaptations of Kafka's story. It's one that has notably been taken up by Steven Berkoff, Mikhail Baryshnikov and Gisli Orn Gardarsson among others and most recently by Nico Guerzoni at the Tron in Glasgow last month in a co-production with Emilia Romagna Teatro Fondazione, whose opening in Italy was prevented by the COVID-19 pandemic. There seems an ironic relevance there, perhaps more meaning to give to this story, but Arthur Pita's dance version came before that and leaves any interpretation or message to the spectator. It doesn't attempt to include every detail but stays true to the story.
Simon Daws's design splits the stage into two platforms with a narrow bridge between them: one is the kitchen of the Samsa family's apartment, the other Gregor's bedroom. Both are pristine white with an imagined wall between them, the door to his room is mimed and its opening and each space carefully defined by Guy Hoare's lighting.
The ballet begins with Gregor in bed, the family in the kitchen clearing up after breakfast watching a programme about insects on the TV. After father and Grete have left, his asthmatic mother gets out an inhaler machine, his sister practises ballet steps and, last to leave, his mother sets an apple on a corner of the table for Gregor. An alarm wakes him and he rapidly dresses, collects his apple and goes off to work. After miming the street door, we see him grab a coffee, collect a paper and have his rail ticket clipped before disappearing into the steam from the train's locomotive.
The journey back home is seen in reverse as the family set out the table for dinner. When he gets home, sister Grete shows him what she has learned in ballet class (in the book she's a violinist). They eat and an exhausted Gregor goes to bed. So far, this is not so much danced as natural movement performed with meticulous timing and emphasis often carefully matched to Frank Moon's score, which is played live by the composer on a variety of instruments and electronically. There are sound effects to match action and spoken text, which sounds like Czech but seems more noise than meaning.
The daily routine is repeated, in more compact versions, until one morning, to ominous strings, Mrs Samsa seems to sense something wrong as she puts out Gregor's apple. The alarm wakes not Gregor but a strange creature with flickering extremities.
The family gets no response as they bang on Gregor's locked door; a man from his office turns up and, with increasingly emphasised movement, they try to get a glimpse of him then break the door down, recoiling in horror at what they find inside.
Pita and dancer Watson now create a creature with limbs intertwined in strange ways, odd extensions, with joints bending unnaturally, Watson's long toes and his control over them adding an extra edge, his face distraught soliciting sympathy along with revulsion, while the score becomes drawn-out, squeaks over a grumbling, slow ground.
The family at first try to ignore what is in the next room but, while her mother resorts to her inhaler and calisthenics, his sister plucks up courage to enter. In a pas de deux unlike any you have seen before, Laura Day's Grete unsuccessfully attempts to untangle Gregor's strange limbs.
Grete tries to feed him, first with his daily apple, but he rejects everything until she serves up a filthy smoothie mixed from the waste bin under the sink.
As the story gets even darker and Gregor's room more dirty, dripping with the brown bile he produces, things become more surreal. Strange creatures climb down the wall; the cleaning lady (Bettina Carpi, who has already been the girl selling him coffee and vodka from her trolley) is the only one who can still face him, driving him back under his bed.
As the music takes on a klezmer touch, three rather jokey Orthodox Rabbis turn up—have they come to perform an exorcism? Things aren't clear, but they are actually lodgers; now that they don't have Gregor's wages to support them, the Samsas need their rent. Grete performs for them, the Samsas relax, Gregor is forgotten until he comes out.
This treatment of The Metamorphosis is very different from the classical ballet more often seen at the Royal Opera House, but its dramatic form of physical theatre demands the same kind of discipline and precision. It presents a performance from Edward Watson that makes his Olivier Award well earned and it is handled with great imagination by Pita and his collaborators, though the final scenes are less clear in what they represent as they draw towards Kafka's "happy" ending. There is little to suggest that the metamorphosis may apply to more than just Gregor, but his physical reinvention and the presentation of the creature's effect on his environment is amazing.
This recording is given an introduction that includes rehearsal scenes and clips that become more explicit spoilers than you read here. I suggest that you skip the first four minutes. It lasts just over ninety. I can't help wondering how long it takes the stage management and crew to get everything back to its pristine state afterwards.
Reviewer: Howard Loxton