Maria Friedman Celebrates The Great British Songbook
Arrangements by Jason Carr
Shaw Theatre
(2009)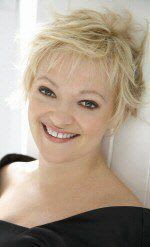 It's only been a few weeks since Maria Friedman finished her Olivier award nominated show Maria Friedman: Re-Arranged at the Trafalgar Studios and yet somehow she's found the time and energy to rehearse for another one woman show – Maria Friedman Celebbrates The Great British Songbook.
A limited three day run at the Shaw Theatre, with a sequel to follow in June with Kerry Ellis of Wicked and We Will Rock You fame who will also take to the stage and remind us what makes British music so unique.
Friedman has had a varied and illustrious career, but what sets her apart from many of her contemporaries is her ability to share a song. She says she loves words and this comes as no surprise. When Friedman sings, it really is as if you are hearing the words of each song for the first time as she takes the audience along on an incredible emotional journey. One moment you are watching with tears in your eyes and the next you are laughing at some geezer-like comment she makes.
Sadly there is no way of working her superb medley from Sunday in the Park with George into this line up as Sondheim belongs to the other side of the ocean. However, as Friedman shows, we're not short of a few great composers and lyricists ourselves. With beautiful arrangements by Jason Carr, Friedman's song choices are an eclectic mix with songs from the Beatles to Lloyd Webber to a nostalgic war medley and even a little something she wrote herself. "As If We Never Said Goodbye", sung to perfection, could be Friedman's signature song – surely it is just a matter of time before we see her tread the boards as Norma Desmond. "Norwegian Wood" and "Eleanor Rigby" by Lennon and McCartney are beautifully sentimental and as she sings "It's Bound To Be Right On The Night", the audience are treated to stories of her own early failures; obviously now hilarious in retrospect. Who ever knew that Maria Friedman was once the cleaner to her future co-star Michael Crawford. And of course it wouldn't be British, if there wasn't just a little bit of audience participation!
In an age where people rise to fame at the drop of a hat (or as the case may be; drop of a reality TV show), Friedman really is a testament to where a great deal of talent and a lot of hard work can get you. It is her open and honest manner that captivates her audience. She is warm and utterly charming and with a powerful belt that goes on and on, it is little wonder that people keep returning to see Ms Friedman.
Of course I'll be in trouble if I don't mention Friedman's family and friends – David and Lynn in particuular. Clearly very important to her, they also put on a fantastic side show, if you're lucky enough to catch them in the bar after!
Reviewer: Rachel Sheridan