Of Mice and Men
John Steinbeck
Theatre by the Lake, Keswick
(2007)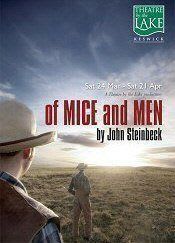 The latest from the fairly new Lottery-funded Theatre by the Lake in the beautiful surroundings of Keswick next to Derwentwater in the Lake District is American author John Steinbeck's adaptation of his own 1937 novella Of Mice And Men.
George and Lennie are casual farm labourers in the west of America during the Great Depression, but unusually they travel everywhere together instead of leading the solitary life of most of the other itinerant workers they meet because George promised Lennie's aunt he would look after him. Lennie is huge and has the strength to do the work of two or three other men, but he has the mind of a young child, and this combination of innocence and extreme strength causes problems that range from him accidentally killing the small animals that he loves to pet to misunderstandings that cause them to have to flee town, as with their last job. Now they are starting a new job in a new place, and hopefully they can stay out of trouble for long enough to get enough money to buy a place of their own where they won't have to worry about anyone else. Of course things don't work out quite as they have planned, and George is left to make a terrible decision.
The initial impression is created by a set that creates, with a trench, a few poles, a puddle of water and a blue cyclorama, a great impression of the bleak emptiness of the landscape that the two men have to cross to find work. Martin Johns's set design clever makes large transformations before our eyes into the inside of the bunk house, the barn and back to the empty plain and looks wonderful with lots of rich, realistic detail. This is beautifully lit by Nick Beadle with some nice atmospheric sound effects from sound designer Matt Hall, some of which seem to swoop around the stage.
Tim Perrin, with a deep, resonant voice to match his huge frame, is extremely good as Lennie, getting over the character of a 'lovable giant' that really gets the audience's sympathy. Malcolm James as George at the start talks a little too quickly to be always intelligible (at least from the circle) as though he is overemphasising Lennie's slow, deliberate speech, but he quickly settles into the role and gets across well his affection and frustration with his friend and sometimes-burden and the quick-thinking ingenuity of the character.
The rest of the nine-strong cast works extremely well together. Only Nicholas Camm doubles up roles, creating two distinctly different characters as The Boss—with a slightly dubious moustache—and joker Carlson. Other notable performances come from Stephen Ley as old man Candy (his canine companion is uncredited in the programme but gives a very good performance too), James Lauren as the more friendly worker Slim and Alexander James Simon as disfigured black worker Crooks.
The production unfolds at a very gentle pace, which is absolutely right for the play for most of the time, but just occasionally there are moments that feel that they are being drawn out and would benefit from some tightening up. Generally, though, this is a compelling performance that looks stunning and carried a packed Easter holiday audience on an emotional journey that isn't always easy or pleasant but is ultimately rewarding.
If this production is representative of its work, this fairly young theatre is producing very high quality theatre that is very different from the type of entertainment you would expect to be put on in an English holiday resort; apparently people are now travelling to the area to go to the theatre rather than just visiting the theatre when they are in the area, which is a good indicator of how its reputation has spread in a very short time.
There is a problem with the venue—specifically with putting on performances in the main house and the studio simultaneously—as loud sound from the studio travels clearly to the main house (a quiet, tense moment wasn't helped by a rendition of I Got You Babe from next door) and there was a lot of loud talking coming through the circle door during the studio's interval. This is something that the management should try to solve, but it is really a minor annoyance that did not spoil a very positive experience that I hope to repeat in the near future
Reviewer: David Chadderton