Michael Brandon – Off-Ramps

Theatre Tours International Ltd
Assembly Rooms
–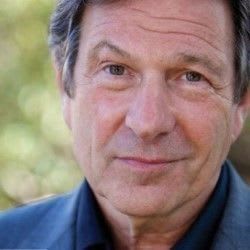 Opening on a stage with a projected video reel playing highlights from his career, Michael Brandon's autobiographical stand-up set winds the audience from his days as a vinyl loving teenager, to a jobbing actor, and finally to international movie and television success.
While many of his peers, some who are referenced at length throughout, have gone on to a form of superstardom, most British punters are likely to know him best as the star of the short-lived '80s UK cop drama, Dempsey and Makepeace. However, as he goes to lengths to point out, Brandon's career has been long and varied, branching out from his days in the theatre as an understudy, to his first breakout roles, but ultimately the show is largely about the women in his life.
It's a well constructed performance, and I say that with the full knowledge that this is technically classified as comedy and stand-up in the Fringe programming. However, despite eliciting many laughs and chuckles throughout his interesting life story, this never feels like stand-up; Brandon performs the piece mechanically, with little attempt to even leave space for the audience to laugh, and almost never reacting as if he acknowledges there is a crowd in front of him.
Which is not to say it's an unpleasant hour of amusement, indeed, there's almost more material than the timescale afforded allows crammed in here. It just never feels entirely as organic as good comedy should, nor as natural as a performed piece ought to.
That said, it was an eye-opening and intriguing summation of a grand career I was only passingly familiar with, and provided a fair few grins and chuckles.
Reviewer: Graeme Strachan