Michael Clark: Cosmic Dancer

Barbican Art Gallery
–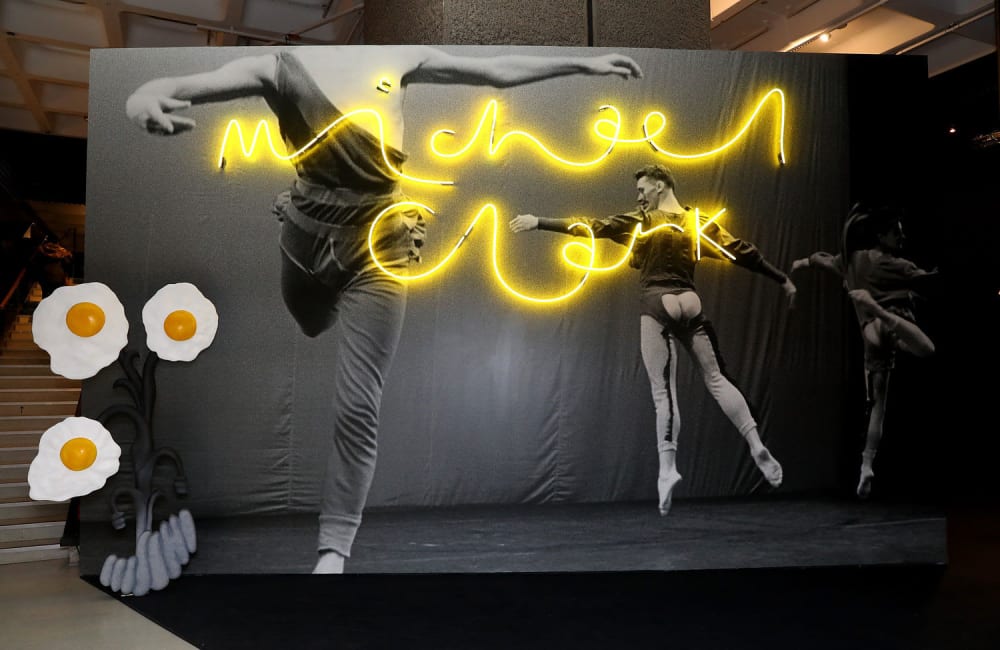 Put aside a good few hours in December post-lockdown two and bring a decent pair of headphones to give the Barbican's monumental exhibition, Michael Clark: Cosmic Dancer, the credit it so fully deserves.
Clark, choreographer and maverick dynamo, has kept his reputation as the bad boy of British dance, even though he set the dance world alight decades ago. The impish, bare-bottomed punk image that made him a cult figure in the '80s still sticks like a badge of honour.
This sweeping exhibition pays handsome tribute to his all-consuming talents in a weirdly compulsive journey that pulls you into the choreographer's seductive vortex, rampant with rich colourful spirit and subversive energy. Clark's flamboyantly camp, drug-infused, punk-led, platform-shoed antics are given vast energetic life through film, painting and costumes as well as a library full of archival documentary footage.
As you enter the dark, theatrical, cavernous space and into Clark's multi-sensual universe, heightened in pleasure by our present starvation diet of live performance, a completely absorbing experience unfolds, even if it's predominantly a digital one.
The main gallery space features a multiscreen installation of giant suspended screens with the film on loop by pioneering filmmaker, video artist and long-term Clark collaborator Charles Atlas. Created especially for this exhibition, A Prune Twin (2020) is aired across nine hanging screens and four monitors, played out at different speeds and times, so you can saunter between them and pick out snippets of interest.
Politically charged dialogue, comedy, dance and drag jumps from screen to screen in a debauched infusion of creativity, brazenly bare-bummed and brilliant, backed by a diverse soundtrack from David Bowie, Eric Satie, Stravinsky, Marc Bolan and the Fall.
The beauty of this exhibition lies in Clark's movement and choreographic choices. No matter how fiercely inventive, he is always grounded in effortless technique. A neoclassical god moving with perfect grace, lines and forms, part-cherubim, part-human, deigning to grace his presence upon the world of mortals for a precious moment in time.
Footage featuring Clark in performance or rehearsal reveals Nijinsky's faun-like elevation, feet perfectly arched with the speed and precision of a principle ballet dancer, while off-kilter contemporary movements, all astoundingly executed. It's hard to avert eyes away from Clark in motion—a mesmerising sight.
Anyone who has experienced ballet training will recognise that such rigour is burned deep into muscle memory and Clark comes with top training from the Royal Ballet School from age 13, before moving on to the Rambert, where he trained in Cunningham.
Clark pushes the boundaries of dance, but there is always a tension between his formal training and the need to create something different. Such contradiction is at the core of his creativity and pulsates through the exhibition as powerfully as his radicalism, making it so exhilarating to watch.
Upstairs feels more of a familiar exhibition space with a room full of eclectic works from costumes created for the great drag and art personality Lee Bowery to sections of still images and paintings.
A portrait from artist Peter Doig, a room with 10 monochromatic works by the German artist Silke Otto-Knapp inspired by moments from Clark's works and an entire room covered in a collection of posters and programmes in the UK, worthy of any teenager's bedroom wall.
Celebrating their friendship in a series of pieces for the choreographer, artist Sarah Lucas's work includes a miniature of the masturbating arm from 2001's Before and After: The fall, and Cnut, a concrete cast of Clark's torso, balanced on a toilet, holding a cigarette, on top of a giant sandwich.
Very revealing too is a compellingly tender interview upstairs on a TV screen between native Scotsman Clark and Scottish broadcaster Muriel Gray, stomping through the Highlands clad in kilts and wellies in heated exchange over art, dance, politics and personal life. Clark comes across as a thoughtful, gentle self-believer with a fierce sense of humour, a vital quality running through all his work.
Born into an Aberdeenshire farming family, his first brush with dance was through Scottish dance, where its lilting qualities and rhythms still appear in his choreography. It was the Scottish Ballet that first spotted Clark and cast him as Fritz in the Nutcracker. The rest is history.
I staggered out some 3 hours later, square-eyed from watching too much TV in the middle of the day, but certain that Clark will go down in history as an icon of British art who challenged the perceptions of gender and masculinity through dance and subverted the conservative values of '80s Thatcher's Britain.
The breadth and scale of his work that bleeds into so many different arenas is astonishing and so well documented in this exhibition that it's impossible not to discover something new. Go and see, absorb and allow yourself to get tangled up in the rich and flamboyant world of Michael Clark. It's a blast.
Reviewer: Rachel Nouchi