Mid Life
Sheila Chapman
Diverse City
The Weston Studio, Bristol Old Vic
–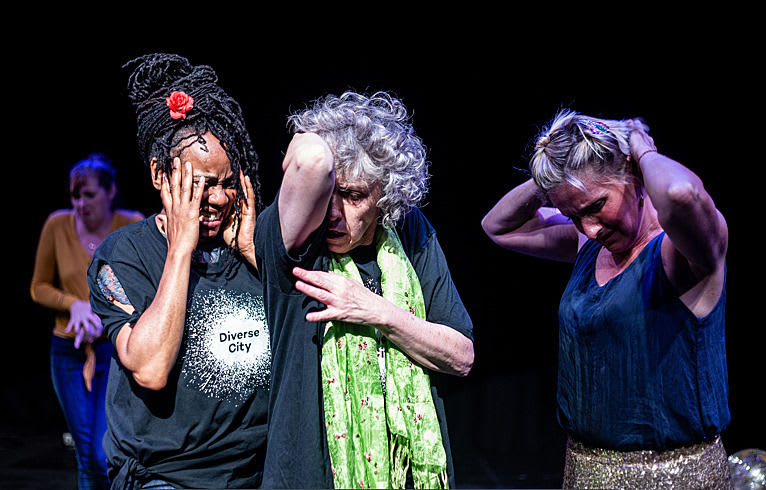 Why is there so little recognition that mid-life, particularly a woman's, might be an age of exuberance, creativity, self-awareness and acceptance? While now emerging from the shadows of things-that-should-not-be-publicly-discussed, menopause is more usually viewed through the prism of loss; youth and fertility left behind amid a bomb-blast of hormones and hot flushes.
Not that the three women at the centre of this notionally one-woman show skirt around the perils of being either side of fifty. Claire, a company director, who in her 1982 heyday was the south east of England disco dancing champion, describes days when it's all she can do to keep breathing in and out. It's not something she wants to dwell on, though. This is meant to be her moment, except she keeps being interrupted by plain-speaking gay rights activist Karen, supposedly booked as an audio-describer, but who instead heckles Claire's opening narrative with her own trenchant views.
Then there's Jacqui, BSL signing the performance, but tired of delivering other people's words without having her own voice and having to suppress her true feelings, for fear of being dismissed as an 'angry black woman'. These three women thread their own individual backgrounds and stories through a performance that is by turns intimate, poignant, affecting and hilarious, prompted by Kandaka Moore—an ethereal on-stage presence, part-enabler part-seer—who hands out props and underpins the storytelling with snatches of pure-voiced song.
Developed by Diverse City with the support of Bristol Ferment, this production pays much more than lip-service to inclusivity, showing how it can be done without feeling preachy or contrived. There are voices from the older generation, describing their own mid-life experiences and dispatching advice and reflections on the pain of losing a parent. Lucy Richardson's direction splices together the individual strands and mood swings into a coherent whole, with only the occasional moment between scenes when the pace seems to slacken as the performers regroup.
There is so much to recognise here, suitcases plucked from a wall of luggage at the back of the set, representing the baggage the women have carried in their lives as unpaid carers, housekeepers, parents, grand-parents and general mopper-uppers. These cases are unzipped with trepidation, for fear of letting too much emotion escape in one go.
The effect is cathartic, even with the acceptance of more troubled times ahead, of future diminishments and losses. Ultimately, this is a show of fierce and funny women who have made it through dark and messy times: they stand strong and proud of where they are now, inviting the audience to join with them in a gloriously uplifting celebration.
Reviewer: Claire Hayes