Midland Aquaphiliacs
Jake Oldershaw, with music by Jules Bushell
BAC
(2006)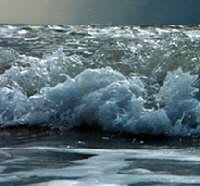 As a bit of an aquaphiliac myself and having read the blurb, I was looking forward to the world premiere of Jake Oldershaw's play.
The idea was fairly simple (and began life a couple of years ago as a photographic exhibition): inspired by a love of the sea, yet hampered by living almost as far inland as it is possible to be in the UK, Oldershaw made it his task to meet everyone in Birmingham who was as enamoured of the sea as he is himself and record their stories.
It is a multi-media event consisting of portrait photography, taped recordings of the aquaphiliacs' voices, a few songs performed by Oldershaw on keyboard and Jules Bushell on the mandolin, and whiteboard onto which the photos were projected and which proved useful at the end of the show: throughout, with a black marker pen, Oldershaw drew around the images (sometimes with the help of the audience) so that at the end, we are left with black and white sketches of all the people who have appeared.
So far, so intriguing. But this is where the show could have done with some judicious editing. Interesting as it is to hear why all these people had pictures of the sea up on their walls, some of the stories were more compelling than others. I'd like, for example, to have heard more about the man with a new hip who decided on a 5,000 mile trip around the edge of the UK coastline, or from Dusan, a Croatian whose only link with his homeland are the postcards of the sea that his friends still send him. These stories could easily have been developed at the expense of some of the less gripping anecdotes. In short, Oldershaw could be more discriminating in his choice of subject and more probing in the stories he decides to include. As it is, the play is a little long for the available material and at times lacked pace and assurance.
Oldershaw is an engaging performer and is clearly enthralled by his subject. However, I felt he needed to decide on a specific presentation. At times he was acting the participants, at times telling us about them, and at times letting them speak for themselves on tape. This led to unnecessary confusion. The sound quality of the tapes meant it was sometimes difficult to hear the participants and the background music occasionally drowned them out.
Oldershaw sought participation from the audience and several were happy to throw in their favourite memories of the sea so I suspect there is much more material to be garnered and he will carry on refining the show. It's an entrancing idea and will charm anyone who has ever walked down an isolated beach.
Reviewer: Bronagh Taggart