Middlemarch: Dorothea's Story
George Eliot, adapted by Geoffrey Beevers
Orange Tree Theatre
–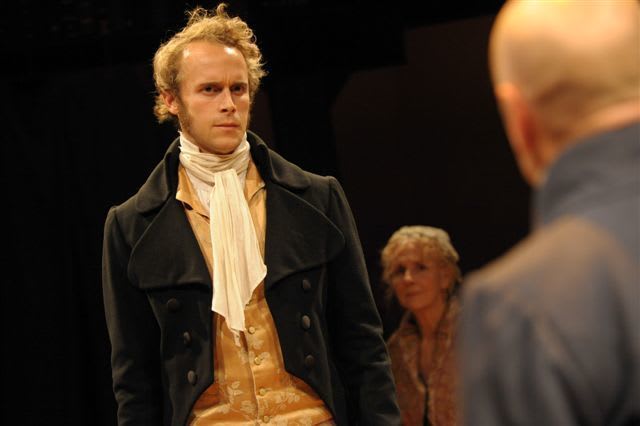 For decades I have had a decoratively bound Victorian edition of Middlemarch on my library shelves but I have never read it. I came to this first of a trilogy of plays that director Geoffrey Beevers has adapted from it without any preconceptions, but what he has done with it suggests that I missed a treat.
Instead of trying to cram the whole novel into a single evening, he has taken three strands of the novel and made a separate play from each of them. At nearly three hours with the interval, it isn't a short evening, but it is a very enjoyable one with a clear storyline and some interesting characters.
Following the style that David Edgar established with his Nickleby adaptation, characters deliver narrative as well as dialogue, including their own description, passing passages between them. This makes the action move extremely rapidly and gives a really immediacy to each new development.
Set around 1830, at the time of the promotion of the Reform Bill, this is a period drama but eighteen-year-old Dorothea Brooke at first seems a very modern young woman in her determination to do something useful with her life and help other people.
Georgina Strawson gives her intelligence and charm but she doesn't set out to be consciously charming. It is her dedication that marks her out and which makes life unsettling when, having rejected a proposal from wealthy neighbouring landowner Sir James Chelton (Christopher Naylor), she marries Mr Casaubon, a local rector nearly three times her age, determined to assist him in his life work The Key to All Mythologies.
Casaubon is not a sharing husband, though Jamie Newall gives the pedantic cleric a poise and a rich vocal cadence that help to make her admiration understandable. It is not the fulfilling life Dorothea expected and, though dutiful, she is disappointed. When Casaubon's attractive poor relation, young Will Ladislaw (Ben Lambert), arrives on the scene, the suspicious rector resents his closeness with his wife and thinks Will sees Dorothea as a route to inheriting his money.
This triangle is at the heart of this first part of the trilogy, but there are plenty of other things going on as well, some of which will be explored in the other two plays.
There is David Ricardo-Pearce's dashing and idealistic Dr Lydgate and his socially aspiring wife Rosamond, given a pretty and vivacious façade by Niamh Walsh, who has her own eye on Ladislaw, Dorothea's fun-loving sister Velia (Daisy Ashworth), who marries Sir James, and the Brooke girls' well-meaning uncle—a lovely performance, like a character from Fielding, from Christopher Ettridge who then takes off his wig to double as a local banker.
With Michael Lumsden as the Mayor, Rosamund's father, and Liz Crowther delightfully animated as disapproving local gossip Mrs Cadwallader and further doubling, this is a cast that works well together in Beevers's well-shaped production.
With a few pieces of furniture, rearranged with smooth efficiency by the cast, and appropriate costume Sam Dowson places it appropriately in period with some decorative dressing around the theatre that links the trilogy's themes and settings.
This part of George Eliot's novel works well as a stand-alone story but makes one look forward to the next two parts of the tale that centre on different characters among those already met and some others not yet seen.
Reviewer: Howard Loxton