Midsummer Mechanicals
Kerry Frampton and Ben Hales
Shakespeare's Globe and Splendid Productions
Sam Wanamaker Playhouse, Shakespeare's Globe
–

Listing details and ticket info...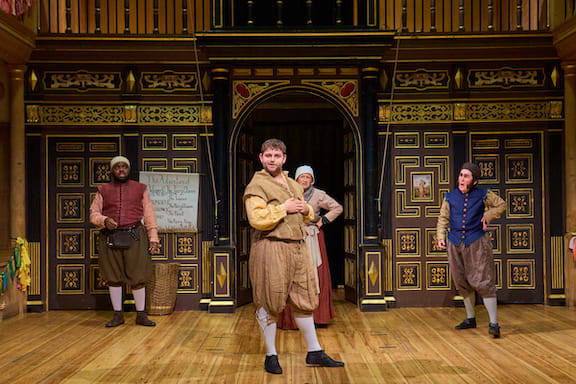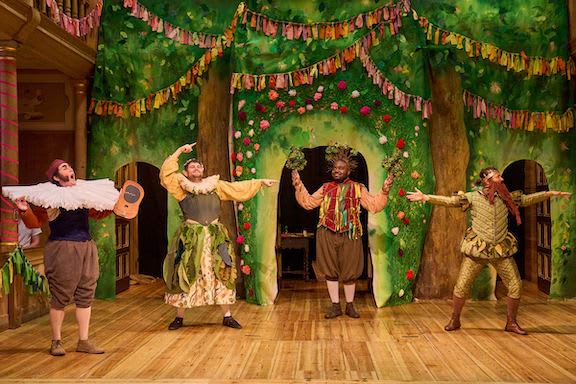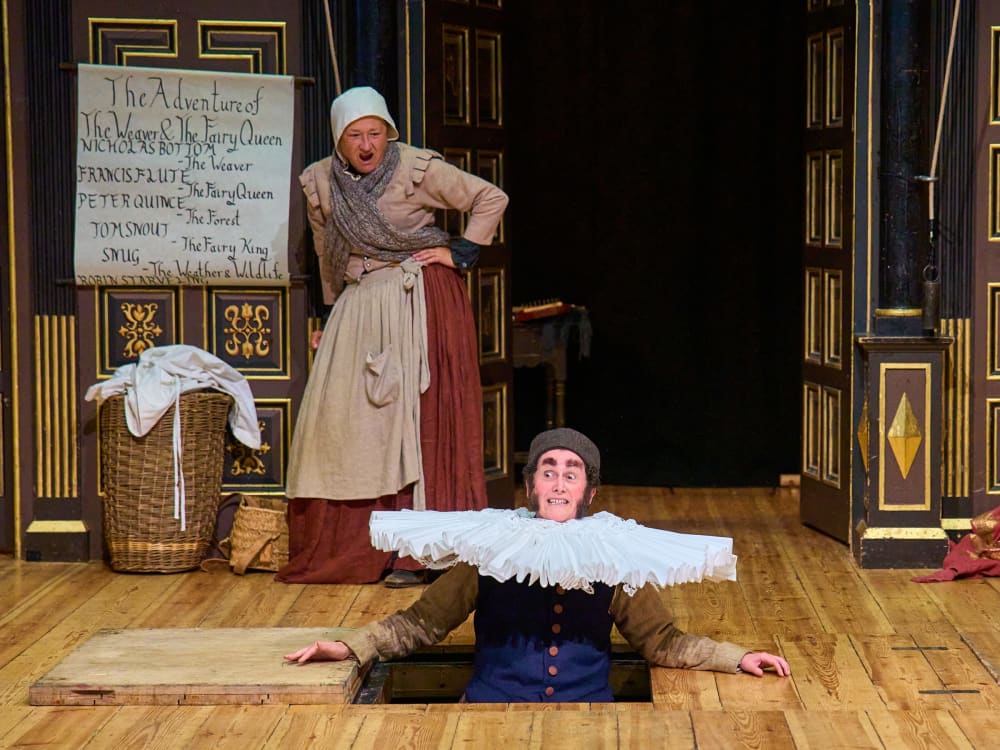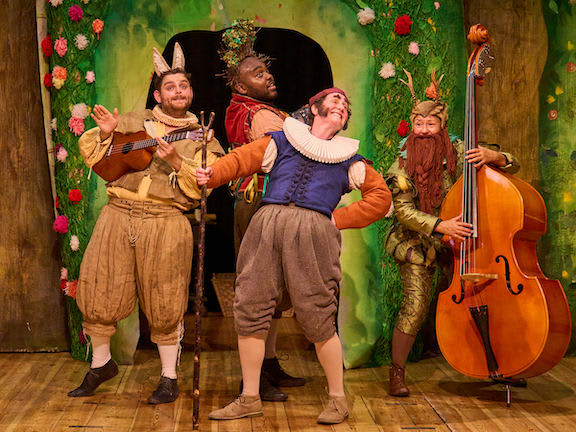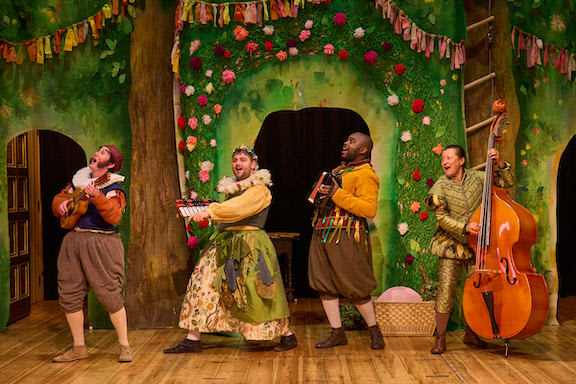 This riotous romp is the Globe's first full-scale production specifically aimed at a family audience from age 5 and up. Working with Splendid Productions, they've appropriately taken inspiration from Shakespeare and built a show around Peter Quince's amdram troupe, the "rude mechanicals" in A Midsummer Night's Dream.
A year after their staging of The Most Lamentable Comedy and Most Cruel Death of Pyramus and Thisbe as part of Duke Theseus' wedding celebrations, they have been invited back to his playhouse.
Nick Bottom the weaver (Kerry Frampton) has written a new play based on what he remembers of the dream he had during last year's rehearsals, but even now, as his mates gather for their command performance, it doesn't have a satisfactory ending. But Peter Quince (Jamal Franklin) is more worried about who hasn't turned up. He knew tailor Starveling wouldn't be there but he did make some costumes before he had to go off and Snug is no real loss, his Lion last year proved an embarrassment.
Francis Flute (Sam Glen) turns up late. He is cast as the Fairy Queen but no longer, but he has lost his piping voice and grown a beard. There is no sign of Tom Snout, even his wife (Melody Brown) doesn't know where he is. She offers to stand in, she's heard his lines so often she knows them, but women aren't allowed to act in public so that's a non-starter.
It's chaos, but they go in the end for Melody in a fake beard playing the Fairy King and the audience is called on to provide all the sound effects, which was Snug's main function.
From the start, the company make this show interactive, talking directly with the audience. The intimacy of the Wanamaker makes for easy involvement and these actors are masters at conjuring enthusiastic cooperation whether singing along, creating a storm effect or coming up with ideas.
Flute it seems has gone professional in the city and Bottom has lost none of his ebullient self-confidence; both are keen to show off their florid style of acting—and the young audience love it, cheering on their flamboyant extravagances.
With their stage manager appearing to call the half and the quarter, their show is nowhere near ready, but after an interval, we still get to see it.
Bottom's version of Oberon and Titania's conflict and his involvement isn't a patch on Shakespeare's version, but it is laughter not poetry that is the point here and it is a joy to watch. There is plenty of physical humour from Bottom in a ruff too wide for the doorways to a sequence of dexterous footwork when he avoids stepping on a banana skin (though of course someone does), though when a promised surprise prop appears at a key part of the story, it didn't produce the hilarious reaction it was clearly expected to get from a young audience.
These mechanicals may be dressed Jacobethan, but this is not one of the candlelit productions associated with this playhouse and, as the theatre points out, the venue isn't suitable for those less than four feet tall, but for the rest of us co-directors, Lucy Cuthbertson and Kerry Frampton and their company have a show that is great family entertainment. Two hours (including the interval) may seem long for a young audience, but the one I saw it with, many of whom seemed to be primary school age with their grannies, was totally engaged; they loved it.
Reviewer: Howard Loxton