A Midsummer Night's Dream
William Shakespeare
Regent's Park Theatre
Regent's Park Open Air Theatre
–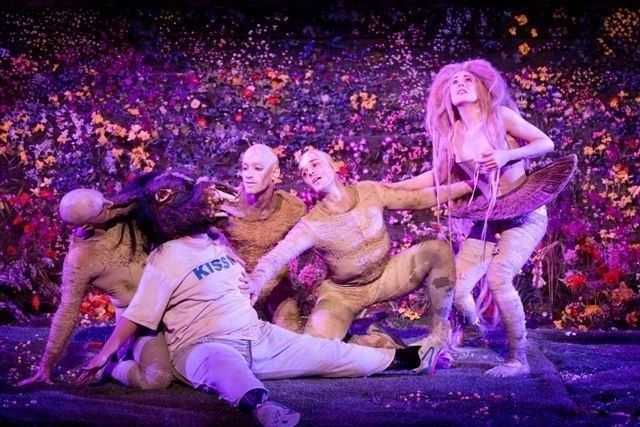 A big fat gypsy Midsummer Night's Dream. It's not the most common approach to set this somewhat dainty play in a concrete construction site filled with caravans or to have the four lovers as coarse young slobs wearing tracksuits and low cut tops. But it's very canny and a great way to not only bring the lovers' playground-ish fights to life, with some great slapstick head butts and punches along the way, but also deal with the play's macho edge. This is a play after all that starts with a woman being ordered by her father to marry a man or be killed.
Where things are less impressive are when we start to meet the fairies, who seem to have gotten lost on their way to both a more traditional production and a rock concert. Titania, the Fairy Queen, is all weeds, nature and dreadlocks, and ends up falling asleep in a formulaic flowery bed (admittedly fantastically concealed in a caravan). Oberon, Fairy King, is in a black... something and has a spiked collar that looks stolen from a glam rock concert.
It's more than just the costumes: the scenes with the lovers have this energy and pleasure to them, they feel not only passionate but nicely playful, so the audience enjoys seeing the young loves be fooled while feeling for their plight. No wonder when both the female leads, Hayley Gallivan and Rebecca Oldfield, have such consistently strong performances, and can look intimidating while their knickers are showing.
The fairy scenes on the other hand are muddled, too long and confusing. There are some nice attempts at dance scenes and Titania does arise literally from a watery bed, but it's fairly unimaginative, particularly because the play's wilderness is meant to be a dark reflection of the human society, and a fairy wood does not mirror a construction site.
It's a really joyous romp overall though and the ending celebrations manages to actually feel like a summer party, helped by a crazily inventive play within the play which involves ladders, electric drills and Beethoven's Fifth. Having the Mechanicals as construction workers is a stroke of genius and George Bukhari as Bottom is brilliantly unashamed. There is a bit much gratuitous singing and dancing here and 10 minutes could easily be cut, but that's easily forgiven. We even have Hippolyta, portrayed as an abused wife, running off into the sunset in what's a bold but not too successful move.
This is a great and creative production. The actors here are real troopers too: despite the opening night eventually being cancelled due to torrential rain, they kept on slogging away until they were called off.
Reviewer: Tobias Chapple