A Midsummer Night's Dream
William Shakespeare
Iris Theatre
St. Pauls the Actor's Church in Covent Garden
–

Listing details and ticket info...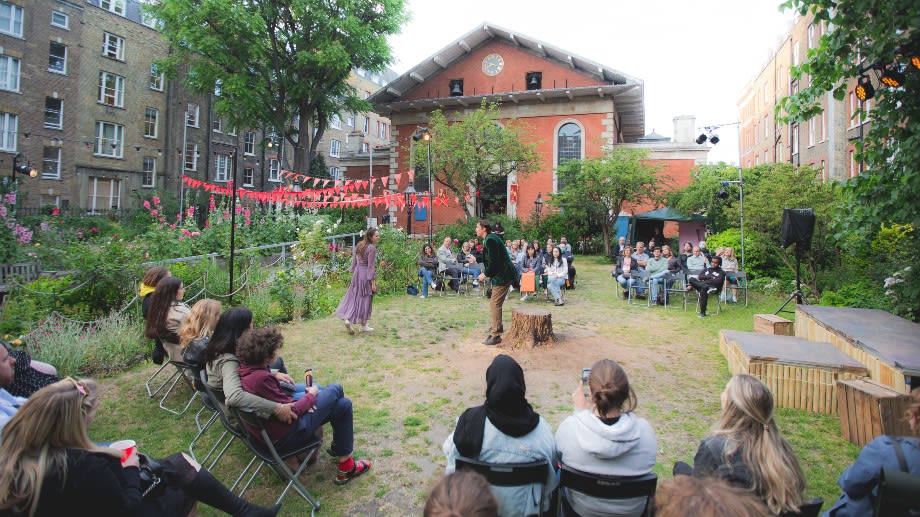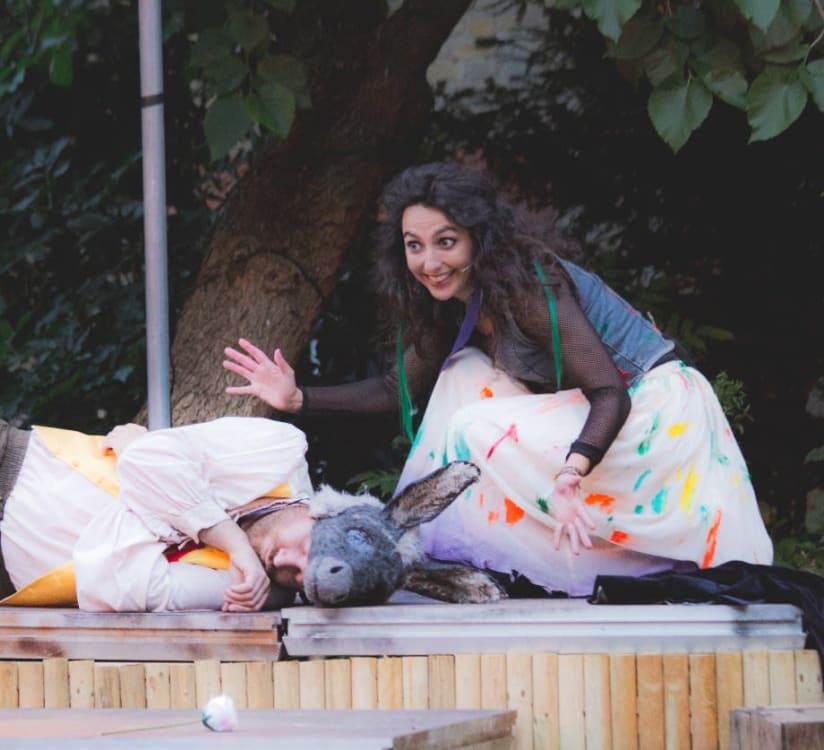 There is a contemporary feel to the Iris Theatre production of A Midsummer Night's Dream adapted and directed by Sara Aniqah Malik at the Actor's Church in Covent Garden.
They have dispensed with the marriage of Hippolyta and Theseus that usually bookends the play and instead have set their show at the school of Athens Academy, its prom night, and the regional glee club competition which features the mechanicals, a group enlarged on the occasion I attended by Emily, an audience member from Islington, who among other tasks roars like a lion at the audience.
Ailsa Joy as Puck gives a lively performance presiding over events, introducing us to the show with the advice, "if you feel sick from the sun, come back to the bar and tell someone."
We needn't have worried. Most of our time was spent either in a shaded section of the garden or inside the church.
The words spoken also include small welcome additions where the female characters comment on the behaviour of the male characters. Titania (Melissa Parker), woken from the drugged-up illusions she has been placed in by Oberon (Isambard Rawbone), reminds him that women love with their mind and their hearts and that what has happened "will end with you alone."
As Helena (Zena Carswell) and Hermia (Melissa Parker) late in the play walk off together slightly fed up with the silliness of Lysander (Freddy Elletson) and Demetrius (Ricky Oakley), they agree that "men are as inconstant as the changing wind."
While taking seriously the play's assorted love troubles, the production finds plenty of opportunities to make you laugh, repeatedly encouraging involvement from the audience including recruiting one lad to judge the mechanicals, ten people to join in the rather long prom dance sequence and someone to tickle the donkey ears of the transformed Bottom (Richard Holt).
This is an engaging performance given a memorable setting and a confident, amusing cast who make good use of the fine weather.
Reviewer: Keith Mckenna