Midsummer (A Play with Songs)
David Greig and Gordon McIntyre
Traverse Theatre, Edinburgh, and touring
(2010)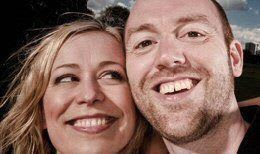 Midsummer is back again. It was a hit at the 2009 Fringe but I missed it then, so am very glad it has returned still fresh, bursting with energy and with jokes about Edinburgh that still ring true.
Bob (Matthew Pidgeon) and Helena (Cora Bissett) are the pair drawn together by a series of not so much romantic as crazy incidents over midsummer weekend, in this alternative love story. The story is quite funny in itself but what really brings the quirkiness out is the exuberant staging.
The play starts with a really great sex scene, they stayed fully clothed, but it was still far more effective than most attempts to stage sex. The set stays the same for the rest of the play but the simple bedroom is transformed into many other locations, like children playing, and it was a kind of infectious childish energy the performers exuded that makes it so watchable and draws you in.
The high energy levels are also kept up by the music, with both Pidgeon and Bissett proving dab hands on their guitars. There are a few quite funny songs, but the songs also provide some of the more moving parts of the piece as they return to tunes over again. There aren't that many different songs, hence it very definitely not being described as a musical. However the guitars are strummed quite a bit for incidental music and are used as random props.
The two characters, harmless Bob whose found himself involved in the murkier side of the city and Helena a lawyer who proves to be quite a tearaway, prove an explosive combination and the actors do have that fabled thing called chemistry. Personally I like all the little references to Edinburgh, but the play also has an underlying philosophical thread that everyone can relate to.
A short sexy play that encourages people to believe "change is possible".
Until 23rd October and then on tour
Philip Fisher reviewed this production at the 2009 Edinburgh Fringe and again at the Soho Theatre in 2010. It was also reviewed by Howard Loxton at the Tricyle Theatre.
Reviewer: Seth Ewin