Mies Julie

Baxter Theatre Centre with Assembly Festival and Riverside Studios
Assembly Rooms
–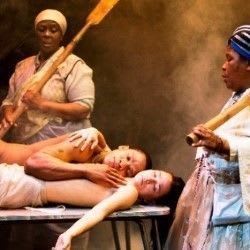 August Strindberg's typically doomed and gloomy play about Darwinistic self-destruction has been reimagined to a rural farm in modern-day South Africa during a Freedom Day celebration.
The landowner's daughter Julie, drunk and disconsolate after being dumped by her fiancé, stumbles into the kitchen and begins to flirt, pester and harass the servant boy, John; there's a sexual tension between them, unspoken desires, crossed with deep resentments and bitter furies that each carries towards the world.
Thrown into the mix is John's long-suffering mother, who replaces the character of Christine, the fiancée of the original play's servant boy, Jean. Given the altered dynamics at play, this provides a variety of interesting new motivations and aspects to the characters, as it makes the lust between John and Julie more sympathetic and allows the schisms of race and class distinction to be the focus of the antagonism.
It's a remarkably fraught and tense affair, with Bongile Mantsai's John, all thunderous voice and immense physical stature, literally booming with each detonation of his heavy boots striking the stage floor whilst Hilda Cronje's Julie flits sylphlike around the space, when not striding arrogantly with mocking intent.
The performances are extremely physical, teetering on the edge of dance, and with a sex scene that is both shockingly raw and unflinchingly honest. What's more, the mercurial changes each character goes through during the play, running the gamut of human emotion, show a great versatility and talent.
It's unfortunate then that despite the atmosphere, the echoey stage combined with the heavily accented and roughly spoken delivery, means that the opening few minutes of the play does lose a little of the clarity that helps bed the setting in.
However this is a short-lived issue and the roaring whisper of the saxophone, the seemingly endless smoke and the traditional song help cement this as a genuinely brilliant play.
Reviewer: Graeme Strachan