Might Never Happen
Amy Ewbank, Catherine Deevy, Kirsty Osmon, Danielle Nott and Vicki Welles
Dolls Eye Theatre
Kings Head Theatre
–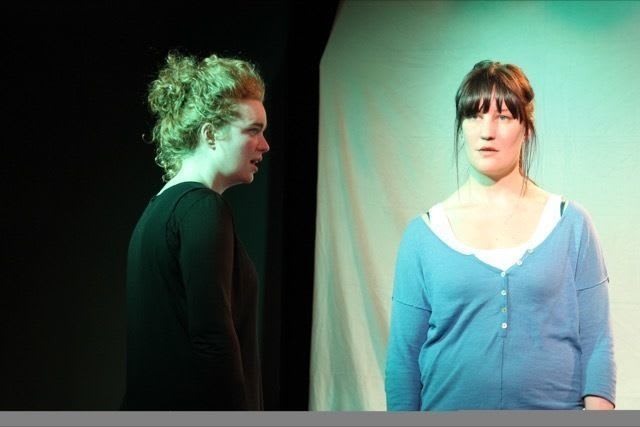 Walking early to work a while back, I saw on the near-deserted road before me a car slow down. The window opened and a man leaned out and whistled at a woman. He probably thought it was fun. She visibly stumbled and I suspect didn't think it was fun.
Public spaces are not always comfortable or safe for women. Dolls Eye Theatre has created a fine twelve-scene dramatic exploration of the issue in their play Might Never Happen.
The writing is sharp and thoughtful. Amy Ewbank's direction shows a fine attention to detail. The acting is always clear, and believable.
Kirsty Osmon and Catherine Deevy open the show with the five steps to avoid being badgered by men in the street. Much of it is funny as they advise on controlling facial expressions, looking androgynous, talking in a very weird way to men who approach and carrying keys in your hand to defend yourself. But they conclude with the suggestion that if all else fails then never leave your home.
How distressing unwanted male attention can be is well illustrated by a late night bus journey in which a man (Ashley Sean Cook) sits upstairs next to a woman (Vicki Welles) he doesn't know. He begins casually, almost roguishly, to engage her attention. However this becomes increasingly threatening as she refuses to respond. A couple of other passengers try to intervene but are intimidated into silence. The scene ends with him putting his arm round the woman's shoulders.
The behaviour of men can at times seem simply cruel. However another scene in which we hear the thoughts of a man (Ashley Sean Cook) and a woman (Kirsty Osmon) as they encounter each other in a club show a more complicated picture. There is a stupid mismatch between what he perceives and what she is really feeling.
When she feels sick and hangs onto his arm for balance, he regards this as a come on and sexually assaults her. Later, seeing her sitting cold outside the club, he gives her his coat to wear and buys her some chips. As he returns to his mates, she sits puzzled about why she thanked him.
The frequency of such events and their ever-present possibility can damage the confidence of a woman and make even the most trivial harassment stressful.
An early scene illustrates very clearly how such events can be trivialised by a caring male partner. A man (Paul Matania) and a woman (Danielle Nott) sit in their living room watching television. She mentions some ridiculous incident that happened to her in a public place. She had been in a station when a strange man walked up to her and quacked at her. Her partner finds that funny and even quacks at her. He just doesn't understand why the incident and the occasional compliments she gets from men in the street should bother her.
The agenda for such insensitivity is encouraged by the media. In a very funny talk show sketch "Lucid Ladies", the character Tracey (Catherine Deevy) says she welcomes the street attention of male strangers as complementary, a position then supported by fake messages from viewers and a studio audience encouraged to roar their approval. When Joe (Kirsty Osmon) objects that other viewpoints aren't getting a look in, she is told by a smiling male (Paul Matania) who is probably the producer that it is better for the ratings that way.
Part of the reason that men find it so difficult to understand the stress caused by harassment in public no matter how trivial is because it so rarely happens to them.
In a particularly amusing scene, a man (Ashley Sean Cook) confesses to his mate (Paul Matania) over a drink that he had been made to feel weak and small on a train journey by a woman who he claimed kept looking at him. So unnerved was he by this event that he worried she might get off at the same stop as him.
Of course, the reality is that it is women rather than men who are usually pestered in public and that unwanted attention can make public space seem permanently unsafe and sometimes even dangerous.
But men can learn to behave better and this important, enjoyable play can help in that process. Might Never Happen should be shown in every school, church hall and community centre. Maybe that is something the new London Mayor can organise. Let's hope she or he has booked a ticket for this show before it sells out.
Reviewer: Keith Mckenna