Under Milk Wood - Unter dem Milchwald
Dylan Thomas, amended by Michael Bogdanov and Gottfried Greiffenhagen from Erich Fried's German translation
Altonaer Theater, Hamburg
(2004)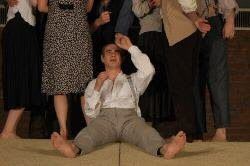 I've just come back from seeing yet another version of Under Milk Wood - the fate of the theatre critic working in Wales. The difference this time is that it was in German.
Michael Bogdanov's latest take on the notorious hot-potato of a play is based on his Wales Theatre Company's production that opened last year in Swansea and is coming to a close, after a 22–-week tour and three First Voices later, in June.
He has also now opened Unter dem Milchwald at the Altonaer Theater in Hamburg. From "Anfangen mit dem anfangen ", that tongue-in-cheekily Biblical introduction to Dylan Thomas''s wayward Garden of Eden, to Polly Garter''s plaintive song about her lost Willi Weisel, the play obviously held and delighted the Hamburg audience, who gave it a fifteen-minute ovation on its first night.
In fact Bogdanov did a German Under Milk Wood fifteen years ago as resident theatre director (and the first non-German ever to hold the post of Chief Executive) at The National Theatre of Germany, Hamburg's Deutsches Schauspielhaus. (He first directed the play Trinity College, Dublin, where he was a student, back in 1966, and has also directed it at Leicester's Phoenix Theatre, in 1974, and The Young Vic in London in 1979.)
This new production, directed by Bogdanov with Axel Schneider, is of course very similar to the current WTC production - but taken out of the original Welsh context it seems very different
For those familiar only with the Wenglish version, Bogdanov's Altonaer production can indeed seem something of a revelation. Familiarity breeds not only contempt but immunity to quality, as evidenced by the many Welsh commentators who find the work irretrievably compromised and commodified; the defamiliarisation that comes with seeing Under Milk Wood in a foreign language can actually help you see the thing more clearly.
What this production does look like is in fact European, indeed even Eastern-European: it's very physical, stark, expressionistic. We know this "play for voices" so well here we tend to forget that whatever our reservations it is actually an innovative, quirky, anarchic and surrealistic work – Thomas, remember, called the original draft The Town That Was Mad (the title adopted by Volcano Theatre for their distinctive deconstruction of the work when the local protectors of the Thomas reputation banned their version of Under Milk Wood).
It is also, to my mind, one of the most humanistic and humane plays of the last century. That mix of eccentricity and warmth is the more obvious when we see it out of the context of its overbearing heritage burden.
And, experiencing it as part of an audience who are generally oblivious both to the charges of colonialist cultural stereotyping and to the now-clichéd Thomas language, other qualities emerge, such as the overwhelming sense of sadness – the play, we realise, is full of characters who ache for what is not and pine for what is lost. Captain Cat still remembers the long-gone Rosie Probert, Sinbad and Gossamer Beynon can only lust after each other, Mog Evans and Myfanwy Price will never consummate their love and Polly Garter yearns only for little "Willy Wee who is dead, dead, dead."
The Altonar company take to the text (amended by Bogdanov and Gottfried Greiffenhagen from Erich Fried's translation) with gusto – I particularly liked Dirk Hoener's nutty English Lord Cut-Glass and Charlotte Heinke's various sexy young women. Unter dem Milchwald is still a warm, funny, sad, rude celebration of a small Welsh community (the German version keeps the Welsh names and the Welsh songs), but gives an outside eye that has none of the so-say problematic cultural imperialism of an Anglophone version or the reaction to words that have becomes cliches.
Indeed, I think it shows us, perhaps, that Wales's best-known play really is a masterwork. It seems so contemporary, almost postmodern in its lack of moral stance, its cross-cutting dialogue, its knowingness, its pastiche, qualities that with the physicality of the staging here combine to make it more than survive the loss of the singsong voice and that so destructive familiarity.
I suspect that many of those who denigrate both Dylan Thomas and Under Milk Wood have never seen (or heard) the play well produced, or they would see that far from ridiculing Wales it displays an affection and sympathy that is remarkable. (Another postmodern trait: I am reminded with Under Milk Wood of David Byrne's True Stories). It is, of course, childish in some of its sexual jokes and it is clearly an unfinished text that the writer left us before he died while on a tour where he performed what he had written so far. But it is also very very funny, very clever and ultimately, surely, pokes fun at the English for their typically imperialistic view of their neighbours – witness that Voice of the Guidebook, a good parody of how the colonists regarded other peoples and places with patronising superiority. Thomas does what so many postcolonialist writers do, knowingly or unconsciously: they turn the language back on the colonial oppressor, appropriating the imposed tongue to their own ends.
I am not suggesting Thomas deliberately set out to create a work of resistance, following Fanon, in the way that Achebe or Soyinka did; but there is certainly a strong counter-argument to the antagonistic posturing occasioned by the 50th anniversary of Thomas's death last year that says we can read in his work, especially Under Milk Wood, an albeit problematic postcolonial opposition to standard English and the English received ideas of Welshness. But that is a bigger debate
Such a production as the Altonaer Theater's, or indeed the Wales Theatre Company's, could I suspect be made only by one who can both respect the work as Welsh and see it from a non-Welsh perspective. Bogdanov is a Welsh European who can distance himself from the more domestic non-theatrical baggage associated with the play.
Why Unter Dem Milchwald as well as Under Milk Wood? For Bogdanov Hamburg is a home from home. His wife, designer Ulrike Engelbrecht, comes from the city and the family has just bought a flat there. And he seems to be enormously popular there, indeed in Germany generally – he moved on to Unter Dem Milchwald straight from directing Eduard Kuenike's opera Lady Hamilton in Cologne.
But he wants to work in Wales rather than Germany (although international work will always attract him): his assistant director Axel Schneider told me he couldn't understand why Wales didn't seem to find the funding to give him a post here. Bogdanov, he said, is regarded as a top director in Germany and he is clearly at that stage in his life when he has little to learn from working as a freelance director in different cultures: "he knows it all," says Schneider.
I must admit I don't have the answer.
Is it that Bogdanov doesn't schmooze with the Taffia ? Doesn't exude an unctuous charm ? Does take risks – if not in Under Milk Wood? (Though compare Terry Hands's Under Milk Wood at Clwyd Theatr Cymru in 2000, a restaging of his 1968 Aldwych production, with the current WTC version: the CTC production seems coy, cloying, unimaginative – Bodger's staging isn't so different but it is far more intelligent, sharper and funnier.) And yet it's Hands who coaxes extra funding from the Assembly, Hands who beguiles Russell Goodway at Cardiff council.
I hold no torch for Bogdanov, but he quite clearly is the most respected director to show allegiance to Wales, never mind to be Welsh (despite the name, he was born in Neath). That he has directed Under Milk Wood half-a-dozen times and made various TV films about his native South Wales says something about his allegiances.
His CV could hardly be more impressive: work for the RSC and NT (where he was associate director), founder-director of ESC, productions of theatre and opera at leading theatres in Tokyo, Milan, Copenhagen, Munich, Cologne, Hamburg, Chicago, Hong Kong, Minneapolis, Sydney, Vienna and so on. He is no lightweight, that's for sure.
So all I could do was shrug and say to Axel Schneider: "Politics".
This review is reproduced by kind permission of the Theatre in Wales website, where it was first published. A shortened version also appeared in the Western Mail.
Reviewer: David Adams