Under Milk Wood
Dylan Thomas
Produced by Royal & Derngate, Northampton
Royal & Derngate, Northampton
(2009)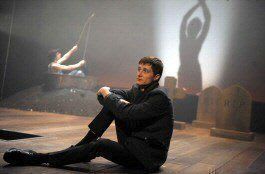 It is difficult to offer balanced opinion on this contemporary re-working of Under Milk Wood currently playing at Royal & Derngate, Northampton. This was a production that I loved and hated all at the same time.
One thing is for sure: young director Adele Thomas (currently working as resident trainee director at the Royal & Derngate) has taken on a mammoth task with staging this play. Originally written for radio, the collection of characters and quick changing narrative make this a challenge for any director.
Thomas must be applauded for putting her own stamp on this classic Welsh tale. Her version is a dark, almost nightmarish sequence with characters emerging from underground and disappearing into the foggy background.
This did provide a whole new interpretation on the story of Milk Wood and although it didn't always work, it did provide a fresh coat of paint that was interesting and at times drew you in closer to the text.
The elements of the production that didn't work were as glaringly obvious as those that did. The characters, although larger than life, still have a human quality that makes them appealing. The cartoon-like representation in this production did seem to rip the humanity out of some of those characters.
Although there are some interesting ideas (the wife poisoning Mr Pugh) but others (Cherry Owen) just seem to clash with the beauty of the language and the warmth of the characters and their relationships.
The surreal modernisation does work brilliantly in some parts. Feathers and ticker-tape fall from the sky as grave stones are used for the characters to lean on. Yet there are some touches where it seemed as though a scene had been modernised just for the sake of being different.
This is not the case throughout the play. Captain Cat's memory of Rosy Probart, for example is beautifully staged. One special mention must be made of Aled Pugh as 1st Voice. His was a commanding performance, watchable with a voice as rich as the text he was speaking. Pugh managed to disappear and appear at will, interacting with the stories and characters on stage with ease. His communication and connection with the audience was excellent.
I do realise that this review jumps between criticising and commending - and that perhaps sums up my experience of the production. Despite my misgivings, I would recommend this for the purists or those wishing to see an updated Dylan Thomas classic.
"Under Milk Wood" plays at Royal & Derngate, Northampton until Saturday 16th May
Reviewer: John Johnson