Million Dollar Quartet
Book by Colin Escott and Floyd Mutrux, conceived by Floyd Mutrux
Simon Friend and Mark Goucher with Tom O'Connell, Laurence Myers and Gavin Kalin Productions
Birmingham Hippodrome
–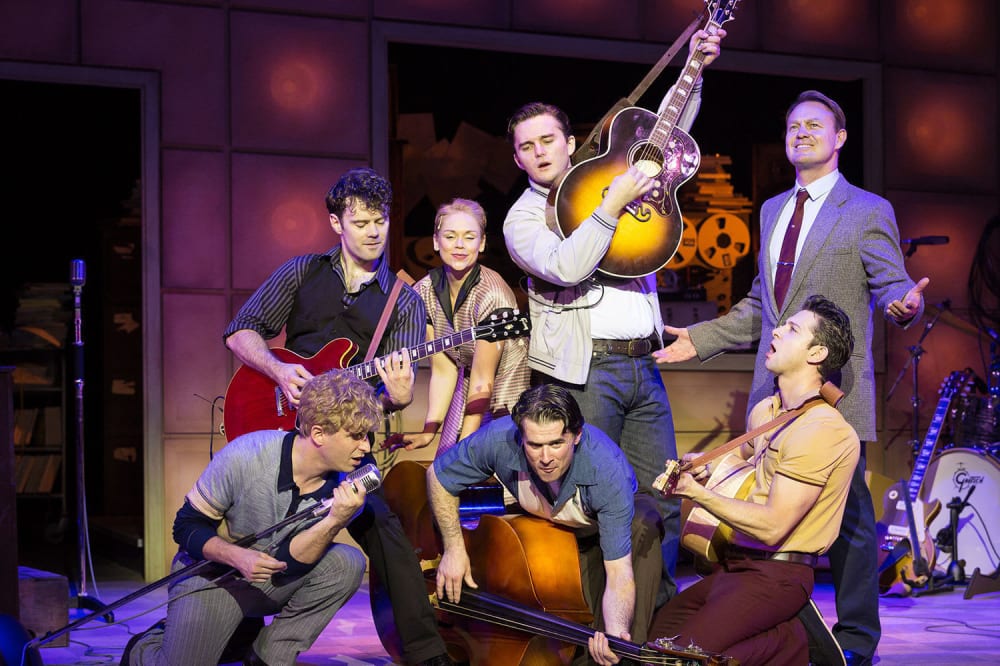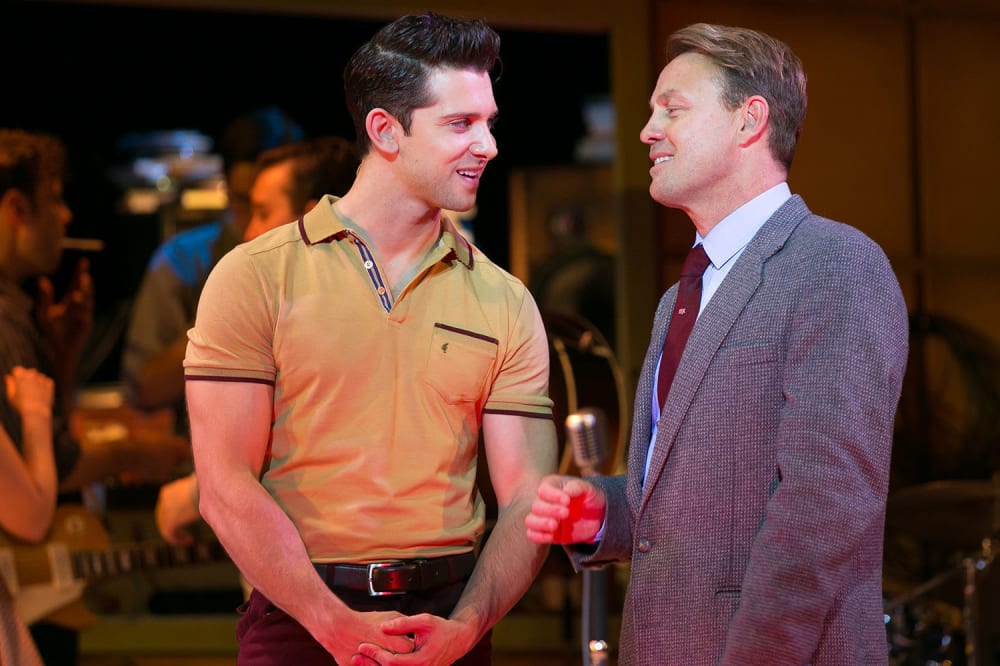 On 4 December 1956 one man brought Johnny Cash, Jerry Lee Lewis, Carl Perkins and Elvis Presley to play together for the first and only time. His name was Sam Phillips. The place was Sun Records. That night they made rock 'n' roll history.
Million Dollar Quartet celebrates that night when Phillips, the man more than any other who could be described as the creator of rock 'n' roll, persuaded those four legends to jam along in his studio.
Obviously there is more to it than that. Phillips looks back on how he came to meet each of the four greats and how he propelled all of them on the road to stardom.
There are tensions between the musicians as each is after the same thing: a number one in the charts.
There are revelations about private lives and truths are uncovered, such as why Phillips sold Presley's contract to RCA Victor: to prevent his business going bust.
But Million Dollar Quartet is first and foremost a jukebox musical. It does not pretend to be anything else. How could it when it has the early back catalogue of four huge artists to call on, singers and songwriters who were part of the rock 'n' roll phenomena right from its early days?
The plot is thin, there's not a lot of sympathy for the plight that some of the characters find themselves in—but there's plenty of great music performed on the whole with passion and style by a group of talented musicians.
Surprisingly, Jason Donovan, recognised for his voice as much as his acting, does not get to sing until he joins in with the final numbers. The last time I saw him in a straight acting role was when he played speech therapist Lionel Logue in David Seidler's The King's Speech at Birmingham REP in 2015. Then he was perfectly cast as the "jumped-up jackeroo from the outback"; here he is commanding as Sam Phillips who is prepared to sacrifice everything to make records for teenagers and expects loyalty from his artists.
The most impressive actor-musician is Martin Kaye. He is in his fifth year with Million Dollar Quarter after playing Jerry Lee Lewis on tour in the States and in Las Vegas. Not only does he pound the ivories with flair and a visual deftness, he gives Lewis a likeable cockiness that rubs the other stars up the wrong way. He also delivers a memorable version of "Great Balls of Fire".
Matthew Wycliffe as "father of rockabilly" Carl Perkins shows a vindictive side and is at odds with everyone else, particularly Presley who is always associated with a Perkins composition "Blue Suede Shoes".
Robbie Durham adds a touch of solemnity as Johnny Cash who decides to leave Sun Records after being made a better offer. His "Walk the Line" and "Folsom Prison Blues" stand out.
Understudy Mitchell Baggott gives a creditable performance stepping in to play Elvis, Sun Records' greatest discovery, who still seeks Sam Phillips's advice. Baggott is comfortable in the role, giving strong renditions of "Long Tall Sally" and "Hound Dog".
Katie Ray as Elvis's girlfriend Dyanne shows that she can belt out songs too, revelling in the much-covered "Fever" and "I Hear You Knocking".
With strong backing from Ben Cullingworth on drums and James Swinnerton on bass, there is a meaty, beaty sound which encourages people to dance in the aisles.
Even though Million Dollar Quartet, which is on its first UK tour, is a jukebox musical, you will probably say "That's All Right Mama" right through the show until Elvis has left the building.
Reviewer: Steve Orme