Mind Walking
Tanika Gupta
BandBazi Theatre
Dukes Theatre, Lancaster
–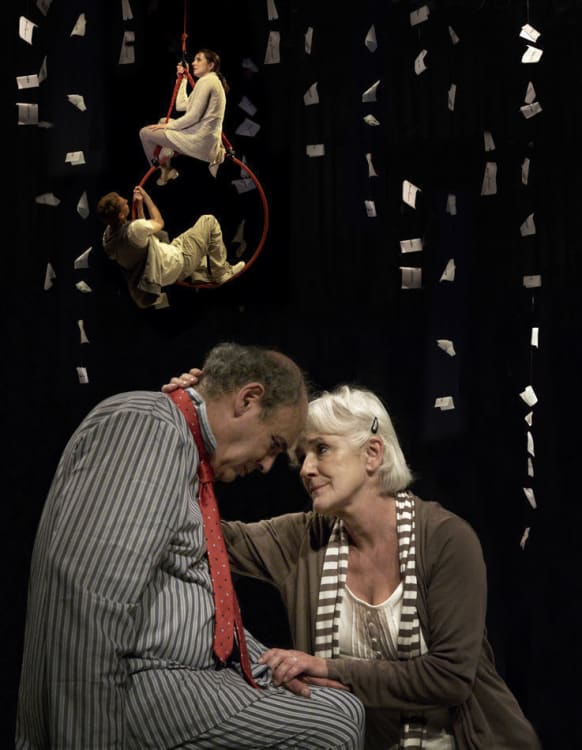 An added intricacy to Tanika Gupta's play about memory loss and cultural identity is that some of it is performed using a large circus hoop suspended above the stage.
It's something of a trademark for the BandBazi physical theatre company, who commissioned this work from the acclaimed playwright and EastEnders scriptwriter.
The hoop becomes everything from a setting sun to a doorway to memory and—with an added frisson of risk—an aerial device in which the performers are lifted aloft. The company's founder and choreographer Philippa Vafadari even performs acrobatic twists and turns.
The play itself is a balancing act in which Bobby, a retired Indian doctor living in the UK and suffering dementia, drifts back to his past in his mind, while in the present fails to always recognise his wife, daughter or grandson.
Like Bobby himself, played to a clever confusion by Peter D'Souza, Mind Walking has moments of lucidity and others that are a mystical tangle of sights, sounds and memories.
In the background Elgar is mixed in with Shankar, and the hoop becomes the focus of Bobby's sense of suspended detachment.
But in its high-flying 80 minutes this play also addresses the added complication that Bobby is regressing to his original language, leaving his family even more stranded. It seems, in a multi-cultural society and with a growing aged population, this is not uncommon.
So an abiding knowledge of a family's history becomes yet another issue in a play with more angles than even a circus hoop can provide.
It's purposely playing to audiences familiar with such challenges and here was the latest in a series of events organised by The Dukes, supported by Age UK Lancashire, to offer older people and their families increased access to the arts.
Reviewer: David Upton