Mindgame
Anthony Horowitz
Tabs Productions
Pomegranate Theatre, Chesterfield
–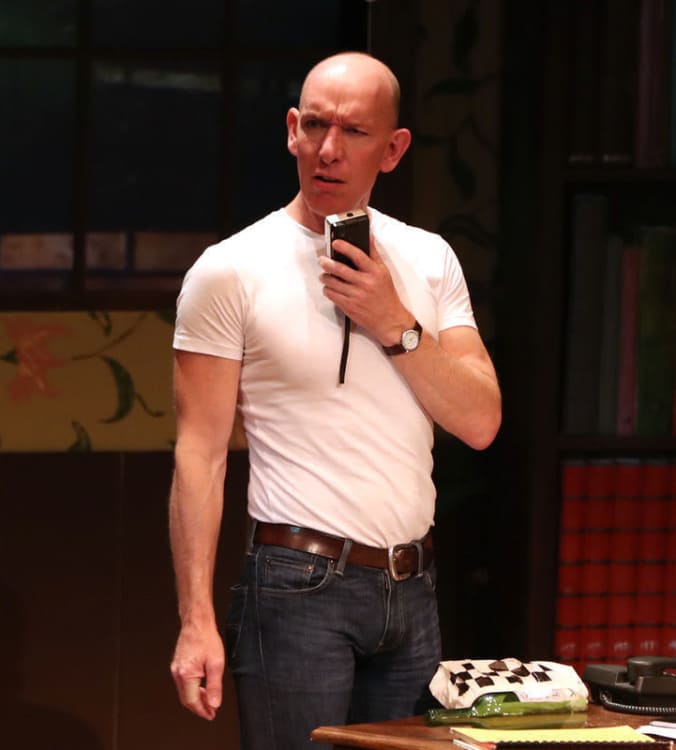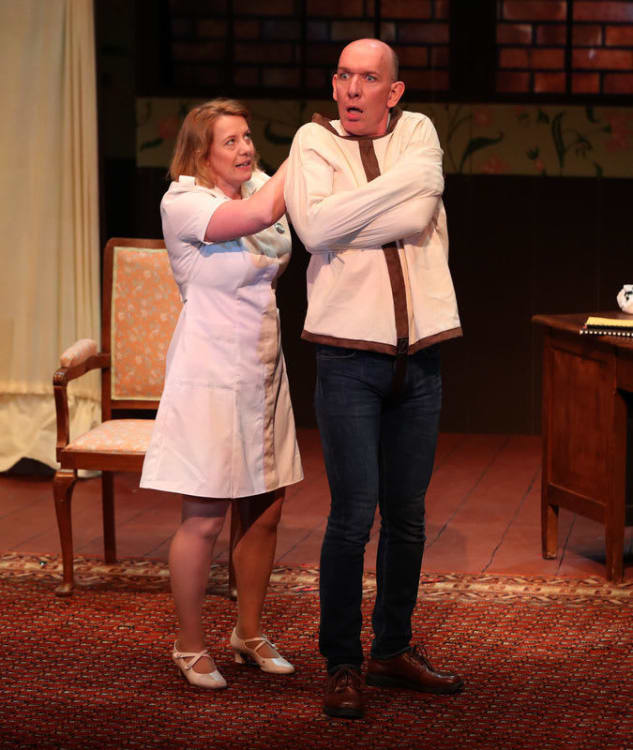 Pink Floyd's "Time" blasts through the speakers, clocks chiming and alarms ringing as we see an office at Fairfields, a hospital for the criminally insane.
Mark Styler, a writer, has had a long car journey to Fairfields where he is expecting to interview notorious serial killer Easterman. This will be the basis of his third true crime book, after best sellers Blood Bath and Serial Chiller.
Dressed in white T-shirt and jeans, Styler wanders around the office with a tape machine, recording his observations and thoughts. He is made to wait two hours before Dr Farquhar, the hospital director, arrives. But Farquhar is reluctant to let Styler conduct the interview with Easterman who was sent to Fairfields after being declared unfit to plead when he is charged with murder.
This is the start of Anthony Horowitz's excellent psychological thriller Mindgame, one of four plays in Tabs Productions' Classic Thriller Season at Nottingham's Theatre Royal and now on a mini-tour.
It is soon apparent that this was an excellent choice for the company's annual, month-long rep season. The fact that a wider audience will be able to see it is a bonus.
Horowitz has come up with a superb play in which no one is who they appear to be on the surface. Tabs certainly do it justice, bringing out the black comedy in the script as the action hurtles to its unexpected conclusion. There are hints along the way as to what might happen, although you can never be sure whether you have guessed correctly or if the author has dropped in a bewildering red herring.
The acting in Mindgame is of a high quality, with Andrew Ryan giving a superb performance as Styler. You want him to get the better of Farquhar whose reasons for not allowing the interview seem spurious; you feel for Styler when Farquhar persuades him to don a straitjacket so that he can try to get inside the mind of a serial killer; and you want him to unravel all the strange goings-on which make Fairfields such a terrifying place.
Michael Sherwin is initially comfortable with the role of the apparently absent-minded Farquhar although I wasn't completely convinced when other far-reaching aspects of his character were revealed.
Sarah Wynne Kordas impresses as nurse Paisley, at first nervous as she tries to warn Styler about the dangers of Fairfields before suffering an inglorious death—or does she?
In the Pomegranate's intimate atmosphere, you almost feel like one of the patients at Fairfields as the play rattles along with endless twists and turns. This is in no small way down to Karen Henson who directs with a firm, trusty hand. The revelation that Easterman killed his mother on his 21st birthday is, though, surprisingly devoid of tension; it is almost glossed over as if it were an everyday occurrence.
However, this is a minor criticism. As Pink Floyd's "Brain Damage" played at the end, I had to admit it's one of the most fascinating evenings I've had in a theatre for a long time.
Reviewer: Steve Orme