The Ministry of Fear
Based on the novel by Graham Greene, adapted by Daniel Jamieson
Theatre Alibi with Exeter Northcott and Oxford Playhouse
Yvonne Arnaud Theatre, Guildford, and touring
(2010)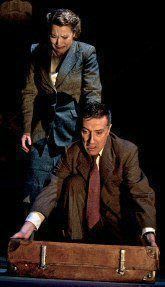 This small, innovative and quite exceptional company certainly believe in giving themselves a challenge. Greene wrote the story as a novel - or, as he would prefer it, an 'entertainment'- and a great deal of the narrative takes place within the mind of the protagonist, a mind which slowly disintegrates as the bombed buildings around him crumble to dust. A psychological spy thriller set in 1943 at the height of war-torn London with the fear of imminent death all around, it is full of mystery, suspense, multiple venues and numerous characters and, although it was made into a film, this is the first time a stage version has been attempted.
The first mystery is what to make of Trina Bramman's set: the jumble of jangled, twisted, jagged shapes soaring to the skies, everything askew, is not quite a bombed building. Nor is it quite a boarding house, a nursing home, a garden fete, a tube station or a lakeside - and yet, quite brilliantly, it is all of these, with sound and lighting producing a radio, deep water, air raids and exploding bombs. Searchlights rake the skies to the accompaniment of whispered "Where are you?", menacing mysterious figures appear from the shadows, and director Nikki Sved has made full use of the set with performers constantly on the move - up, down, round, through - climbing, jumping, running (even swimming) and changing the props as they go.
The cast are amazing - six of them take on fourteen parts and (with no concession to realism) change characters, switching instantly and convincingly in front of us with only expression, mannerism and style of movement to convey the new role.
There is a feeling of having followed Alice through the looking glass and meeting the Goons on the way as the characters are outrageously eccentric, frequently very funny, and events are surreal. All of this ties in well with the increasingly disturbed mind of Arthur Rowe (played by Chris Bianchi), who spends a lot of the first act appearing bemused and bewildered, as well he might when the chance acquisition of a cake lands him in a confusion of terrifying events concerning a mysterious 'something' which must be kept out of the hands of the Germans.
Music superbly composed by Thomas Johnson (played on Sax or Clarinet and Double Bass) follows the action, evocatively increasing tension, suspense and sometimes shocking the senses, but there's also some exquisite jazz in there too - also in tune with the period.
I have mentioned so few of the company but this is a true ensemble production with too many to name - all outstandingly talented, and together they have created a superb engrossing and intriguing play with light and shade, comedy, tragedy and suspense intrinsically mixed.
The Ministry of Fear is a inscrutable body which keeps everyone under control, ostensibly for their own good - "Nobody owns their own life any more". I believe it changed its name of late to 'Health and Safety'. What would Greene have made of that!
Touring to Ipswich, Glasgow, Winchester, Newcastle and Northampton.
Peter Lathan reviewed this production at Newcastle.
Reviewer: Sheila Connor