Minor Gods
Charles Forbes
Above the Stag Theatre
(2008)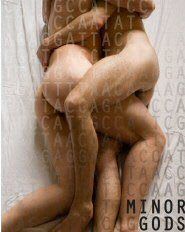 Produced off-Broadway in 2007, having been developed with the a grant from the Lincoln Centre's Directors' Lab and given its first reading at the Kennedy Centre, this UK premier at the Victoria theatre has the New York cast directed by Tony Speciale. It is a two hander that shows a leading geneticist about to make an important address to a Senate sub-committee in a Washington motel bedroom: Prav Menon-Johansson's adaptation of the American set is one of the smartest I've seen in a fringe theatre for months.
With him is the already trouserless rent-boy whom he has booked for a 'massage' session; but it turns out this is no casual bit of commercial sex. The meeting has been carefully contrived by Henry (Brian Patacca), the scientist. The male prostitute is someone he knew high school, knew intimately in fact, although the rent boy Felix (Chad Lindsey) at first affects not to remember him. Henry seems confused? Has he booked this session for sex (though he denies it), for conversation to sort out his own past, or for some sort of ethical consultation? He is about to announce advances in his research into the human genome that would allow genetic manipulation to allow parental choice not only against disease and handicap but sexual orientation. He wants confirmation that he should go through with it.
Forbes has created a stong character in Felix and he gets a comfortable, relaxed performance from Lindsey but Patacca struggles to make the scientist convincing, for he is such a mass of contradictions and the script throws so many topics into the mix without really pursuing any of them. Would someone really call on a person from their past to be the arbiter of whether they are morally justified in presenting their reseatch discoveries? It is not out of the question but needs more reinforcement.
One of the situations dug up from their schooldays is a school production in which Felix was going to play Apollo but a classmate (who happens to now be Henry's wife) turns him into the Minotaur and with Henry as Theseus and she, presumably as Ariadne, ties them all up together, I didn't believe a word of it! Like quite a lot of this play, it just is not fully thought out.
The prostitute, whom we first see running though his repertoire of role-play characters from Cowboy to Russian soldier - all under-clad in a rhinestone-studded underwear displaying the Stars and Stripes, turns our to be a right-wing Baptist, which adds an extra dimension to the situation and the play mixes its serious themes with plenty of comedy, though the humour would have more point if set against some real argument. Despite the amount of flesh on show there is no total nudity and this is not the raunchy piece you might expect from the situation, although Mr Lindsey does spend much of the time dressing or undressing. I believe the writer wants us to think about some very important questions.
I'd like to see him take it further. Tightened up to remove a little too much meandering this would make an excellent first act to a longer piece that really tackled its topics: both the characters' personal stories and the ethical arguments. It already has a quite splendid old-fashioned curtain which makes you long to know what happens next.
At Above the Stag Theatre until 31st May 2009
Reviewer: Howard Loxton