Minotaur
Kevin Dyer
Polka Theatre, Clwyd Theatr Cymru Theatre for Young People and Young People's Theatre in Toronto, Canada
Polka Theatre
–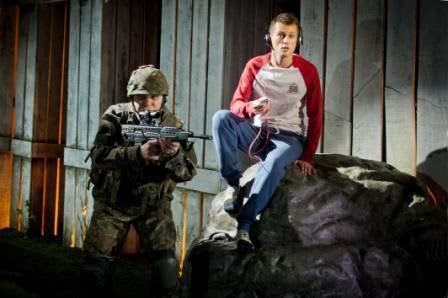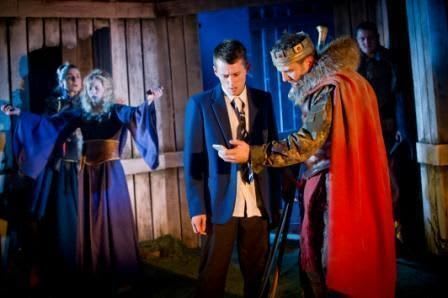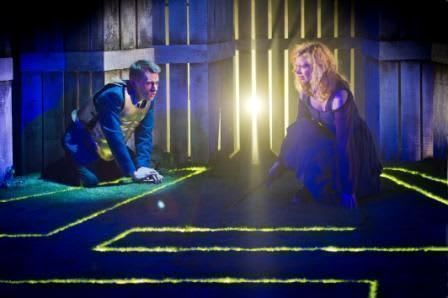 A schoolboy called Freddie turns out to be a direct descendant of Aegeus and Theseus and is transported back through the centuries to labyrinth of Minoan Knossos in Kevin Dyer's idiosyncratic version of the ancient myth of the Minotaur, while in a parallel world he is trying to rescue his soldier father, in action in a war zone.
This production, aimed at 8- to 14-year-olds and co-premièring in London and Toronto, relies on the theatrical effect rather than logic in constructing its story.
The plot retains some elements of the classical myth, including the sacrifice of an Athenian each year to the Minotaur, King Aegeus's son Theseus being sent out and facing the challenge in the labyrinth, Ariadne's thread and the black sail instead of the white as his return signal.
However Carla Langley's Princess Ariadne has a somewhat different role, she also takes the form of a gypsy who can see into the future and it is actually she who is the killer of her half-brother the Minotaur.
Liza Sadovy's Queen Pasiphae becomes a time traveller too. It is perhaps just as well, given the age of the audience, that no reference is made to her passion for Poseidon's white bull and the Minotaur's conception.
This isn't the classical story. It's a creation of young Freddie's imagination in which his father (or is it his father?) is in some modern conflict, pressing down on a mine to stop it exploding, and at the same time is deep in the Minoan labyrinth.
Appropriately for a contemporary youngster, it's a mobile 'phone call from his dad (James Hirst) that sets the mystery adventure in motion with Ben Stott's Freddie crashing back to antiquity to face Theseus's challenges, armed with the sandwiches Mum (Sanchia McCormack) made him. (That cheese and onion butty proves useful when he fights with a great pig that sprouts from the belly of a two-headed conjoined twin.)
Michael Fentiman's direction keeps things moving, with some dashing through the auditorium to increase audience contact, and a lot of help from Lily Arnold's design, Tim Lutkin's dramatic lighting and the explosive sound back-up of George Dennis and composer Barnaby Race.
There is always enough going on to hold the attention and to stop you from worrying about whom some of these characters are and what they are doing there. And there has to be a special mention for whoever it was who made Theseus's beautiful model boat.
Reviewer: Howard Loxton