MIRACLE! An Opera of Two Halves
David Almond (libretto) and Marcos Fernandez (music)
Music in the Minster
Sunderland Minster
–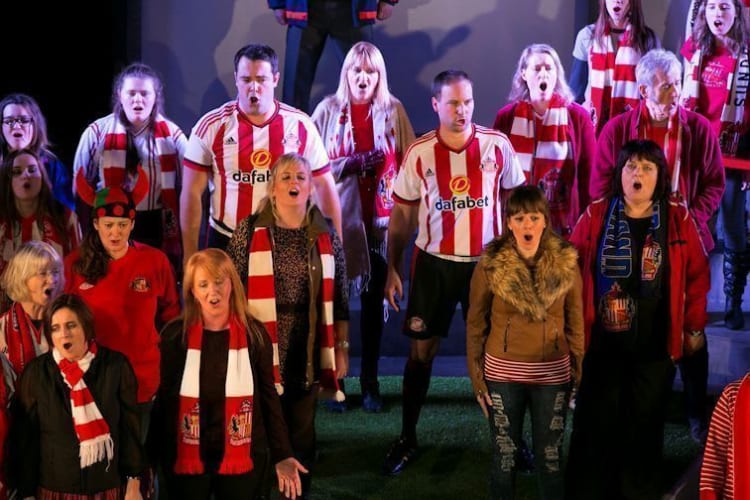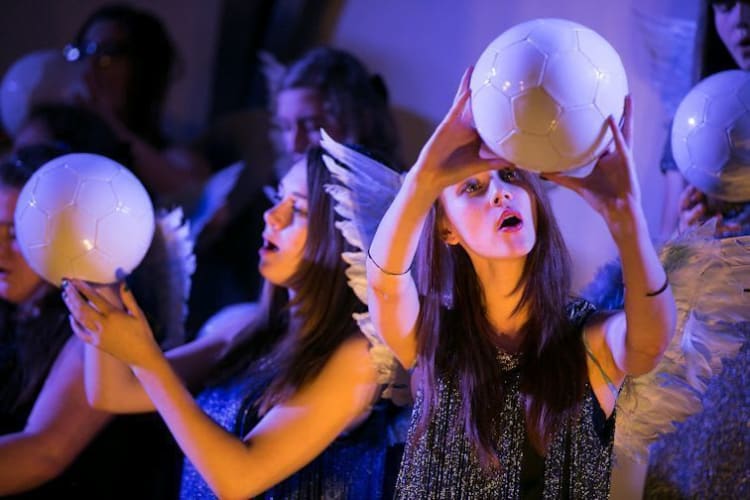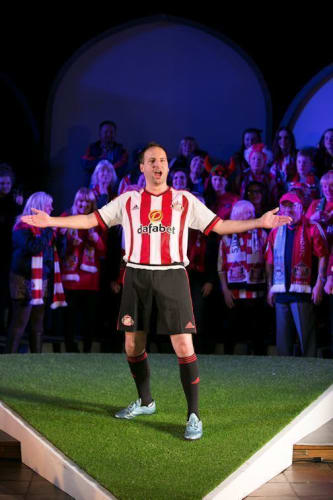 An opera about football with characters which include God and a whole bunch of angels—it's got to be tongue-in-cheek, surely?
Well, God spots a new star and takes a closer look. It's the Stadium of Light (Sunderland's football hground, for those who don't know football) but, oh dear, the fans are in despair because Sunderland is about to go down. Only a miracle can keep them in the Premiership and a miracle is what they get, for God sends one of his angels, Angelo (remember that: names are important here) to rescue the team.
When we next see Angelo he is being presented to the fans as the club's new hope, replacing the previous hope, local lad Hughie Mann (names, as I said, are important) who could do everything except score.
Hang on a minute! Doesn't the Manager Larry Trench look a bit like God?
Not surprising, really, because he's played by the same singer, baritone Ian Priestley. Could there be some significance in this?
Anyway, it's all great for Sunderland and Angelo (tenor Jonathan Cooke) but not for poor Hughie (baritone Miles Horner) who is devastated at being sacked by the club to which he has devoted his life.
Then Angelo meets and falls in love with Veronica, a lovely lass from Pennywell (a Sunderland council estate), played by soprano Caroline Kennedy, and, even though his job on earth is done, gives up his wings and refuses to return to Heaven, so God takes away the boots that made him the magical player he is and…
And anything else would be a spoiler—or even a series of spoilers—so let it suffice to say that all will be well.
We all know David Almond as a writer of children's stories, and we know the depth and sensitivity of his work. He brings the same qualities to this libretto as he does to Skellig, Heaven Eyes and all the rest.
This is a community production with local singers aged from 12 to 70 (a youth chorus of 15 and an adult chorus of 21) joining the four professionals under the direction of Unfolding Theatre's Annie Rigby, the musical direction of Marco Romano, who also conducts the nine-piece orchestra, and of chorus master Simon Fidler.
Marcos Fernandez's music gives these local singers every chance to shine and they grab their opportunities with both hands. They are full of enthusiasm, energy and confidence and, all credit to Romano and Fidler, they really do hold their own in the presence of the pros.
Not only is their singing of a high quality but director Rigby has created a constantly moving picture—not easy in such a limited space—in which each individual clearly knows their place and they all trust each other so the movement is seamless and flowing.
Tongue-in-cheek? Of course: it's a fun show and accessible to non-opera lovers but that isn't to suggest that somehow the genre has been dumbed down. The emotions, both individual and group, are strong and clearly expressed; the writing is sensitive and clever, almost witty at times; the music, like the waves on the local beach on which the piece is partly set, rolls on inexorably, highlighting the joys and despairs which go with being a football fan.
The opera is dedicated to Marj Barton who founded Music and in the Minster and who died last year just the day before funding for the project was agreed. She would have loved it! The audience certainly did.
Reviewer: Peter Lathan