Mireille
Charles Gounod, libretto by Michel Carre
Opera National de Paris
Released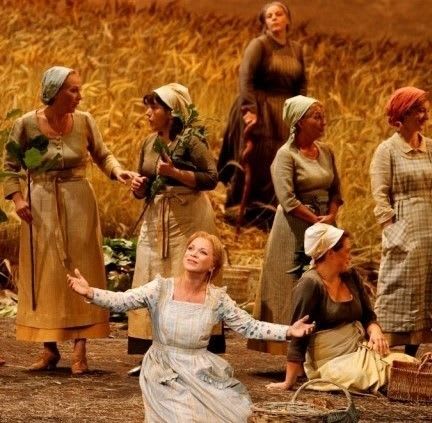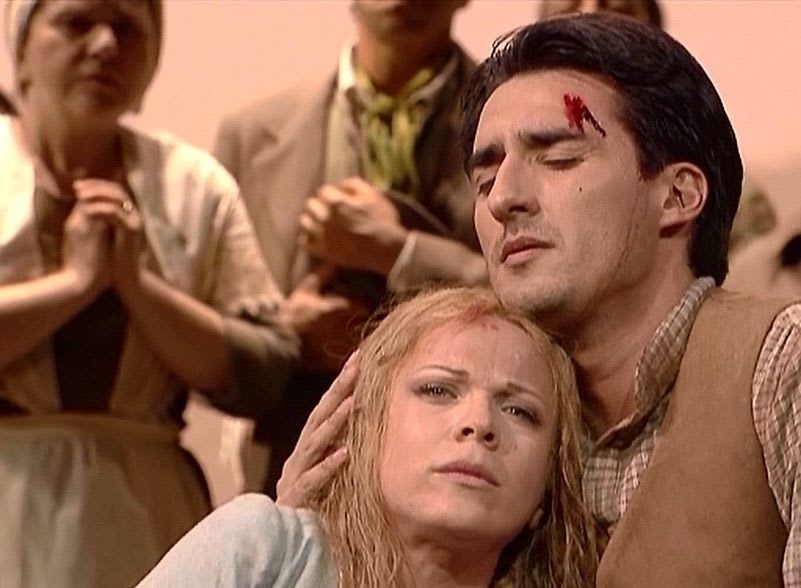 It says something for Nicolas Joel's faith in what he regarded as Gounod's neglected masterpiece that this was his first production as director of the Paris National Opera and the first time that the work had been performed there.
The composer based his work on a pastoral epic by poet Frederic Mistral that reflected the life of the cowherds and basket weavers of his native Provence.
Mireille loves Vincent, but her wealthy father thinks him too poor and prefers Ourrias for her husband. But she rejects Ourrias, and the jealous suitor attacks his rival. He thinks he has killed him, is remorseful and drowns. Meanwhile, Mireille sets off to find the recovered Vincent, travelling somewhat inexplicably across a desert, where she falls ill and eventually dies in the latter's arms.
Captivated by the story, Gounod visited Provence and composed most of the opera on location, but the rather timid composer changed the character of his homely heroine into something grander at the insistence of his intransigent leading soprano, and the opera was not a success at its 1864 première. It was only in 1939 that something close to his original intention was reconstructed.
What we have now is a sentimental idyll. The story is slight, hard to take seriously, and even the darker scenes—a haunt of goblins and spirits, the deaths of Mireille and of Ourrias—seem illuminated by the cheerful Provencal landscape. So what the piece lacks in dramatic intensity, it makes up for in lyricism and romantic charm.
The production is therefore ideally cast with the Albanian soprano Inva Mula as Miereille and American tenor Charles Castronovo as Vincent. They make a handsome couple, and the light, sweet timbre of their voices perfectly matches the vocal score.
Mireille is the only character given much range of expression. Mula has the simple candour and lovely pianissimo control for her act 2 love song "Que j'epouse", a delightful number that deserves a place in the concert repertoire for its soft dreaminess leading to rapturous delight, and which brings a long-lasting ovation.
Later, on a bare stage that represents the Crau desert, Mula is magnificent in "Voici la vaste plaine". Its vocal line, as exposed as the supposed setting, offers nowhere to hide, but her intonation demonstrates masterly precision and the voice has a slight astringency that adds effectiveness.
Castronovo raises the temperature in a spirited exchange with Ourrias but has to wait until the closing scene of the opera for his best aria, the beautiful "Mon choeur est plein", his lovely diminuendo full of pathos .
The number is almost too graceful for a death scene, and elsewhere the music jogs along happily when something more sinister might be expected, for example in the operetta-like melody when mezzo Sylvie Brunet's Taven gives Mirielle her old peasant's warning.
Ourrias, splendidly performed by Franck Ferrari, is no out-and-out villain, and his opening arioso about the girls of Arles might serve to introduce a dashing hero just as well. As for Mula, his most challenging scene comes when alone, except for the fatal ferryman, before he drowns in the Rhone. It's one of the quieter disposals of a baddie in opera, but Ferrari's rich baritone manages to invest it with a solemn and sympathetic dignity.
Were the production revived, it seems to have a ready-made Mireille in Anne-Catherine Gillet, then in the minor role of Vincent's sister Vindenette. She sings beautifully, and in their brief duet, it is hard to tell the voices apart. Alain Vernhes, a sweet-toned if not voluminous bass, is a convincing Ramon, domineering then repentant.
Although conforming to the standard five acts, slightly reduced in length here, the work instantly marks its departure from the style of French grand opera, with its folksy, bucolic overture, and the graceful "Chanson de Magali" with its mixture of 6/8 and 9/8 metres. Its representation of an idealised vision of country life reminded me of Oklahoma! The orchestra under Marc Minkowski responds throughout with appropriate lightness of touch to the delicacy of the score.
Designer Ezio Frigerio sets most of the work against a field of golden wheat at harvest time, with the local peasantry kitted out in attractive but realistic style by Franca Squaricapino. But neither they, nor the director, nor the clever lighting of Vinicio Cheli, can quite rescue the dying Mireille's quasi-mystical ascent to heaven.
This re-release on DVD of the 2009 recording is dedicated to Joel and Ferrari, who have since died, both in their fifties.
Reviewer: Colin Davison