Mirror Mirror: A Snow White Pantomime

Charles Court Opera
King's Head Theatre
–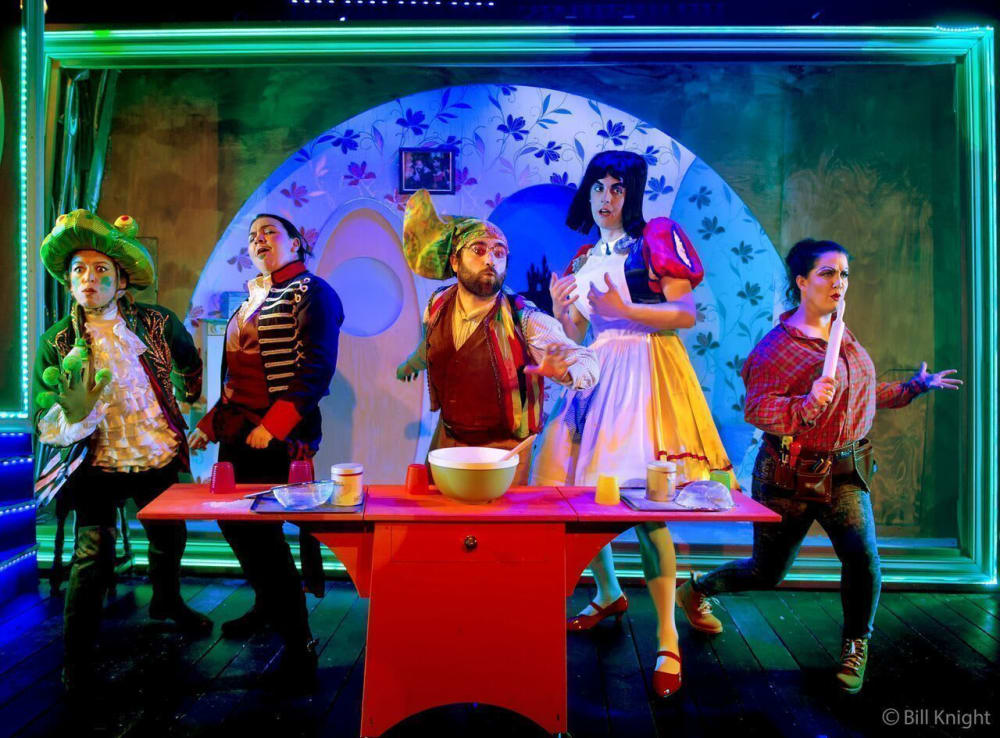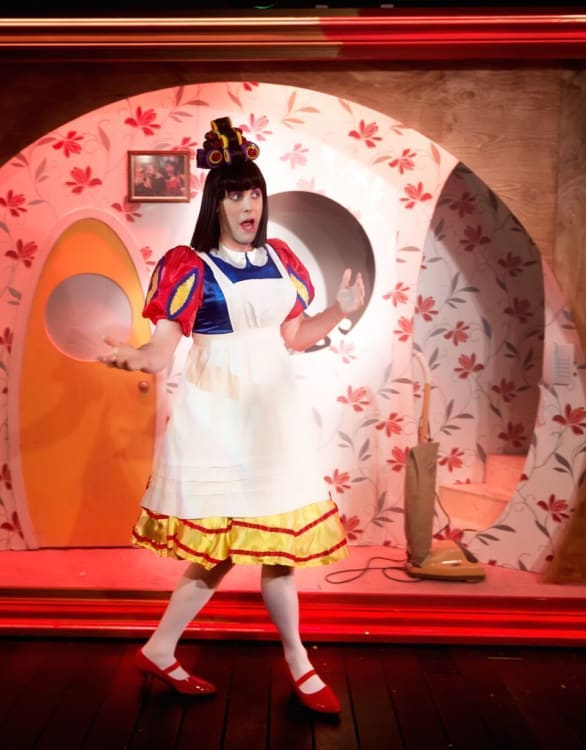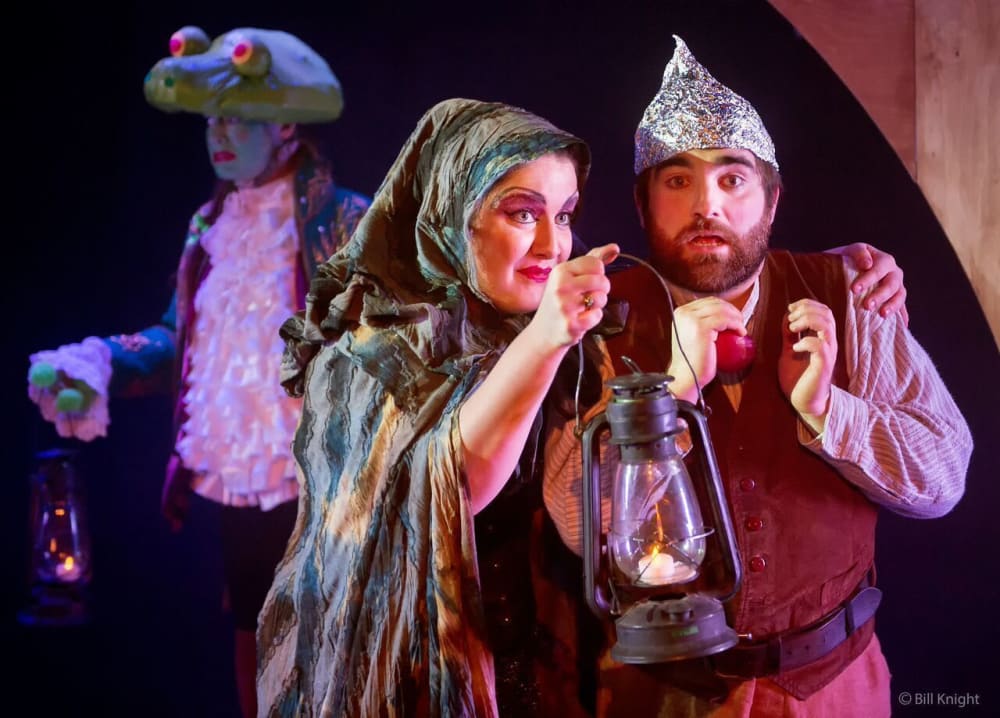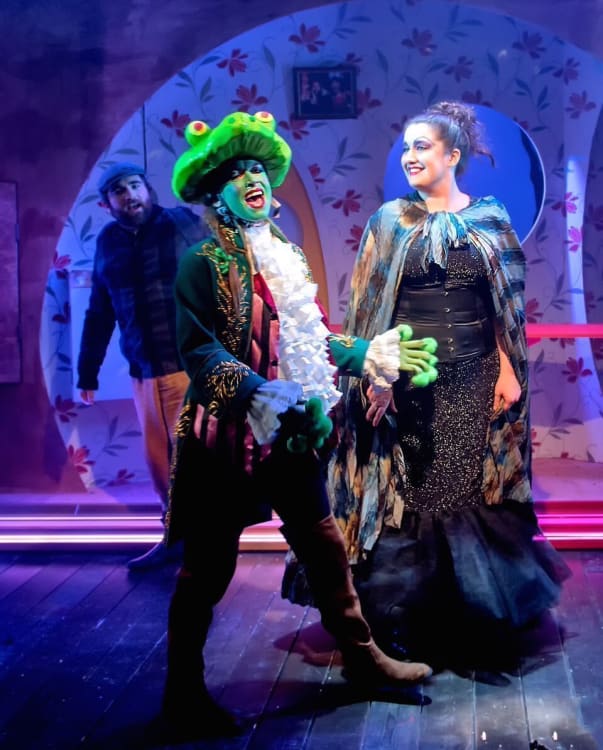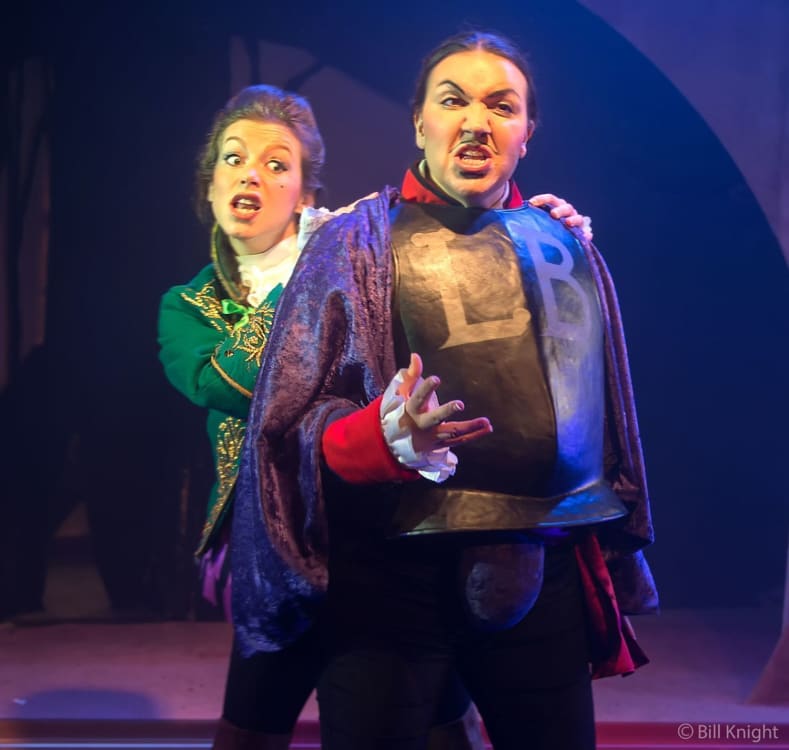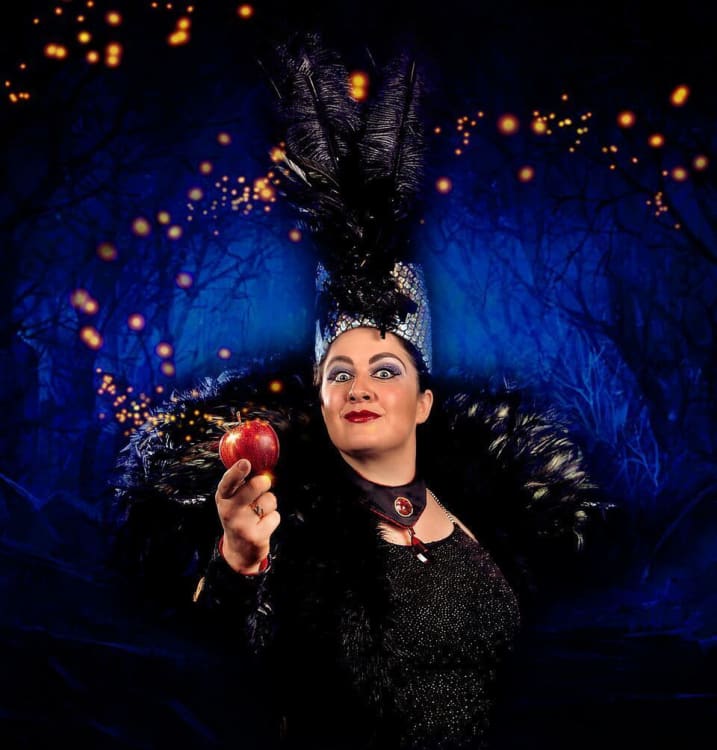 After 8 great years at the Rosemary Branch Theatre, Charles Court Opera brings its annual boutique pantomime to the King's Head. It is not quite so cosy, nor the seats so well cushioned, but Charles Court Opera's quirky comedy comes intact.
Writer/director John Savournin puts his inimitable stamp on the proceedings and with his usual collaborator David Eaton in charge of the music and lyrics and the remarkable talents and teamwork of some Charles Court Opera regulars, loyal fans will not be disappointed and newcomers are in for a treat.
It's not Snow White as the Brothers Grimm wrote it, nor Disney's more saccharine version, though elements enough stay in line with the original story.
There's a magic mirror (but no glass coffin, and the funeral isn't the one you expect), there's a Wicked Queen (though not Snow White's mother or step-mother), there's a prince (and of course his sidekick), there are dwarves (count them carefully, yes seven, though you must wait to the end to see them together) and Snow White looks after them—but she's not a princess (well not yet).
White is her married name; she is the young widow of a well-known heavyweight bass-baritone (note the name, he makes a very soulful appearance) and devoted to his memory.
That's the lot, except for the company's customary chorus of cuddly animal glove puppets popping up as an animated ensemble. "Where," I hear her fans cry, "where's the Dame, the central delight of a CCO panto?" Don't worry, you won't be disappointed.
The Queen (Andrea Tweedale, shimmering evilly in black and silver) is looking for a husband and, not content with what she gets from excessive taxation, wants a rich one. Prince Larry Black (Amy J Payne, rich-voiced and feisty) wants a bride. On his way to the Queen's castle, Snow White gives him guidance.
When the Queen doesn't fit his fancy, Larry pops back for tea at the dwarves' house. Snow seems much more attractive. When the Queen finds out, she's soon making plans with her mirror to eliminate Snow White. In this version, it's the Mirror (voiced by Simon Masterton-Smith) who's the real baddie.
Snow White may be devoted to the memory of Barry but that doesn't put off Prince Larry, nor the fact that she's twice as tall—because John Savournin plays Snow White, a new take on his dame role: a widow indeed, though one who is still young and charming—but just as funny and as in charge as always.
Snow has a dress that looks very familiar, though not identical to the popular image for you have to be careful with copyright. This may be a centuries-old folk tale but the Disney Company claims it owns all the dwarf names—except Sneezy. The others all have to have new ones.
Sneezy is joined by Drowsy, Crabby, Gleeful, Half-baked, Self-Conscious and another. Like Snow White, I have trouble remembering the new names. Is the last the one who comes out of the closet when he sees Larry's valet? They are all very different, in accent as well as in character, though clearly all brothers. That isn't surprising for Matthew Kellett plays all of them—brilliantly!
It is great to have these opera-trained voices (no need for microphones) giving animated renderings of entirely new lyrics that grow out of the action to some popular favourites including numbers from Abba and Queen, the Spice Girls, Lady Gaga and Les Mis. Solo or ensemble, the talent is not only vocal; they handle Damien Czarnecki's camp choreography with real brio and enter the pantomime spirit with comic flair.
There's a pastry-making traditional slop scene that has become a CCO trademark, complete with audience participation, custard pie (watch out!) and of course a song sheet competition—even some sweeties.
The after-interval plotting may sag a bit but by then no one is caring they are having a good time and things rush on to end happily: the mirror's power is broken, the Queen reformed, the Prince gets Snow White. Nichola Jolley's valet, whom the Queen turned into a frog (no, the Frog Prince is another story) has yet to turn back but maybe his dwarf likes it that way.
The audience love it. CCO has done it again. When it's as much fun as this is it isn't surprising that their boutique panto has become a north London Christmas cult show.
Reviewer: Howard Loxton