Mirror Magic Market Tales
Chantal Schaul
Love&Madness
Riverside Studios
(2008)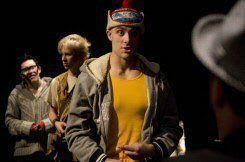 Just round the corner from Hammersmith Tube, through the doors of the Riverside Studios you'll find a magical world where a lady gives away gingerbread from a house made of sweets and a market stall that sells smelly-feet flavoured jam.
This is the land of Mirror Magic Market Tales, a fantasy world in which mirrors are far more than a reflective surface to look at. Visually this world is stunning, as you wander amongst the stalls, you literally do feel like a child in a candy store, taking in the multi coloured jams for sale, and a strange array of bric-à-brac. The characters that inhabit this world are just as unusual with their interesting approach to selling. The prematurely bald Lionel (Craig Tonks) and his fantastic selection of knitwear, Yes (Richard Holt) who is only capable of saying the word "yes" and uses an electronic kit attached to his belt to aid the selling of his various metal goods, and then there is poor Will (Jack Roth) who suffers from a rare condition around reflective surfaces, which is unfortunate in a land surrounded by mirrors.
Once you've become fully acquainted with the town folk you may take a seat and the story begins and this is where it begins to unravel slightly. As we follow the adventures of this group of misfits and their encounters with the "magic mirror of consequence" it's hard to know who this show is aimed at. Initially you may think children but the language is verbose and the plot fairly complicated. Yet it is not really a show for adults either. The wordy dialogue is funny and the execution of Chantal Schaul's script by the performers cannot be faulted, but the content is not meaty enough to hold an adult's attention.
It's a shame as this style of performance has become very trendy of late. With a set and costumes that TV show The Mighty Boosh would envy and disturbing and distorted tales to match, this show has great potential. However by falling somewhere in the middle between adult comedy and kids show it in fact looses both audiences.
Running to 4th January
Reviewer: Rachel Sheridan