The Miser
Molière, translated by David Johnston
Lyric Theatre, Belfast
(2010)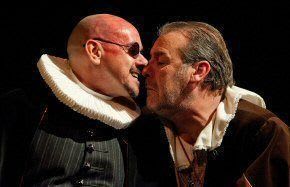 David Johnston, Head of School, Languages, Literature and Performing Arts, at Queen's University's, just across the road from the Lyric Theatre's temporary home, the Elmwood Hall, has achieved many critical successes on the London stage with his dazzlingly inventive and earthy translations of the playwrights - such a Lope de Vega - of Spain's Golden Age.
It was natural then, that as its former Chairman, the Lyric would find a home for his adaptations of Molière's 17th century satires, firstly Le Malade Imaginaire (The Hypochondriac), and now L'avare (The Miser).
Casting Andy Gray, from television's Rab C Nesbitt, in both title roles was and is an inspired choice. But where The Hypochondriac was, by all accounts, truly wonderful, The Miser, despite its inspired moments of pantomime, commedia dell arte, slapstick, crotch-grasping and knowing asides, is very much the curate's egg, excellent only in parts.
The plot should be familiar enough. A miser, who is comically cruel to his servants while hoarding his cash obsessively and frustrating his children's marriage prospects, plans to satisfy his own absurd desires, a prospect which evaporates when the sovereigns go missing. As catch-up, YouTube offers Luis de Funès 1980 version as prep.
In this adaptation Molière's Harpagon becomes Johnston's Harpington, an avariciously penny-pinching Scots merchant, transposed, as many were, from Edinburgh to Ulster at the beginning of the 18th century. His son Cléante, has become a popinjay of a flâneur, a Tristram (Richard Clements) who would, like his grumpy father, marry the seemingly penniless Marianne (an acting by numbers Sarah Lyle) who, for little reason, has lost an 'n' from her forename. Julie Maxwell, uninspiring as Harpington's daughter Eloise, was once Harpagon's offspring Elise. Paul Boyd plays, tediously, the tediously handsome Alexander, her beau, Molière's Valère. Richard Orr enjoys, as much as does the audience, his joint roles as pantomime villains, part Three Musketeers, part James Bond.
But the play would be all Gray's as he envelops stage and auditorium with his inexhaustibly blackly comic presence, were it not for an almost equally dazzling tour de force from Canadian Michael Condron and local actress Katie Tumelty.
Condron, in a surely career-making performance, grows progressively to inhabit, inventively, a trio of rascals, chef, ostler and wily manservant - plus a long lost Scottish m'Lord. Ms Tumelty, is Molière's Frosine, now named Margarita, whose scene-stealing entrance as the disturbingly lascivious matchmaker, creates an audience-dividing frisson as she savours, faux-orgasmically, white shaving foam from the miser's lips.
In truth though, for all the sympathy Gray's hugely enjoyable Punch and Judy presence induces, and despite Condron's ever enchanting antics, Johnston's inventive Miser is overlong by half an hour as his comic riffs again and again - particularly in the Robert Peston style parallels he seeks with today's uxorious bankers - extend self-indulgently into longeurs.
Neil Martin's music is, as always, a delight. Dianna Ennis's cleavage-rich dresses, plus Stuart Marshall's conventional set, properly lit by Conleth White, do the job. But, unfortunately Director Dan Gordon - no stranger to slapstick as a fine actor himself - has been too much in awe of the Professor's academic and critical clout to, so far, call for a veritable case of sharpened blue pencils.
Lyric Elmwood till May 29th, then touring the island of Ireland's market town theatres, night by night, till 9th July. Details www.lyrictheatre.co.uk
Reviewer: Ian Hill