Miss Lindsay's Secret
Maria MacDonell
Maria MacDonell / Georgina MacDonell Finlayson / Alan Finlayson
Scottish Storytelling Centre
–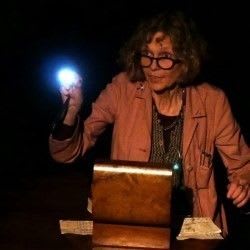 Based on a real series of letters discovered in an old sewing box within the Glenesk visitor centre, Miss Lindsay's Secret is a quaint and sweet delving into a literally hidden pocket of history. Maria MacDonell's play recounts a presumably semi-fictionalised account of her discovering the letters and reading through them with ever-growing fascination and emotional attachment.
The letters are all from a man named Alexander Middleton, writing to his sweetheart and lifelong friend "Minnie" Lindsay, a seamstress in Glenesk. Through his words, we learn of his passage to Klondike, prospecting in the Yukon gold rush of the late 1890s, then, through his bitter years there, yearning for home and Minnie while seeking his elusive fortune.
The piece is performed by the trio of The Curator (MacDonell), The Musician (Georgina MacDonell Finlayson) and The Man (Alan Finlayson), where MacDonell's curator frames the work with some background, while Findlayson reads the letters and Findlayson saws and plucks away with her fiddle to compliment the scenes.
Alex's letters swing from the blithe and funny, dismissing the hardships of his daily life in sub-zero temperatures, to the longing and loving plaintive yearnings of a man far from home. There are even keen little snippets of bawdy colloquialisms and social cues to be drawn by inference. It is, sadly, only ever one half of the story, as Minnie's replies are, as best we know, lost forever.
What we are left with is an insight into a time and place that is captured with care and attention. It has some moments when it feels a little slow, and the framing device feels a little thin, particularly when MacDonell seems to become suddenly invested in the story more than before, but in general, this is a wee delight.
Reviewer: Graeme Strachan