Miss Saigon
Book and music by Alain Boublil and Claude-Michel Schönberg, lyrics by Richard Maltby Jr and Alain Boublil
Cameron Mackintosh Productions
Alhambra Theatre, Bradford
–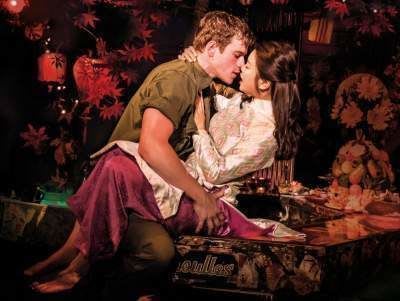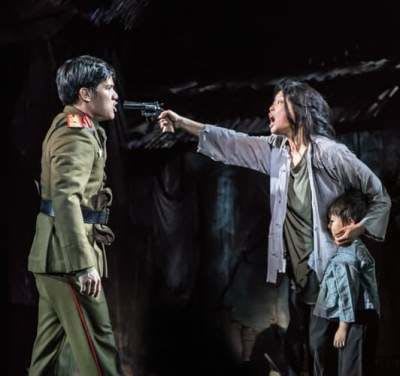 It's been nearly 30 years since Miss Saigon (1989) flew into the West End—its propellers whirling thunderously—and since then it has become a much-loved part of the theatrical landscape like Wicked (2003) or The Lion King (1994).
As with Schönberg and Boubill's previous show, Les Misérables (1985), Miss Saigon is an intensely emotional musical juggernaut that inspires ferocious loyalty in its fans. On my way to review the show, the gentleman sitting opposite me on the train admitted to having seen the show five times.
Based on Puccini's Madama Butterfly (1904), Miss Saigon tells the story of a doomed relationship between a young Asian woman and an American man. Although Schönberg and Boubil adjust the time and setting of the opera—from turn-of-the-century Japan to 1970s Vietnam—they preserve its central characters and basic plot.
17-year-old peasant girl Kim (Sooha Kim) is the latest addition to Dreamland, a Saigon bar and brothel run by a French-Vietnamese hustler known as the The Engineer (Christian Rey Marbella). A group of US marines turn up anxious to "get drunk and get laid", but one of them—Chris (Ashley Gilmour)—is less enthusiastic than the rest.
In Madama Butterfly, Pinkerton enters into a marriage with the title heroine under false pretences: he understands the laxity of Japanese divorce laws and intends to discard her once he has returned home. In Miss Saigon, however, Chris genuinely falls for Kim and she returns his love.
Nevertheless, their love affair is torn apart by historical events, namely the impending arrival of the Viet Cong. Despite his best efforts, Chris is forced to depart Vietnam without Kim, leaving her to fend for herself and their unborn son all alone.
Nowadays, Miss Saigon is best known for a series of awe-inspiring set-pieces—including the victory parade of the new communist regime (superb choreography from Bob Avian) and a hedonistic night club scene—and in this regard Laurence Connor's production passes with distinction. Even though I knew it was coming, the scene in which the helicopter descends to whisk the US marines away from Saigon was still an electrifying coup de théâtre. Kudos must go to the sound designer, Mick Potter, for his impressive work here.
Totie Driver and Matt Kinley's set design is extraordinary and allows for seamless transitions between scenes, with parts of the set effortlessly gliding across the stage. Moreover, the set is beautifully complemented by Bruno Poet's lighting, with its expressive use of yellows and reds.
Although Schönberg and Boubil's songbook can't compete with their other big hit Les Misérables, Miss Saigon still has a vibrant score filled with catchy numbers. Friends will attest that I've had "The Heat is on in Saigon" and "The American Dream" firmly lodged in my head over the last few days.
Ever since the controversial casting of white Welshman Jonathan Pryce in the original production, subsequent revivals have opted to cast Asian actors as The Engineer. Christian Rey Marbella is mesmerising in the role, capturing the character's devilish charms and sinuous physicality. His apparent delight in the role—who can blame him?—only adds to the experience.
Sooha Kim gives a lovely performance as the tragic heroine of the piece, but she also projects an inner strength that prevents her from being a total victim. Chris is not the most interesting character on stage by any stretch, but Ashley Gilmour does a good job of conveying his inner turmoil. The scenes between Kim and Gilmour provide the evening's most understated moments.
There is fine support from Elana Martin as Chris's American wife, a problematic role given the audience's affection for Kim. Rob Herron is the epitome of American machismo as John, and there's an unnerving turn from Gerald Santos as Thuy—Kim's spurned fiancé who later becomes her mortal enemy. Finally, Aicelle Santos makes a big impression as the prostitute Gigi, delivering a touching rendition of "The Movie in My Mind".
Miss Saigon is not a subtle piece of work by any means. Indeed, it has all the subtlety of a sledgehammer. Nevertheless, it remains a hugely ambitious and enjoyable crowd-pleaser, and Laurence Connor's revival is full of wondrous detail and pizzazz.
Reviewer: James Ballands