Miss Bollywood
Produced by Farhath Hussain
Manchester Opera House and touring
(2007)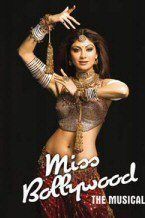 Miss Bollywood is a musical produced by Farhath Hussain who specialises in taking Bollywood shows to western audiences. It celebrates the best of the dance routines from some of Indian cinema's most successful films of the last forty years and stars Shilpa Shetty. She is perhaps best known in the UK for having won Celebrity Big Brother earlier in the year. However Shilpa Shetty has been a big star in India for fourteen years and shines brightly in this jolly fusion of Eastern and Western dance and musical theatre styles.
Shetty plays Maya who has come to Britain to open a Bollywood dance school in a culturally diverse London of 2012. When her building is slated for demolition she turns to Nick, an Impressario who has somewhat forgotten his Indian heritage. She hopes to become his new leading dancer as his company prepares for the Mayor's multicultural gala concert to be held in Trafalgar Square. This is the cue for some conflict, as Nick already has an established star called Riya, and some Bollywood versus Hollywood dance routines. Added to the mix is some well delivered physical comedy from neighbours Hasmukhlal and Mansukhlal and his very wise eight year old daughter Shruti and you have the recipe for a very entertaining evening in the theatre.
There is some romance between Maya and a choreographer called Jay but what makes the piece work is the dance routines which punctuate the action. These include hefty doses of fantasy. There are clever theatrical tricks such as mask and fluorescent lettering used in blackout and also the use of glitter balls.
The costumes by Neeta Lulla and Shiraz Siddiqui are exceptionally colourful, ranging from simple black and white to gold body stocking and sparkling silver bikini style top and bottoms. The Bollywood style dances by top Indian film choreographer Ganesh Hegde were more successful than the Western style but all had a certain pzazz and energy. The forty talented dancers were clearly enjoying what they were giving. Towards the end of the second act they spilled out into the auditorium to really engage the audience.
The story is rather slight and pantomimic at times. It is a version of the standard boy meets girl, boy loses girl, boy finds girl again but is held together by the principals and, in particular, Shilpa Shetty. The work she has put in to make the transition from film star to stage performer really paid off. She received a rapturous reception and, to the delight of the audience, traded on her more recent press coverage. She included a joke about not being too goody goody and another about dreaming she was just to be kissed by Richard Gere.
The costumes and the routines became ever more glitzy and glamorous as the second act moved to its close and the main theme of celebrating cultural diversity was well received by the three quarter full Opera House.
"Miss Bollywood" plays in Manchester until Tuesday 6th November and then tours across the UK before arriving at London's Albert Hall in December.
Reviewer: Andrew Edwards