Mission Improvable

Mad Monkey Improv
Cellar Bar, South Hill Park Arts Centre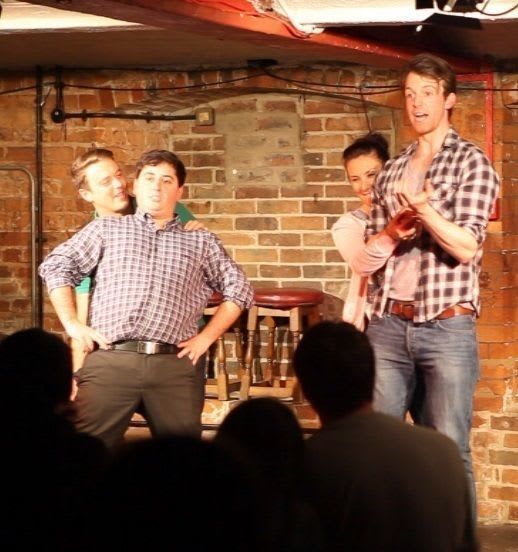 Sunday the 18th May was a beautifully sunny day in Bracknell, not the sort of evening you would choose to be sitting in a dark and damp cellar, however, come 7PM we descended into the bowels of the building for Mad Monkey's comedy night Mission Improvable, and it was worth it.
A troupe of energetic and confident performers created a friendly atmosphere, akin to a good pub quiz down at your local, with lots of audience participation, a sense that everyone knew each other, and some really good laughs.
The night began with comedic songs from Laura Cooper, who managed to find comedy in the appointment of a new Pope, along with some more predictable gags involving bodily functions. She was charming and it worked well as a warm-up act to the night.
The performers, who kept the audience laughing all evening, worked their way through a series of traditional improv games with gusto, and as usual, some work better than others. That is the risk and the fun of improvised performance.
Having seen Cartoon De Salvo's Made Up some years ago at South Street Arts Centre in Reading, I had been hoping for some more contemporary improvisation techniques and methods from this young company; the genre has really moved on since the heyday of Whose Line is it Anyway. However, this show is firmly rooted in the traditional feel of improv, and it was clear that the audience expected exactly that.
Whilst it doesn't break new ground, which may be off-putting to some, there is a lot to enjoy about it. The real key to the success of improvisation is the connection and energy between the performers, and their ability to work complicitly. It definitely felt as if this team worked well together and that makes it more enjoyable to watch.
The ticket price is a bit steep, but the team worked hard for it and delivered nearly two hours of consistent entertainment.
Despite it being a little dated, this is a really enjoyable night of well-executed fun and mischief. The final game is particularly good, and highly suitable for those with a penchant for Schadenfreude. No spoilers here, you'll have to go along and see it for yourself.
Their next show is June 15th at the Cellar Bar in South Hill Park Arts Centre.
Reviewer: Liz Allum