Mission to Mars
Clare Duffy, Jon Spooner and Chris Thorpe
Unlimited Theatre and Polka Theatre co-production
Polka Theatre
(2010)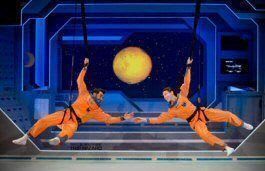 They are counting down to the launch of Firefly One and scientist astronauts Dr Gail Iles (named after one of the shows scientific consultants) and Dr Stefan Losch are in the space ship nearly ready for take off. They have been chosen to be the spearhead of a two ship mission to Mars and the first humans who will set foot there. Gail introduces herself reminding us that it is 2035; she's 35 now and has been dreaming of going to Mars since she was 10 in 2010. Stefan (who is a German scientist) has had the same dream for just as long, as a boy he even wrote a letter to be opened by his older self when he achieves his ambition.
Mission to Mars has a smashing set that gives us the inside of the spacecraft, outlined in neon with computer screens giving scientific readings that show things like the astronauts heart rate and blood pressure, communication screens with space control and the following sister ship, sleeping shelves that slide back into the structure, equipment lockers, control devices and harnesses for security on take off and in acceleration that also help in creating an illusion of loss of gravity. Through a portal that opens at the rear we can see out as the jet propulsion fires on take-off and the rocket soars upwards from a diminishing earth and out into space.
Yes, it is mounted to a high standard, but that would not count for much if it were not so engagingly performed by Clare Barratt and Sébastian Lawson as the astronauts. They make an excellent team, both as characters and as performers as we see them getting on or getting fractious in the long, long isolated journey together.
They are alone, yet not alone for on the television screens they are in communication with their colleagues and it is they who feed in much of the information about gravity, the scale of the solar system and so forth as well as interacting with the crew of Firefly One.
This is not a show about gadgetry but about human emotion and what it feels like to face this kind of adventure. These are real people and there is a poignant sequence with Stefan space walking to repair the vessel, his fear kept in control by Gail's encouragement from inside Firefly and, when he gets caught up by the peace and beauty of the universe from space, having to be coaxed back inside by her. Designer and video designer Rhys Jarman and Mic Pool have done an excellent job and the team on Firefly Two we see on video project a presence that seems as live as that of the two astronauts on Firefly One.. It is all brought together most effectively by director Jon Spooner and should capture the imagination of any youngster
At Polka Theatre until 6th November then Royal Theatre Northampton 9th - 13th November 2010
Reviewer: Howard Loxton