Mister Holgado
Christopher William Hill
Unicorn Theatre
–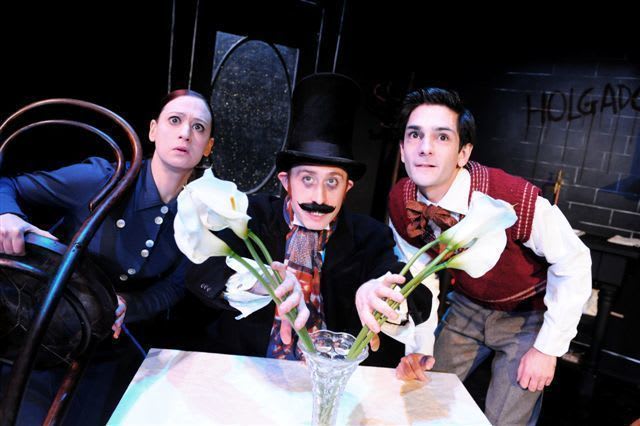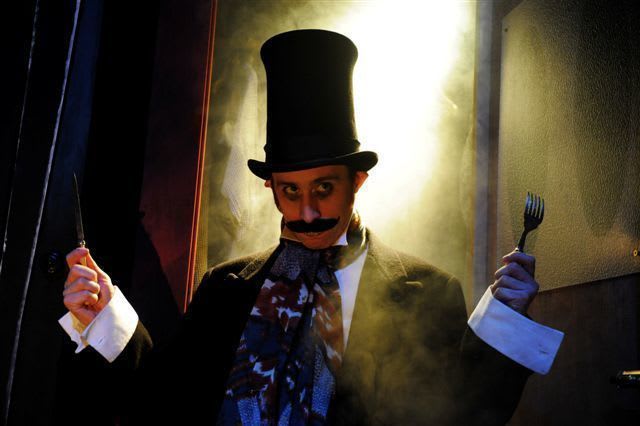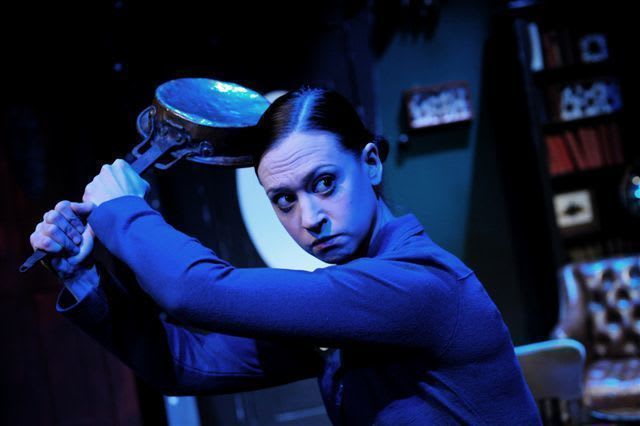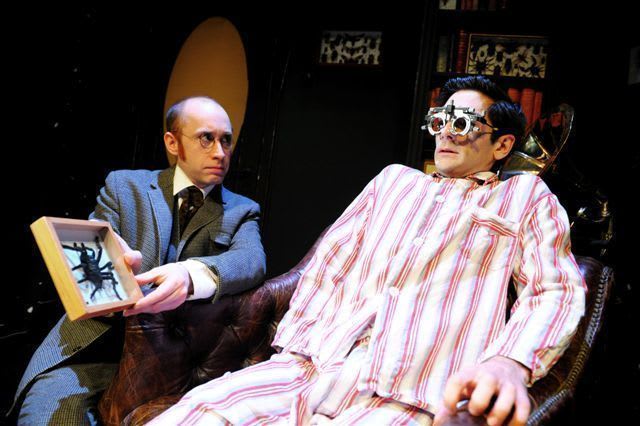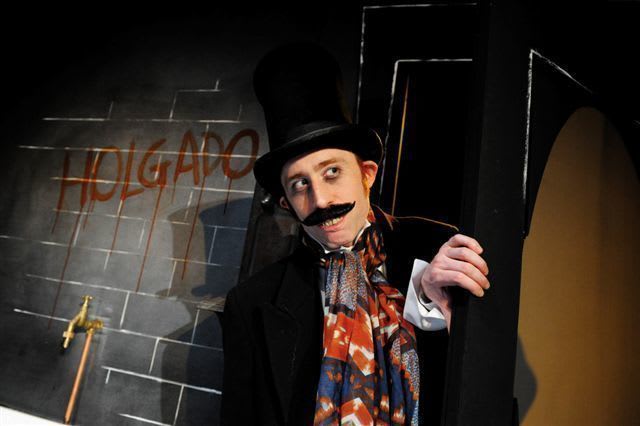 In the city of Schwartzgarten lives a lonely little lad called Conrad. He has a vivid imagination.
To keep himself company he finds a tiger who lives on top of his wardrobe but not nearly as nice to have around is Mister Holgado who hides at night in his wardrobe, because Mr Holgado likes eating children. If you listen you can hear him sharpening his knife on his fork.
Conrad's parents love Conrad but they are very protective about him, that's why he doesn't go out and make friends. Conrad's father is a child psychiatrist. He collects African masks and insects. He knows everything about them and psychiatry but nothing about children. He thinks all a boy needs is books. He can be very strict.
Conrad's mother is much nicer; she too has a vivid imagination and she knows how to join in a game. She is also brilliant at reading him bedtime stories, but she has to take pills and when she gets excited or frightened she has to breathe into a paper bag to control her panic.
When mother says he can't have a tiger like the one in his bedtime story, his father won't accept the idea of his imaginary tiger and insists he tell the truth. This launches an ongoing battle as his father demands the literal truth and calls him a liar, leading to the real life appearance of someone whom Conrad identifies as Mr Holgado, a man who matches the description of this man in the wardrobe as Conrad has imagined him, a man who only turns up when his father is not there.
Christopher William Hill has devised an intriguing manifestation of a father who at first seems to have forgotten what it is like to be a child, yet then demonstrates all the imagination his son has, a parent who takes authority almost to sadism, a husband whose behaviour has surely produced his wife's neurotic condition in a setting that seems all too close to the Vienna of Freud and his followers.
Kai Fischer has devised a setting that puts kitchen, bedroom and study all on the stage at the same time with the aura of an Austrian apartment with glass-panelled doors that allow Matthew Lenton's production to make use of ominous silhouettes and shadows, an atmosphere amplified by Mark Melville's music and sound.. This is a child's view of his parents; they exist in a slightly different kind of reality from Conrad himself, and the performers exactly capture that slightly one-dimensional character, which makes Mr Hadalgo seem a totally different character, even though we know who he is really.
This is a play which I can only describe as frighteningly funny. For it would definitely be frightening if it wasn't so funny, which says a lot for the skill of the performers in keeping that delicate balance. It isn't a matter of laughing to stop being frightened; as with a horror movie, the two are inextricably entwined.
Sandy Grierson's Mr Holgado is truly fantastical. Older audience will see obvious references to Alastair Sim at his wickedest or Alec Guinness in The Ladykillers, complete with teeth, voice, with that layer of charm bringing flowers and champagne truffles (a favourite of mother and apparently of tigers) on his arrival.
There is another beautifully judged performance from Cath Whitefield as Conrad's mother, a mum in a million despite being a bullied scaredy cat, and Daniel Naddafy's pyjama-clad Conrad knocks the years off to become the age of the youngest of the boys in his audience.
This show is a real delight, aimed at anyone eight years old and upwards—I loved it.
Reviewer: Howard Loxton