Goodnight Mister Tom
Michelle Magorian, adapted by David Wood
Children's Touring Partnership
West Yorkshire Playhouse, Leeds, and touring
(2011)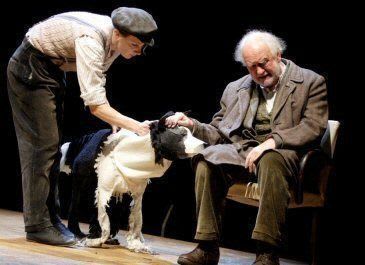 A packed auditorium and an audience in which a predominance of the old and young, very obvious fans, suggests that this is no ordinary audience and probably, therefore, no ordinary play. Ear-wigging, and speaking with those next to me, I decided that I might be the only person who was not a devotee of a television treatment of Goodnight Mister Tom starring John Thaw. In fact I haven't seen the TV version, nor have I read the book. The poster indicates evacuees and the starting time, seven o'clock, suggests 'kids in audience'. So it all came as a very pleasant, if sometimes emotionally painful, surprise.
In case there are others ignorant of this post-WWII children's classic, here is a very brief and selective synopsis.
William Beech is evacuated from London to Dorset. In the first half we learn that his mother is something of a religious nut, not very well, and probably leans towards giving young William 'the belt'. In Part 2 we will learn that this ain't the half of it. In Dorset we meet a pleasing crew of village lads and lasses, a feisty fag smoking lady doctor and so on. But we also meet a grumpy old sod with a heart of gold - Tom Oakley. Tom lost his wife and son soon after childbirth and now shares his house with a fine sheepdog (Sammy). William settles in with Tom, and Tom brings him out of his shell and into the sunshine. William also becomes a close friend of Zach, another evacuee, who scintillates with confidence and talent. Part 1 ends with William, not happily, returning to London to look after his mother.
I go no further because most of you will know what happens in Part 2, but if you don't, I won't spoil the bumpy ride you're in for after the break! Just don't expect it to be a continuation of a rustic idyll.
The play meanders a little in the first half, but pleasantly so. Part 2 comes as quite a shock as horror (realistic horror) rapidly piles on horror.
Paradoxically this is a excellent 'feel good' theatre. The audience adore every bit of it. There is oh-ing , ah-ing, laughter and sobbing, then vigorous clapping and a lot of sweet smiles and wet handkerchiefs.
It is a wonderful production. I hope it runs and runs.
There are a team of young actors. On press night William was played with a charmed innocence by Jack Butcher and Zach with exuberant panache by Ethan Beer. Stars in the making, not a fluff between them. They sounded word perfect, and never lost the emotional thread of the piece. If you want a child to tread the boards, this is the play and these are the young actors to inspire her or him.
Oliver Ford Davies played an admirably believable Tom . He gained what was clearly considered an accolade from the lady next to me: "I was worried that I'd really hate not seeing John Thaw, but this one is just like him."
The rest of a large cast doubled and tripled with gusto and did credit to David Wood's lovely script (full of good heart). Special mention to Laura Cubitt for handling Sammy and making a mask and a few bits of rag so good you could almost smell him.
Wardrobe, lighting, sound and particularly the very well used set are excellent. Goodnight Mister Tom deserved to fill The Quarry. And it has done WYP a big favour; my hunch is that a sizeable chunk of the audience, old and young alike, were new to theatre. Perhaps they'll get the habit.
Steve Burbridge reviewed this production in Darlington.
Reviewer: Ray Brown