Mixed Up North
Robin Soans
Out of Joint & Octagon Theatre Bolton
Octagon Theatre, Bolton
(2009)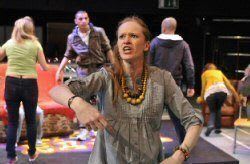 Bolton Octagon opens its season with a prestigious co-production with Out of Joint whose artistic director Max Stafford-Clark's output seems hardly to have dropped since his stroke three years ago and who sat in the auditorium making careful notes by torchlight throughout the performance.
The play is another collaboration between Stafford-Clark and Robin Soans, one of the chief proponents of 'verbatim theatre', which retells real stories using directly-quoted speech from the actual people involved, a form which Stockport-born playwright Simon Stephens – whose new play Punk Rock is about to transfer to the Royal Exchange – referred to at a public event in Edinburgh last month as 'meretricious'.
The play opens in a space – designed by Jonathan Fensom – that has an authentic look of a section of a school gym, with some wonderfully-familiar touches such as the baseball hoop with the white backboard, the linoleum floor with the thick court lines on it, the stacks of blue plastic chairs at the back and the grey metal lockers. In the middle of this is a low, black, wooden stage platform surrounded by trussing that supports some old Strand stage lanterns. All is brightly-lit by the harsh, sickly glow of fluorescent strip-lighting.
Into the space come several white and Asian teenagers, showing off, arguing, insulting one another, fondling, kissing, posing and doing all the other things that groups of teenagers do when they get together. Eventually Trish enters and speaks directly to the audience, making it clear that we are cast in the role of friends brought in to observe a dress rehearsal at this Burnley youth theatre group that Trish set up after the events in 2001 – labelled 'race riots' by the press – to bring together young people from different ethnic backgrounds.
During the troubled rehearsal, we are told more about the events in 2001 and the recent history of Burnley that brought it about and personal histories and troubles of some of the characters, particularly the older characters who help to run the group. Weary, pregnant Bella, the director, struggles to get the cast together to start the rehearsal as troublemaker Kylie insists on answering her 'phone and winding up shy Wendy, and leading man Javed is dragged outside every five minutes by his domineering girlfriend Maureen who insists on giving her opinion on everything he does in the show.
After the interval, we become the audience for the performance of the group's show. Due to the events in act one, the performance cannot go ahead, so instead we are invited to participate in a discussion about local issues with the staff and social workers associated with the group and a mixed-race couple whose story was the basis for the play. Council officer Roy has attended but objects to the basis of the discussion and tries to prevent them from speaking about certain issues.
The play does not have any sort of sustained narrative and the large number of characters makes it difficult to find out about any of them in any depth. However this isn't the point of this piece; the purpose of the play is to bring out certain issues in more depth and with a wider range of opinions than the press coverage or politicians have tried to do, and in this it succeeds brilliantly. The viewpoints expressed are sometimes surprising and far from obvious, and sometimes they question the nature and motivations of the middle-class, concerned liberalism that brought about the project. While some characters detail the persecution they have had to put up with as mixed-race couples, others criticise them for idealising mixed-marriages to the extent that they are portrayed as superior and more worthy than a traditional white English or Asian marriage arrangement.
The device of casting the audience as characters in the scene works perfectly in act two but sits a little awkwardly in act one when we sometimes witness private discussions that surely would have been taken into a private area away from observers. In fact a lot of act one seems to consist of monologues and interviews that have been contrived into dialogues or conversations with the audience, some of which are more natural than others.
Although the characters as written don't have a great deal of depth to them, the superb ensemble cast with some tight, detailed direction from Stafford-Clark have created instantly-recognisable characters that rarely, if ever, stray into caricature. The part of the group leader Trish is shared by experienced stage and television actor Celia Imrie, who played it very well at the reviewed performance, and new LAMDA graduate Judith Amsenga, which one would expect would result in two very different portrayals of the character.
Kathryn O'Reilly is the weary director Bella, Matthew Wait doubles very convincingly as technician Colin and council official Roy, Mia Soteriou is wonderful as the busy provider of food and cups of tea Jen, and Tyrone Lopez and Claire Rafferty double superbly as leading man and troublemaking girlfriend Javed and Maureen and couple at the discussion Bilal and Catherine. Lisa Kerr is very authentic as tutting, eye-rolling teenager Kylie, and Rose Leslie is very natural as shy Wendy. Other good performances come from Lorna Stuart as Tamsin, Kashif Khan as Sarfraz, Muzz Khan as Uday, Stephanie Street as Aneesa and Asif Khan as Aftab.
By its description in the publicity this play does sound a bit grim, but it is actually a lot more fun than that, with a lot of humour throughout. Particularly in act two, the issues are really engaging and well-argued from every side in a compelling way that really forces you to think about your own views in a more informed and intelligent way than any newspaper report about these issues has ever done. This high quality production proves that verbatim theatre can be engaging, intelligent, even-handed and really good fun if it is done as well as this.
Until 26th September
Philip Fisher reviewed this production at Wilton's Music Hall
Reviewer: David Chadderton