Mogadishu
Vivienne Franzmann
Royal Exchange Manchester and Lyric theatre Hammersmith
Nuffield Theatre Southampton
–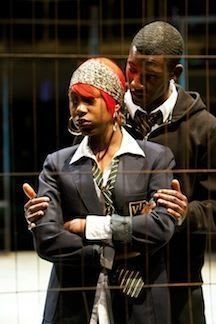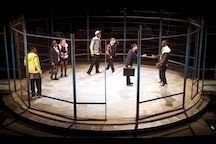 Education has long been a political football with a plethora of new initiatives to try and raise standards. The variety of schools continues to grow with academies, free schools, faith schools and of course comprehensive schools.
But in essence teaching and learning are all down to the student and the teacher and the rapport they build up over the years. Schools have become a hot bed of raging adolescent hormones and the emergence of gangs with conflicts between teacher and students and students and students leads to some terrifying results.
Vivienne Franzmann was the winner of the Bruntwood Playwriting Competition for her sharply observed and gripping play Mogadishu. She writes from first hand experience as a teacher in an inner city London comprehensive and it is a powerful searing insight into the life of modern day schooling.
Jackie Clune is impressive as Amanda, a white teacher who passionately believes in helping her students to overcome some of the trials and tribulations they face.
But things start to go wrong when Amanda intervenes to stop a fight between the black bully, Jason energetically portrayed by Ryan Calais Cameron and a young geeky Turkish lad Firat (Michael Karim).
In one of those misjudged moments, Amanda refuses to report Jason to the Acting Head (James Barriscale) for fear that he will be permanently excluded. However the situation escalates when Jason accuses Amanda of assault and racially abusing him.
In such cases, child protection procedures are instigated and Amanda is suspended while the whole incident is investigated by social services and the police and the possibility of losing her job and pension.
Jason Barnett is Amanda's black IT consultant husband who urges her to seek help and support from her union but Amanda is reluctant, convinced that everything will work out.
Her self-harming, white daughter Becky who attends the same school, a viral explosive performance from Rosie Wyatt, is both angry and tortured by the situation as she tries to make Jason and his gang tell the truth.
But Jason has coerced his friends into agreeing to his version of the story. Hammed Animashaun, Tara Hodge, Tendayi Jambere, Savannah Gordon-Liburd and Farshid Rokey give sterling performances as his feral gang, whose loyalties are stretched to breaking point in backing up Jason's lies.
Their street-wise banter reflects their individual performances with a swagger and confidence plus some wonderful comic touches.
Nicholas Beveney is the security guard Ben, Jason's father struggling to bring the boy up on his own since his wife tragically died and supports his son in trying to bring about justice.
But as Jason spirals into more deceit and lies and the truth slowly emerges, the consequences are both catastrophic and shocking and even Amanda surprises us with her final decision.
Mathew Dunster's taught direction is exemplary, producing excellent performances from his mainly young cast and designer Tom Scott's wire-mesh fencing highlights the tensions of institutionalised learning in schools.
The young audience quickly picked up on all the nuances and empathised with a remarkable play that richly deserved their enthusiastic applause.
I urge you to catch this on its tour to Newcastle on the 20th – 24th March and the Lyric Hammersmith from the 27th – 31st March.
Reviewer: Robin Strapp