Moby Dick
Herman Melville adapted by Sebastian Armesto
simple8
Arcola Theatre
–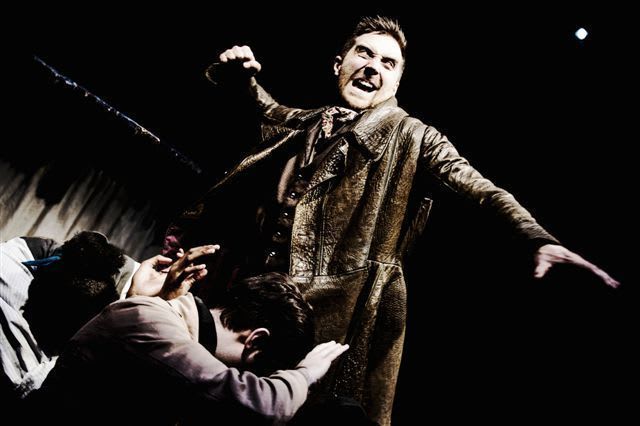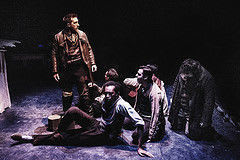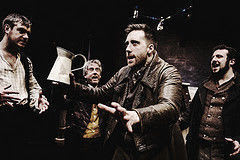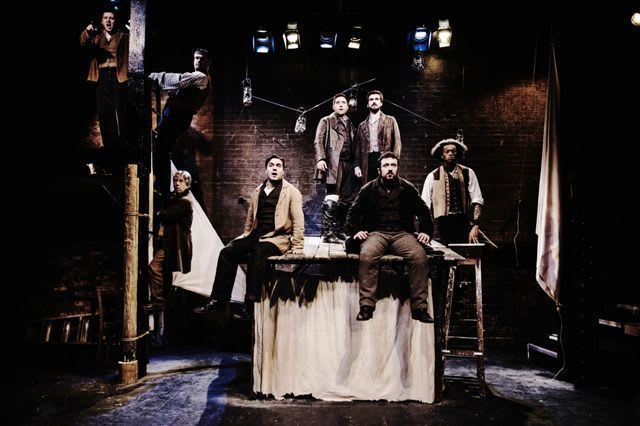 Simple8 is a company from which one has come to expect theatrical flair, imaginative staging and intelligent interpretation. It raises high expectations, and with this adaptation of Herman Melville's classic novel of whaling and the irascible Captain Ahab's pursuit of the Great White Whale who robbed him of a leg, it doesn't disappoint.
They start—did they have any alternative?—with "Call me Ishmael". It is in close competition with Jane Austen's "It is a truth universally acknowledged" to be the best known opening line in English fiction. Sargon Yelda's Ishmael begins and ends the story and, at one point, like the schoolmaster he once was, he gives us a brief lecture on the whole family of cetaceans from the huge blue whale to the porpoise.
Central though Ishmael is, this is very much an ensemble production. No sooner has he opened his carpet bag to get ready for the journey than other hands are helping him pack it. With trestles, planks, a few pieces of cloth, lanterns and candles they create lodging house and shipboard, row after their quarry, harpoonist poised in the bows, boil up blubber—and drown. Lashed by waves, tossed by whales, their spirits are lifted by sea shanties, (some traditional so intriguingly not) with David Brett, who plays several different seamen, leading them on squeeze box and banjo.
Joseph Kloska as Captain Ahab, voice rising from gentle Nantucket murmur to bellowed exhortation is an unpredictable, teeth-grinding, often menacing presence. His first appearance is dramatically prepared for and the clack of his wooden-legged gait matched by the synchronous thump of a stick on the boards by one of the other actors. "He's a fury. He's an angel of hell. Why if the white whale could talk, he'd talk like Ahab"—that's a sailor describing Moby Dick but they are a pair, the whale and the whaler captain.
Helping Ahab negotiate steps and ladders is Nicholas Bishop's contrasting level-headed Quaker first mate Starbuck. He may be eager to be back with his wife and children but he is powerless to divert Ahab from his quest. Leroy Osei-Bonsu gives expert harpooner the South Sea Islander Queequeg a powerful physical presence. It is not just height by a concentrated focus that makes him so charismatic, conveying so much with so few syllables of dialogue.
Oliver Birch, Christopher Doyle and Mat Wandless complete the crew of the Pequod. They all make a strong individual contribution but it is the way that they work together that makes Sebastian Armesto's production so very effective.
Whilst old Moby Dick himself remains a presence, around and below us the company does bring on a whale, a figure in schematic outline, its size limited by the space in which to display it, an effect that lacks the grandeur of what they make us imagine but whose inadequacies are delightfully and comically negated when its blow hole suddenly starts spouting. In such a dark story there are still moments of humour.
You can't cram the whole of Melville's book into a two-hour time span and Armesto's adaptation has involved heavy filleting; the most important characters and moments are there but the presentation is so much more compact. The transition to theatre demands it. While taking the meaning and often his words from Melville, this is dramatically tighter, compared to which Melville is wordy, but strangely it sounds as though Melville had written it, so well does it capture the essence of this leviathan of a story.
From its first moments looking up into a black sky starlight by lanterns to the sudden catastrophic emptiness when Ahab and Moby Dick have had their last confrontation this is, as I heard a fellow member of the audience remark on leaving, "real theatre".
Reviewer: Howard Loxton