Moby Dick! The Musical
Book by Robert Longden & Hereward Kaye, music by Hereward Kaye & Robert Longden Lyrics by Robert Longden & Hereward Kaye
Produced by Amy Anzel in association with Matt Chisling
Union Theatre
–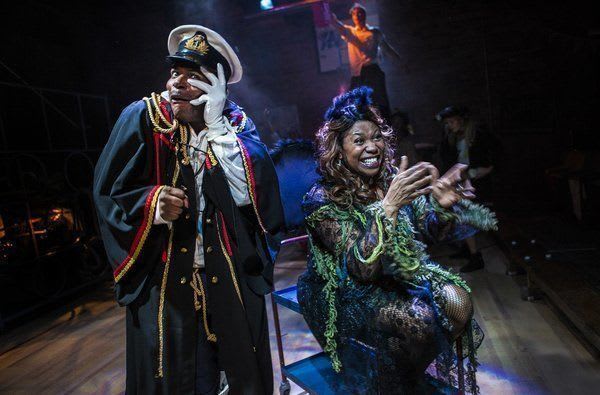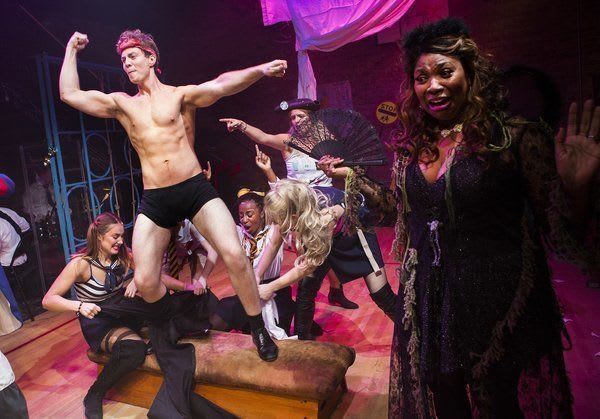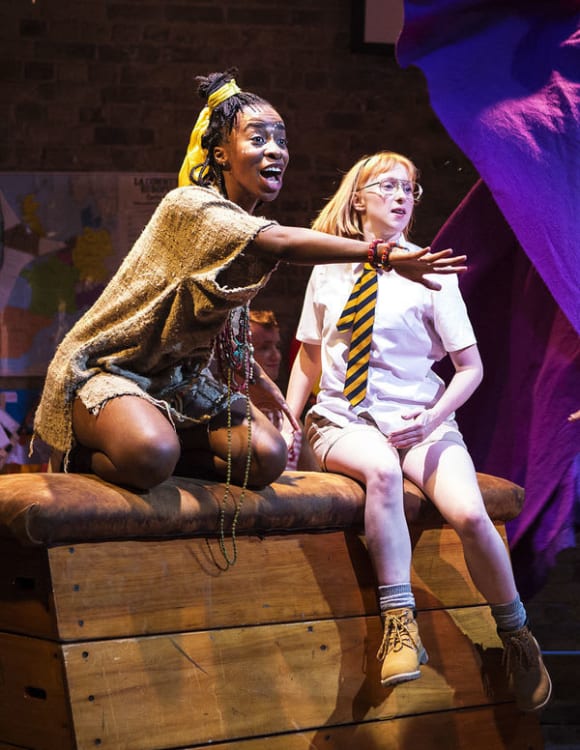 This camp adaptation of Herman Melville's classic tale of a sea captain's obsessional hunt for the white whale that maimed him had its first outing at the Old Fire Station in Oxford and then played the Piccadilly Theatre for a brief four months in 1992—in West End terms a flop, though it had a cult following. This madcap production directed by enthusiast Andrew Wright marks its 25th anniversary.
It is a show within a show set in the gymnasium of St Godley's Academy, an all-girls school, who are presenting pupil Dinah Sore's musical version of Moby Dick with a cast of her fellow scholars led by their Headmistress, Dame Rhoda Hottie, in the role of Captain Ahab and the added participation of the school caretaker Wayne Kerr and the Head of Security Mr Earl Lee Riser.
It's a gender-blind show, since schoolgirls play seamen, and doubly so in some cases for Dame Rhoda is played by Anton Stephans and Miss Buster Cherry (performing his camp cabin boy Pip) by Glen Facey.
Brenda Edwards stays all-female as Miss Mona Lotto, playing Ahab's wife Esta, her bosom almost bursting out of her flounced lacy frock: she is drowned early on but keeps coming back in spectacular fashion draped with additional layers of seaweed.
Grant McConvey as the caretaker (playing several roles) and Sam Barrett as Mr Riser playing sailor Coffin also remain in gender, Riser coming up with a striptease as the show builds to its climax.
The school offers the story of Moby Dick in its programme and that bears a sort of resemblance to their staging. It starts off with Rachel Anne Rayham as supposed creator Dinah opens the show with those well-known words "Call me Ishmael" and from then on it takes off in its own mad way with a little more order and understanding on occasions when Dinah takes charge again.
Alphabet cards make amusing anagrams out of the title and turn round to offer maps or pictures, among them an ejaculating penis and, with one of the schoolgirls pregnant (for an incongruous gag that you have to wait a long time for), it continues in increasing anarchy. A great deal of effort has gone into creating a show that aims to be so bad it is funny. But, despite all the energy and talent, the joke doesn't really come off.
Strong-voiced Anton Stephans is a formidable Dame Rhoda but too self-consciously funny and the drag diva swamps the headmistress. Humour works best played straight.
There are clever ideas though they often get lost in the mayhem. They include designer Juliet Craft's costume for Captain Ahab which combines an academic gown with brass-buttoned naval uniform. That's the nearest this show gets to subtlety unless you count Ahab under the covers with Pip, intercut with a scene of his sailors elsewhere who pop up between them.
There's a lively score, but the lyrics are often inaudible, either drowned by the band or unclearly enunciated, and there's some sprightly dancing, with Pip's pirouettes suggesting Miss Cherry must be the girl top in ballet class.
This is one of the shows you probably either love or loathe. The hard work of the cast makes me want to love it but I can't honestly say that I do. If you think the names of the schoolgirls are really very funny then perhaps you would.
Reviewer: Howard Loxton