Moby Dick
Nick Lane and John Godber, based on the novel by Herman Melville
Theatre Mill
York Guildhall
–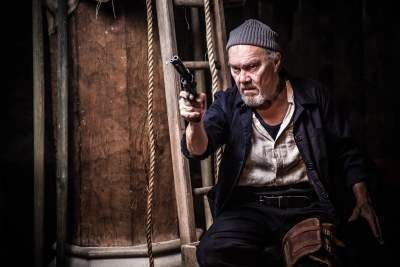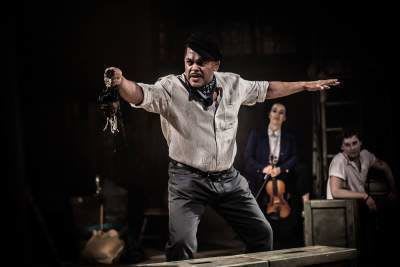 After their immensely enjoyable production of Agatha Christie's Witness for the Prosecution (1953) last summer, site-specific theatre company Theatre Mill has chosen to stage Nick Lane and John Godber's adaptation of Herman Melville's classic novel Moby Dick (1851) in York's splendid Guildhall.
First produced by Hull Truck in 2002, the play opens in a local fishing inn where a group of fishermen meet to drink and swap stories. Together, they act out a condensed version of Melville's novel, in which the seasoned sailor Ishmael (Fiona Wass) signs up for a whaling voyage onboard the Pequod. The ship's captain, Ahab (David Barrass), is obsessed with the idea of slaying Moby Dick—the white whale that destroyed his last ship and severed his leg at the knee—and leads his crew on an expedition across the seas in search of revenge.
In addition to Melville's now familiar plot, Lane and Godber also give voice to fictional characters from Hull's trawling community during the 1950s and 1960s, enabling them to explore the decline of the city's fishing industry during the latter half of the 20th century. These stories serve as a counterpoint to the high drama of the central narrative and provide an insight into the experiences of real Yorkshire families.
There is much to enjoy in Gareth Tudor Price's production, not least the choice of location. Indeed, York's medieval Guildhall, with its octagonal pillars and oak wood beams, proves to be an excellent choice of venue. Graham Kirk has designed an intimate theatre-in-the-round space that encourages the audience to become absorbed in the action.
The seven actor-musicians demonstrate their versatility in multiple roles. David Barrass's performance as Captain Ahab is strikingly different from other incarnations that we have seen on stage and screen. Many critics have written about the character's demonic grandeur but Barrass presents us with a more damaged, less superhuman figure, albeit one who has been left both physically and psychologically scarred by his encounter with Moby Dick.
Fiona Wass is a lively and engaging Ishmael, guiding us confidently through the vicissitudes of Melville's novel. As Queequeg, the tattooed Polynesian harpooner, Fidel Nanton does a fine job of conveying the character's 'otherness', particularly in his first encounter with Ishmael where he frightens the latter with a shrunken head. As Starbuck, the Pequod's chief mate, Zach Lee captures the character's divided loyalties and mounting frustration with Ahab. Michelle Long impresses as a young Hull woman who mourns the loss of a potential lover she hardly knew. The cast is rounded off by two local performers, Bill Laverick and Richard Thirlwell, who provide solid support in smaller parts.
Tudor Price's assured direction makes for a fluid and fast-paced production, in which changes of place and time are clearly signalled. Moby Dick is punctuated with moments of impressive movement direction that convey the crew's adventures on the high seas, braving storms and staring death in the face. Joshua Goodman's evocative sound design also adds to the sense of being at sea, whether it is the crashing of waves or the singing of shanties.
Moby Dick is an entertaining and immersive piece of storytelling, in which Theatre Mill demonstrates its willingness to take on bigger and more ambitious projects.
Reviewer: James Ballands