Moby Dick
After Herman Melville
Spymonkey and Royal & Derngate, Northampton
Lyric Theatre, Hammersmith
(2009)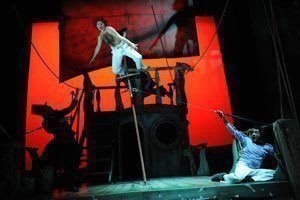 In this deliriously daft adaptation, collaborative comedy-theatre company Spymonkey gleefully excise most of the plot from Melville's classic to produce a triumphantly silly, very funny show. For anyone expecting a faithful rendition of the book, this hectic production might baffle, but it will certainly never bore.
From the opening scene, in which a metaplot about four thespians staging Moby Dick is revealed, to the singalong ending, Spymonkey don't so much break the fourth wall as smash it down, then sprinkle it in glitter. "Tony Parks" (Toby Park) and his "company" are here to tell us the story of Moby Dick, and, as Spanish narrator Aitor Basuarai tells us, his heavily accented "special" English will allow us to concentrate better.
Jos Houben's incredibly inventive production calls on a lush variety of theatrical elements to tell the story; comic song, dance, puppetry and even acrobatics are executed beautifully, but occasionally it is a trick too far. Petra Massey's somewhat filthy song about a masthead's lack of fecundity was an extraneous detour into cabaret, which slowed the frantic pace and detracted from the gloriously bizarre pointlessness of "Rachel", a recurring appearance by Massey in a bikini constructed out of rubber swimming rings, who popped up whenever the story felt short on oestrogen. As she often points out "there are no women in the book" and the many and inventive ways in which Massey's thespy alter ego forces herself into the show are a comic treat, showcasing her chameleonic talent.
All four are genuinely brilliant clowns, indeed a protracted scene in which Stephan Kreiss skitters, rubber-legged and straight faced, across the stage feels like a happy hybrid of Jacques Lecocq and Morecambe and Wise. Despite the intense physicality of the show, the performers have a lot of fun with words. There is a running gag about Basauri as Ishamel's mispronunciation of words ("specific ocean" being a highlight) and the "soliloquy banister" slung inexplicably around Ishmaels' neck elicited howls of laughter from the Lyric's sophisticated audience on its eventual reveal, a good three quarters of the way in. This clued-up crowd also evidently appreciated the theatrical in-jokes peppered lightly throughout the show; "look at the puppet" growls Massey at her cast-mates several times.
There is a great warmth and likeability emanating from all the cast, which generates the trust which is vital for this show to work. It would, though, have been interesting to see a little more of the darkness along with the grotesque from these talented bouffons and the genuine emotion from Captain Ahab/Tony Parks in dealing with their respective monsters was cut off a little abruptly.
Graeme Gilmour's brilliant set is gorgeously lit and it is almost worth the ticket price alone to see the various ways Spymonkey manage to portray Moby Dick himself onstage. There is a meticulous, loving attention to detail in everything but the plot - but this hardly matters. In this unabashedly hilarious re-telling, the players and not the play are most definitely the thing.
Until May 1st.
Seth Ewin reviewed this production at the Traverse, Edinburgh
Reviewer: Beth O'Brien