Mogadishu
Vivienne Franzman
Royal Exchange/Lyric
Royal & Derngate, Northampton
–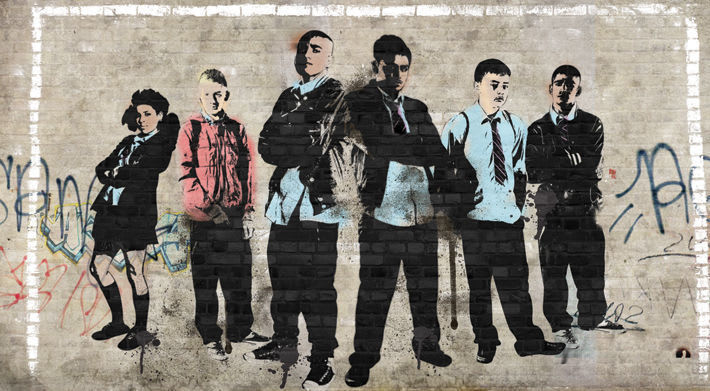 There is no doubt that this very modern play, with it's ultra-modern 'issues' is thought provoking. Vivienne Franzmann's Mogadishu raises many questions and, despite some inadequacies, has enough in it to cling on to.

There are some uncomfortable moments—the attack of Michael Karim's Firat at the top of the piece was tense and staged effectively. If only the playwright hadn't crowbarred in some of the more crass material (the cannibals joke comes to mind) then she could have capitalised on this tension.

This was most frustrating, because the situation did work—it was believable. The pace of accusations flying and the 'just following procedure' line convinced, whilst engaging the audience as they gasped at the next development in the teacher's downfall. This was largely helped by strong characters and relationships. Jason and his overbearing father, Becky and the likable step-father, Peter, come to mind.

Perhaps most convincing were the scenes in the headmaster's office. James Barriscales portrayal of the under-pressure interim head was excellent—the scenes with Jackie Clunes's accused Amanda particularly stood out. Barriscale really portrayed the agonising journey of the head and I felt my fondness for his character changed as he wavered.

I felt that the mother / daughter relationship was tackled with great gusto by Clune as mother and Rosie Wyatt's mouthy, middle-class Becky. It did feel hammed up at times though and I couldn't help but wonder whether this was through the writing rather than the performance.

This does feel like a nagging problem—the slightly over the top, dramatic, 'shouty, shouty' material clashing against the in-depth, well developed characters. One does wish the playwright had reeled it in and not tried so hard in places.

One area where the production does excel is through Tom Scutt's simple but very effective design. The set, all metal and industrial, was emotive and affecting—causing a literal physical barrier between audience and spectator. This helped to create the claustrophobic sense of being penned in—a theme that seemed to resonate with every character at some point.

The harshness of the set reflected the harsh urban setting of the piece nicely—this was complimented by the focused performers helping the piece to flow by bringing set on and off and creating a fast paced, episodic feel to the evening. Philip Gladwell's strong lighting design cast caged shadows and was used expertly in the more dramatic moments—the 'hanging scene' in particular stood out.

A play that perhaps would work better as a TV film, or even, dare I suggest, a piece of Boal influenced 'forum theatre.' Whilst Mogadishu doesn't tick all the boxes, there is enough in there to make you take a peek through the metal bars.
Reviewer: John Johnson