Momix: Greatest Hits
Momix
Peacock Theatre
(2007)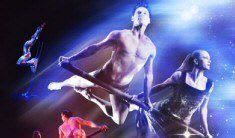 Momix has been producing multi-media fantasy spectacle for 25 years now. The company was founded in 1981 by Moses Pendleton who was also one of the co- founders of Pilobolus, which took its name after a fungus which constantly changes its shape.
Momix takes its name from a brand of cattle feed. "I work," says Pendleton, "almost like a sculptor and a painter." His visual effects are always striking. The cast – described as dance illusionists – have to be physically strong and infinitely flexible. Pendleton turns them into human sculptures.
The programme - a mixture of dance, circus, gymnastics, shadow-play, eroticism and optical illusions – takes its inspiration from animals, plants and minerals and provides popular entertainment attracting large audiences.
The images selected this time are beautiful rather than weird and surreal. A girl swings an enormous hula hoop endlessly all round and over her body. Another girl dressed all in white twists and turns on a swing, flying ever higher and higher. Three girls, looking like Art Nouveau miniatures, do everything but throw their helium-filled balloons.
Three athletic men in good shape give an impressive demonstration of their skill with long staves in a timeless act which would not have looked out of place at the Greek Games on Mount Olympia in the 8th century BC.
Two silvery metallic skiers look as if they are posing for a poster by Cassandre; their feet seemingly riveted in their boots, they lean out at impossible angles. A couple propels two hemispheres from within and without the frames with the lightest of touches.
Three couples fly round and round in circles, balancing on poles. Four dancers transform themselves into a very large and brightly coloured undulating caterpillar.
There's slapstick comedy, too. A clown has a simple and perfect music hall act in which all he does is just keep on bashing his head against the floor to the beat of the music. It's very funny.
The show ends with shadow play and provides a series of intriguing and sometimes silly images which will appeal to children and the child in us all.
Pendleton, ever innovative and ever inventive, has, seemingly, in 25 years never run out of ideas. Momix is good value for the whole family.
Reviewer: Robert Tanitch