Monogamy
Torben Betts
The Original Theatre Company, Ghost Light Theatre Productions and Eilene Davidson in association with Park Theatre
Park Theatre (Park 200)
–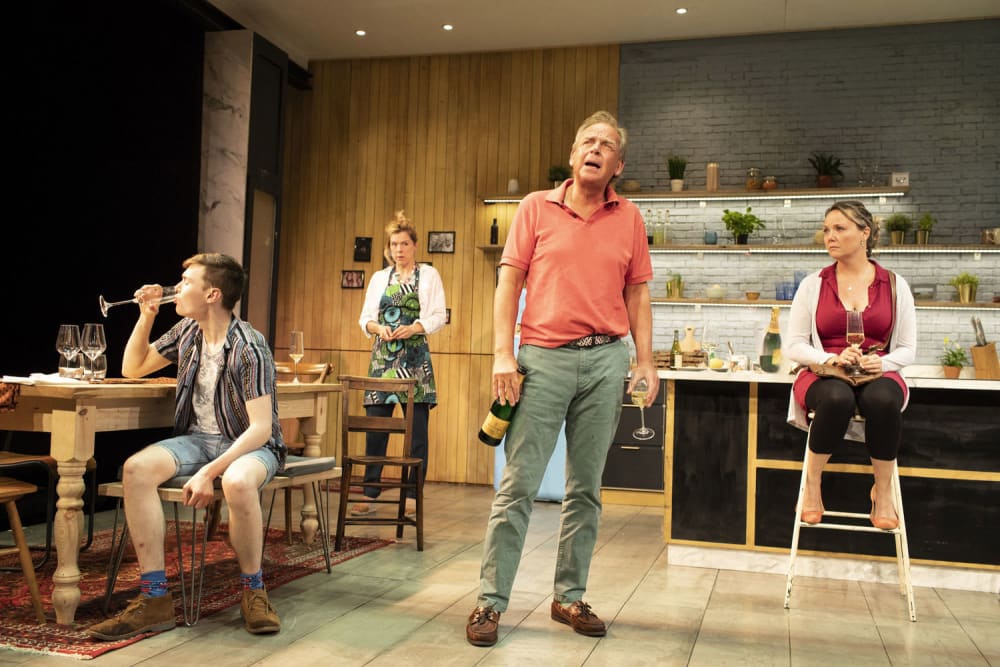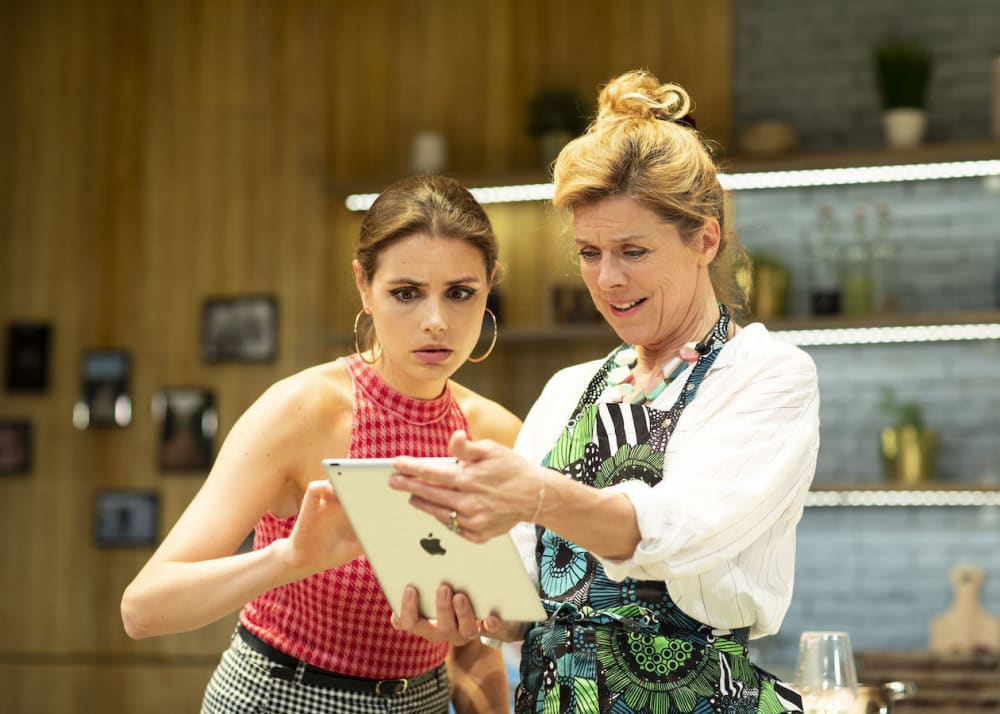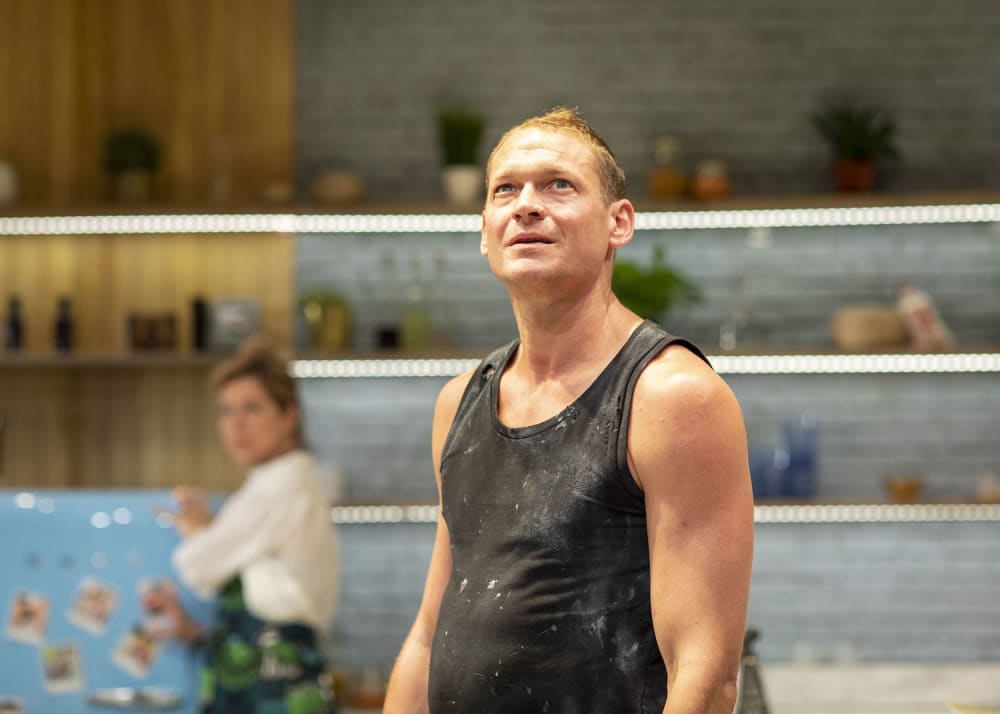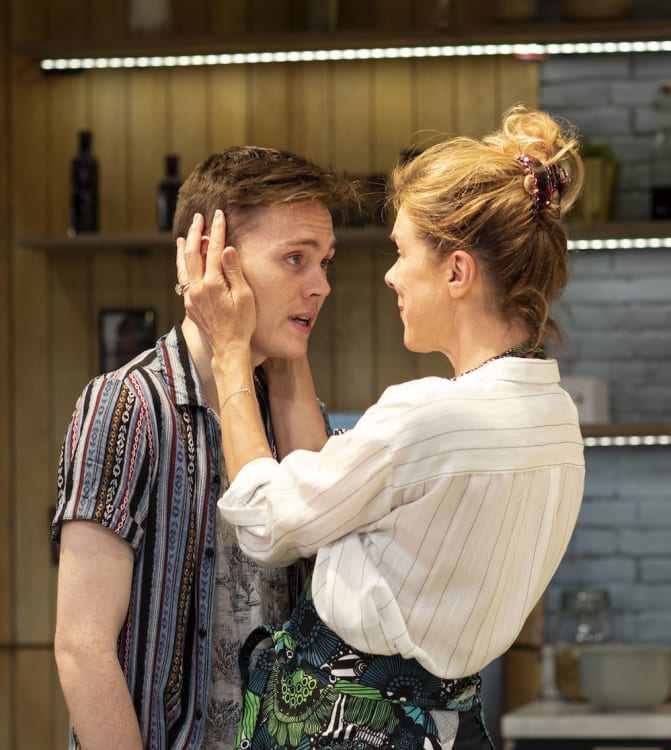 Torben Betts's latest offering, which comes to London after a brief tour, is a rather old-fashioned play about family skeletons that thinks it is being very contemporary. There may even be French windows (though you can't see them) that lead from its smart kitchen setting out into the garden in affluent Highgate. It is here that celebrity chef Caroline (Janie Dee) is rehearsing for the last of her current television series which goes out live from this very kitchen.
The young woman with an outrageous accent whom she introduces as a Swedish chef is actually her PA Amanda (Genevieve Gaunt), with an even less comprehensible real voice that isn't improved by cocaine use. It is set up for comedy but by the end of the evening we have moved into Grand Guignol.
Within minutes we have learned that Caroline and her retired banker husband sleep in separate rooms, that the house has just been put on the market with a potential purchaser coming to view it and then her son Leo (Jack Archer) arrives having just graduated from Cambridge with flying colours. Caroline has the champagne out ready to celebrate and roast beef in the oven—she has forgotten her son is a vegan—but meanwhile she is knocking back the wine already open, especially after Amanda announces that the press have got hold of some pictures of her stumbling drunk out of a taxi.
When golf-obsessed husband Mike (Patrick Ryecart) gets home, he's become very aware of mortality: a much younger man playing behind him has dropped dead on the golf course. Mike has a posh voice that is almost as difficult to understand as Amanda's, especially when he hits the bottle as much as his wife does.
Incidentally, Caroline has got God, there is even a crucifix up in the kitchen, but with her husband's snores keeping her awake even a room away that doesn't stop her from falling for Graeme (Jack Sandle) the builder who has been putting the house right ready to sell it.
So far, it seems a mixture of farce and family trauma, full of laughs that often get stifled because its so full of pain at the same time—and that becomes even more so later with the introduction of mental illness and caring for a man on the extreme end of the autistic spectrum. A woman (Charlie Brooks) turns up, whom the family think is the house hunter, who slips one of the kitchen knives into her handbag, signalling something just as clearly as we have already guessed that left-wing Leo, who want to go off to help refugees in Syria, is gay.
Director Alistair Whatley keeps this moving with a spirited cast. Janie Dee stylishly handles characterisation, drinking and cooking all at the same time, Genevieve Gaunt and Patrick Ryecart are in full farce style and Jack Archer, Charlie Brooks and Jack Sandle, most firmly rooted in reality as Graeme, seem to live in another, more real world until things draw to a climax with Caroline hearing God's voice in the thunder in the heavens.
The performances make Monogamy eminently watchable but its comic confusions and extravagances undermine its serious argument—for there does seem to be one. As Amanda questions here, "nobody's really happily married, are they?" while an epigraph to the published play text suggests that, for homo sapiens, the nuclear family is a culturally imposed aberration.
It is certainly true that, within every family, of whatever kind of partnership, like this lot, we never pay enough attention to what the other parties are trying to tell us.
Reviewer: Howard Loxton