Monty Python's Spamalot
Eric Idle and John Du Prez
The New Theatre, Oxford
–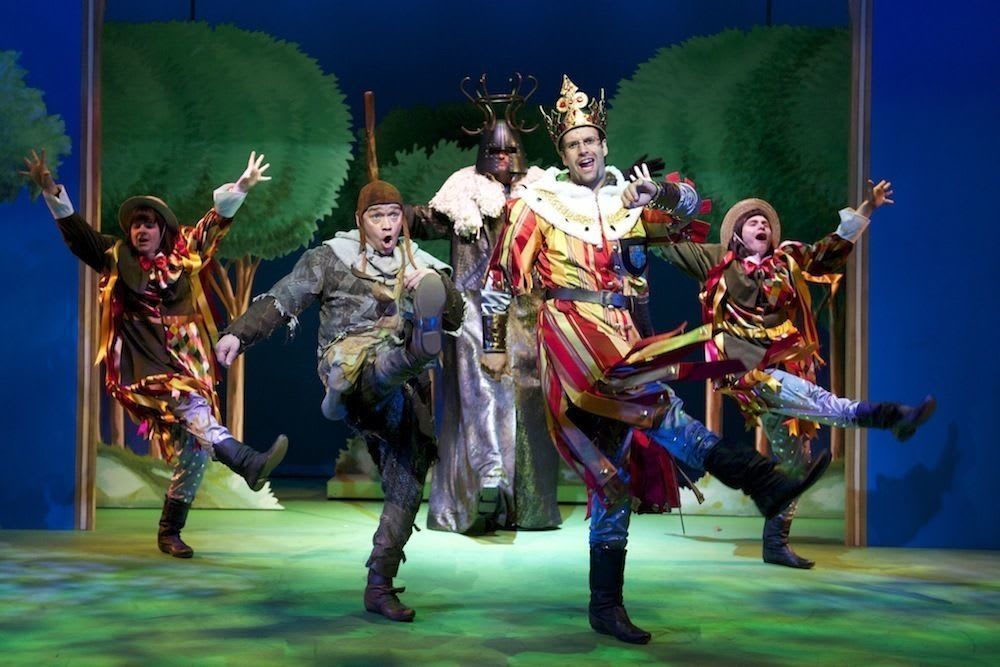 Eric Idle and John Du Prez's wonderfully irreverent and hilariously funny Monty Python's Spamalot is the perfect antidote to these austere times since you can't help but laugh out loud at the crazy antics of this exuberant talented cast and for two hours forget your troubles as we are urged to "always look on the bright side of life."
Spamalot, "lovingly ripped off" from the 1974 hit comedy film Monty Python and the Holy Grail, tells the tale of King Arthur and the Knights of the Round Table and their quest to find the Holy Grail.
This madcap musical opens with a rousing chorus number extolling the virtues of Finland as the cast had apparently misheard the title England and end up slapping each other with fish, absolutely absurd but so funny.
Marcus Brigstocke is splendid as the hapless King Arthur who is seeking men to join him in his mission ably assisted by his loyal servant Patsy, an impressive performance from Todd Carty who provides the sound of horses hooves with a couple of coconut shells.
The vivacious Bonnie Langford is the spirited Lady of the Lake who can sing and dance with style and panache, especially in the big musical number that sends up the whole musical genre in "The Song That Goes Like This" with Sir Galahad (Jon Robyns) and "The Diva's Lament".
There is much silliness and fun in this show and Python fans will delight in the portrayal of the French soldiers hurling insults and the Knights who say Ni, the killer rabbit and the hilarious battle with the Black Knight where he loses all his limbs while maintaining it was, "just a flesh wound."
There is even a cameo projected appearance of Eric Idle as God encouraging Arthur to find the Holy Grail.
The wry humour is brought up to date with references to Simon Callow and 'appearances' of Susan Boyle and Ozzie Osborne, hilarious stuff.
Director, Christopher Luscombe keeps the pace flowing and has almost created a spoof of the original production in what was a delightful if somewhat surreal evening and you can't fail to leave the theatre whistling 'that tune'.
Reviewer: Robin Strapp