Moominland Midwinter
Tove Jansson, translated by Thomas Warburton, adapted by Hattie Naylor
Horse + Bamboo and the egg
Waterside Arts Centre, Sale
–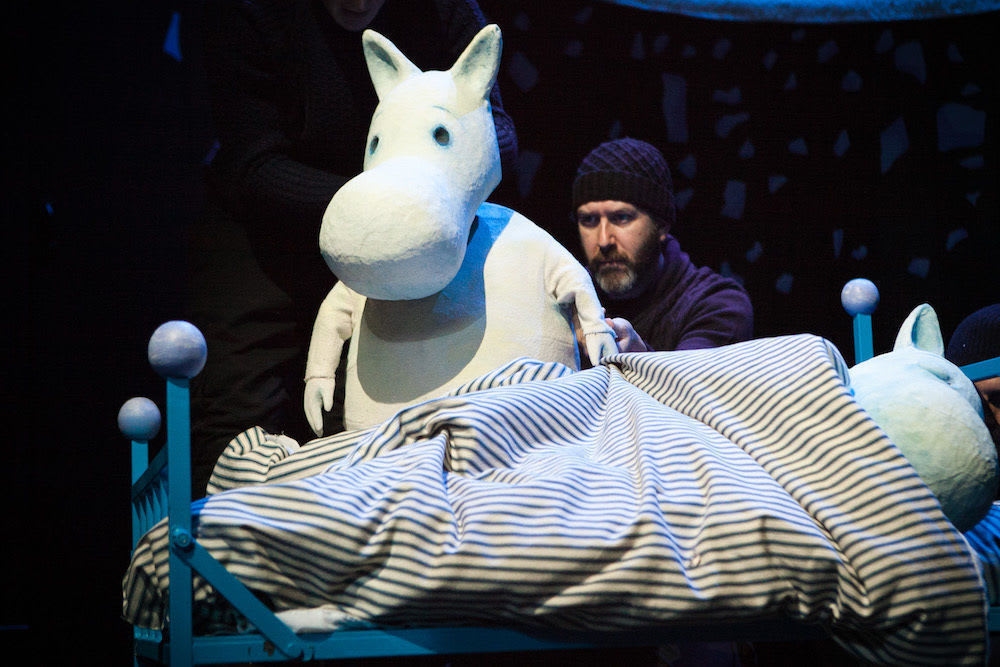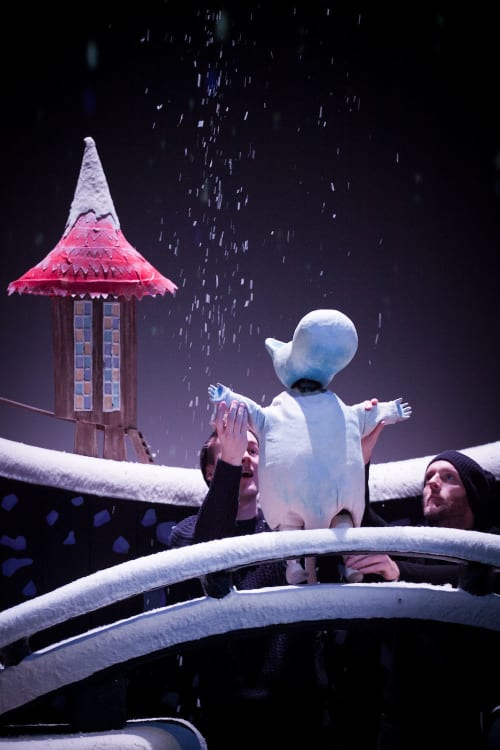 The Moomins originally appeared in print in 1945—I used to love them when I was a kid—so it's amazing that this lovely-looking production from Horse + Bamboo is their first appearance on stage in the UK.
Set in a fictional land that can't be too different from author Jansson's native Finland, the Moomins are loveable hippo-like creatures who usually hibernate through the dark winter months, but Moomintroll wakes early and goes out to explore this unfamiliar land. He hasn't even seen snow before, so everything looks very different. Setting the style of this Scandi Noir for kids, he declares, "all the world's died while I was sleeping".
Leaving his parents asleep, he comes across mischievous Little My, who is wearing Moominmamma's tea cosy and is using her tea tray as a sledge, and then Too-Ticky living in his bathing house, whose invisible shrews make soup. The fate of the squirrel reminds us that this is not a story that will necessarily end happily for every character.
There are lots of characters coming in and out of a story that doesn't have a particularly strong narrative thread but does have charm and substance. Performed entirely by puppets with visible puppeteers, the whole look (designer Tom Rogers) and feel of the show is exactly right for Jansson's world.
The characters just jump out at you, from the naughty Little My and annoyingly enthusiastic Hemulen to the forgetful squirrel, plus a couple of scarier larger creatures, and Moomintroll in the middle of it all, bewildered at the world he usually misses while he is asleep. Puppets pop up all over the place in theatre these days, especially at Christmas, so it's great to be reminded just how they can really come to life when in experienced, expert hands like Horse + Bamboo.
There is impressive attention to detail throughout the whole production, which also features atmospheric music by Loz Kaye and some nice subtle projections on the backcloth—although if you are sat in the centre towards the back you may find that the projector obscures your view of much of the projection. The old trick of using smaller puppets to make it look like the characters are further away is made to work extremely well with tiny models that are almost as expressive physically as their full-sized counterparts.
While it's a long way from the fast-paced, knockabout children's entertainment often on offer today, it kept a large and very young audience quiet for nearly two hours at the schools' morning performance I saw.
It looks gorgeous and will bring back memories of well-loved characters for many adults, so is definitely worth a visit.
Reviewer: David Chadderton