Moominsummer Madness
Tove Jansson, adapted by Phil Porter
Polka theatre and Royal & Derngatge, Northampton in association with Little Angel
Polka Theatre
–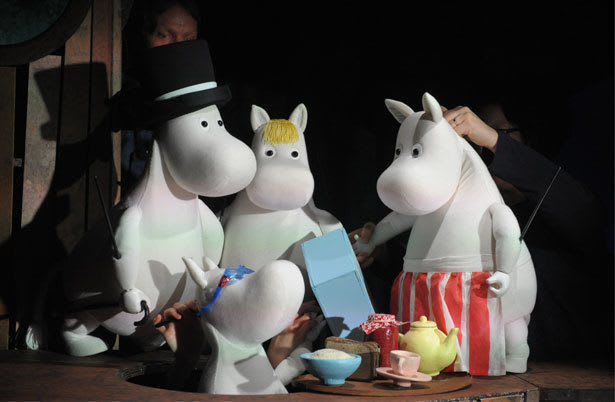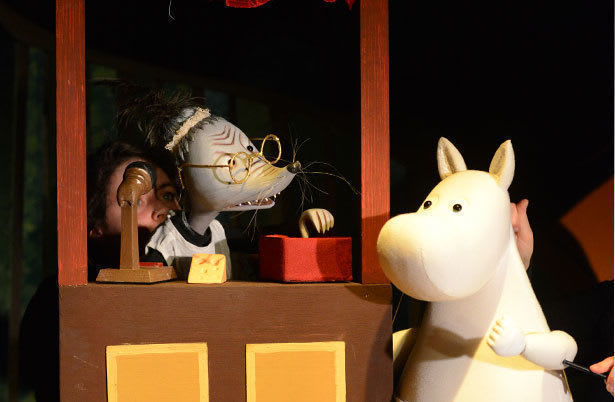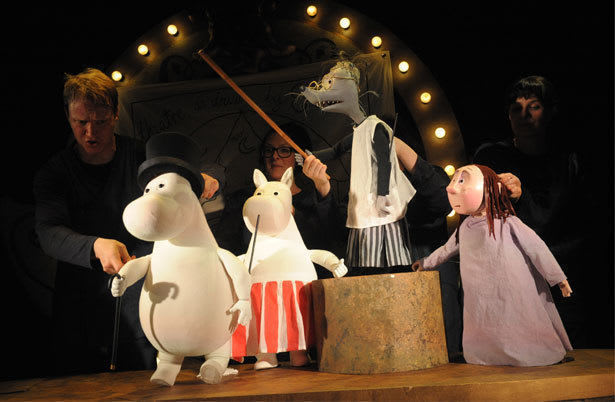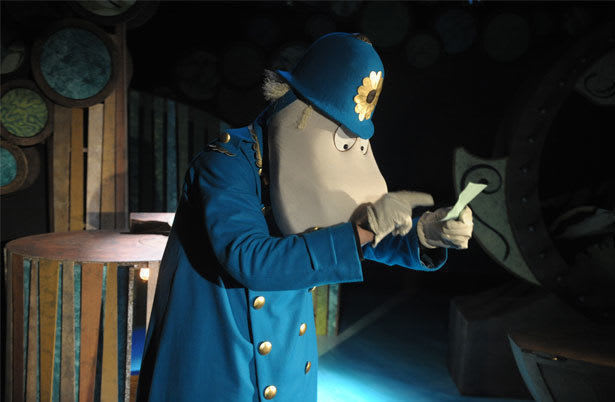 The Moomins, those curious creatures like anthropomorphic hippopotamuses, have been delighting children since their first appearance in Finland in 1945.
They have been seen in books, strip cartoons (which reached Britain in 1954) and films and on television; they even have a theme park. Now they are making their 'live' London stage debut in this adaptation based on a translation of the fifth book of the series by Thomas Warburton in a show with music by Ben Glasstone and lyrics by Glasstone and adapter Phil Porter.
This is a first for Polka and their co-producers and part of a wider celebration of the centenary of the birth of Moomins creator, Finnish writer and artist Tove Jansson. The story chosen is particularly appropriate for those who may be going to a theatre for the first time and, like the books, it is aimed at younger children (the producers recommend it for 4 and above).
It is a simple tale on a family hit by an earthquake and a flood who find themselves in a floating theatre where they discover how it works and how plays get staged.
The first thing the audience sees is designer Laura McEwan's lovely looking set with a huge, glowing sunset surrounded by rich, green, stylized trees that the puppeteer performers can rapidly change into different places.
Darkness and frightening noises (not too frightening) provide the earthquake that splits the set apart. The Moomin family has to climb up to the bedrooms and onto the roof, sending Moomintroll to swim around in the kitchen and collect what Moominmamma needs to make breakfast for mother and father and Snorkmaiden and their friend Little My.
A girl called Isabel comes floating by and joins them and, when they get to the theatre, Snufkin turns up in a boat, while the others plan to put on a play with Isabel starring (despite her range of emotional audition pieces re-enacting happiness, tragedy and affection all coming out the same). Meanwhile, Moomintroll and Snorkmaiden have been put in prison by a big, blue-coated policeman.
All the audience get tickets for the Moomins' show, delivered by birds. This produced such a sudden animation of youngsters scrabbling to collect them, it suggests Moominsummer Madness could do with more audience involvement.
Peter Glanville and Dani Parr's production is mainly well matched to its target age group, but the explanation of the workings of theatre is perhaps taken too fast for the youngest to take in and much older children, unless avid Moomin fans, might find the show too undemanding. While the more imaginative might delight in a shoal of saucepans swimming through the flooded kitchen, more practically-minded elders might wonder why they don't sink to the bottom.
Lyndie Wright (of Little Angel Theatre) has created some excellent Moomin puppets, looking just as you'd expect them. They are operated by Nick Ash, Ruth Calkin, Claire Harvey and Lori Hopkins in a style one might call bouncing bodies puppetry, wafting through space rather like the way children use soft toys as puppets but with some pretty nifty manipulation going on as well.
Glasstone's songs liven things up and Will Evans's lighting sparks up presentation to help maintain young concentration. I've seen better at Polka, though that may be judging with an adult's perception, but it holds its audience and certainly brings the Moomins to life.
Reviewer: Howard Loxton