Moon Project
Rachel Blackman
Oval House and Stillpoint Theatre
Oval House Theatre
–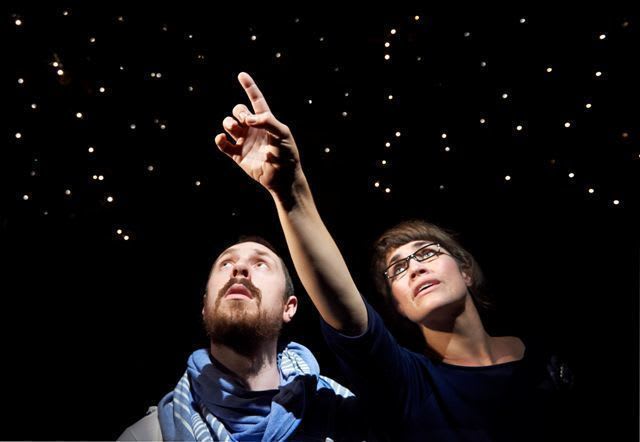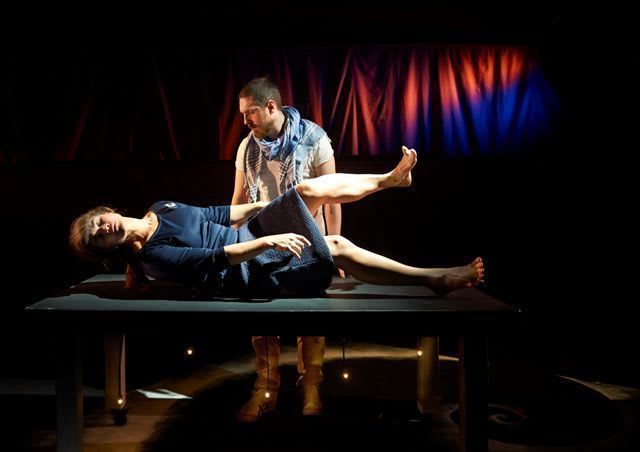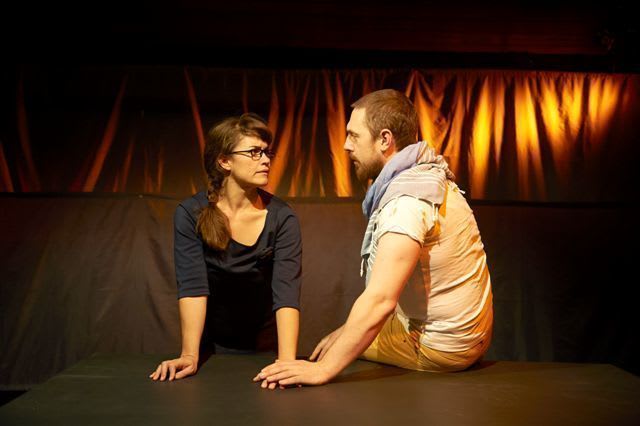 The stage is bare except for a table, a chair, a galaxy-like swirl upon the floor, and a curtained backing.
The lights go out and briefly on, as it all begins with an accident. A woman's body rolls upon the table top, a man sits in a chair. I don't know how the audience registers accident but it works. It is one of those strange acts of theatrical osmosis.
Film maker Shahab's car has hit aeronautical engineer Leila, though he has not yet made a film and she is still working in an admin job in the Natural History Museum. She was thrown up on to his bonnet, but he drove on (he had some hash in his pocket and didn't want a police encounter) but he will visit her in hospital.
We see him gazing at the stars while she rushes hither and thither like a child on a scooter. He was born in Teheran and raised in California, where his architect father designed hotels and knew Buckminster Fuller. Her father was a metallurgist working with NASA, she met the first moon flight astronauts.
We learn all this is a sort of lecture they are giving about their background that is intercut with moments from their encounters. He seems to have spent his life running away from something. She has been caught up with the routine of looking after her father and the commuter run. The accident and his visits while she was in a coma seem to have been a turning point for both of them.
The moment when they see each other's faces through the windscreen seems to have imprinted them on each other, but this is not a story of romance but one of self discovery. Its fractured structure as it gradually reveals two people has a mesmeric quality created by the physicality of the performance. It looks out into space, it reaches into the future, and it reaches inside two people.
Co-directed by Paul Hodson and Emma Roberts with its simple setting by Pearl Bates and lighting by Greg Mickelborough, it is credited as created by the whole company and its elements are beautifully blended as it reaches for the stars for seventy minutes, sometimes thoughtful and sometimes funny.
Reviewer: Howard Loxton